Lionel Messi is without question one of the most famous people in the world thanks to his scarcely-believable exploits on the football pitch. Not surprisingly, he is the highest paid footballer on the planet. So through this article, we take a look at The Net Worth Of Lionel Messi.
Football career
Messi's career is nothing less than a fairytale. Considered by many as the best footballer of all time, the start was not at all rosy for the star forward. While he is one of the most sought-after players in the world right now, Messi's future as a footballer was in doubt in his early years.
Messi was diagnosed with a growth hormone deficiency as a child.  He grew up in Argentina's third largest city, Rosario, and is the son of a steel factory worker and a cleaner. His poor parents could not afford the costly treatment. However, his exceptional talent helped him cross that hurdle as Barcelona came calling at just 13. The Spanish giants went on to pay for his growth hormone treatment and there was no looking back.
Barcelona's decision paid off as Messi emerged as arguably the best player in the world of this generation. After impressing for the Barcelona's age group teams, he made his debut for the club's first team in 2004 when he was just 17. There was no looking back since then.
As of now, the forward has won FIFA's Player of the Year award five times, led FC Barcelona to four Champions League titles, six Copa del Rey titles and nine La Liga titles. With over 600 goals, he is also Barcelona's highest scorer of all time.
Messi has also enjoyed good success with Argentina. He helped them win the Olympic gold medal in 2008 and finish the 2014 World Cup as runners-up. He also led his country to the final of the 2015 and 2016 Copa America.  Messi is his country's all-time leading goalscorer.
At youth level, he won the 2005 FIFA World Youth Championship, finishing the tournament with both the Golden Ball and Golden Shoe. He is also the youngest Argentine to play and score in a FIFA World Cup during the 2006 edition.
The Net Worth Of Lionel Messi
Lionel Messi is among the highest-paid footballers in world football. The fans have always been fascinated by the luxurious lives of the footballers. The football players are some of the best-paid athletes on the planet and Messi is not an exception either. In fact, he is the best-paid footballer on the planet. So without further ado, we take a look at The Net Worth Of Lionel Messi.
To find out The Net Worth Of Lionel Messi, we have taken into account, his salary, endorsements, bonuses, and assets.
Lionel Messi's Endorsements:
Lionel Messi's Endorsements are one of the vital parts of The Net Worth Of Lionel Messi.
The five-time Ballon D'Or winner continued his incredible goal-scoring spree in the 2017-18 season, finish it as the top scorer in the Top 5 European Leagues. The Argentina international scored a staggering 45 goals in all competitions.
Barcelona then offered their prized asset a contract extension in November 2017. As per the deal, Messi will stay at the club through 2020-21 and receive an annual salary and bonus in excess of $80 million, making him the highest-paid footballer in the world.
One of the most marketable players in the world, Messi is the face of several companies. He has a lifelong deal with Adidas. The exact money involved in the deal is still not clear. But it is more than likely to be more than the $12 million per year Messi made in his previous deal with the apparel company.
Other deals include Gatorade, Pepsi, Ooredoo, Huawei and Hawkers. Not only that, there will also be a theme park based on him, Messi Experience Park, which will open in 2020 in the Chinese city of Nanjing. Earlier this year, he reached an endorsement deal with Chinese dairy firm Mengniu Group, the official milk company of the 2018 World Cup.
According to Forbes' latest report, Messi made $27 million from his various endorsement deals which is nearly his yearly Barcelona salary. Forbes also estimated that Messi's social media presence generated a staggering $53.5 million in value for Adidas in 2016.
Lionel Messi Salary
As per Messi's latest contract which he signed last year, his salary averages an equivalent of about $33.6 million a year. His weekly wage is a staggering $646,000.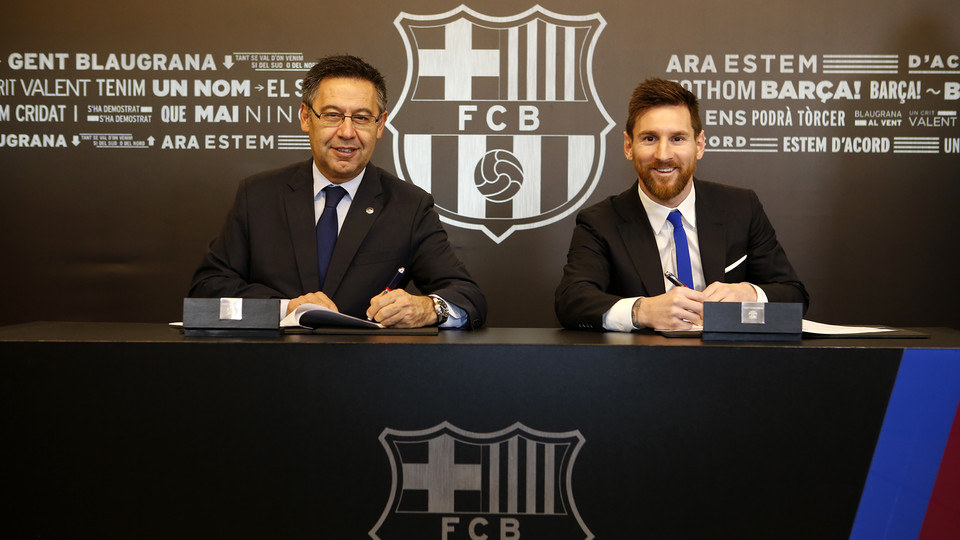 Here are the year-wise details on Messi's weekly and yearly salaries:
| | | |
| --- | --- | --- |
| Year | Weekly Salary | Yearly Salary |
| February 2004 | €1500 a week | |
| June 2005 | €25,000 a week | €1.2 million |
| September 2005 | €50,000 a week | €2.4 million |
| March 2007 | €100,000 a week | €4.8 million |
| July 2008 | €162,000 a week | €7.8 million |
| September 2009 | €250,000 a week | €12 million |
| February 2013 | €270,000 a week | €13 million |
| 1 May 2014 | €400,000 a week after tax | €20 million (after tax) |
| 01 November 2017 | €550,000 a week after tax | €29.2 million (after tax) |
Lionel Messi Earning in 2016
Messi earned a staggering $77.2 million in 2016 and was second in Forbes' list of 100 highest-paid athletes of 2016.  The Net Worth Of Lionel Messi in 2016 was is $220 million.
Lionel Messi Earnings in 2017
Messi once again occupied the second spot in Forbes' list of 100 highest-paid athletes of 2017 after pocketing a whopping $80 million through salary and endorsements. The Net Worth Of Lionel Messi in 2017 was $295 million.
Lionel Messi Net Worth
The Net Worth Of Lionel Messi is about $400 million, thanks to his standing as the second-highest-paid athlete in the world, after boxer Floyd Mayweather. Over the past year, Messi earned more than $80 million in salary and bonuses before taxes and another $27 million through endorsement deals. This just shows the richness in the net worth of Lionel Messi.
Messi is eighth in Forbes' list of Celebrity 100 2018 and second in the list of the World's Highest-Paid Athletes 2018 after pocketing a staggering $111 million.
Lionel Messi House and asset:
A good share of The Net Worth Of Lionel Messi is also spent on cars and house.
With so much in his bank account, Messi just like the other superstars love to spend big on houses and luxury cars. He owns a Ferrari F430 Spider, a Maserati GranTurismo MC Stradale, and an Audi R8 Spyder — all worth hundreds of thousands of dollars combined. Messi is also rumoured to have bought the most expensive car ever, a 1957 Ferrari 335 Sports Spider Scaglietti, at auction for €32 million or about $37 million.
He also owns a home 16 miles outside Barcelona, in the town of Castelldefels, which has a view of the Catalan mountains and is near to a beach.  Messi's home boasts a small football pitch, a swimming pool, an indoor gym and a playground for his three children. He also boasts a massive outdoor dining area. This shows the richness in Lionel Messi's net worth.
Generous Messi
A considerable part of The Net Worth Of Lionel Messi goes to charity:
The star footballer also spends a considerable amount of his earnings in social welfare. Formed in 2007, the Lionel Messi Foundation, helps vulnerable children around the world, especially those suffering from health ailments as Messi once did.
In 2017l, the foundation helped build 20 classrooms in Syria as part of a partnership with UNICEF. The noble step helped more than 1,600 Syrian children affected by the conflict attend school, UNICEF reported.