Liverpool spent big money on the likes of Sadio Mane and Georginio Wijnaldum in the summer, but it's another of Jurgen Klopp's signings who has arguably made an even bigger impact at Anfield this season.
And we're not talking about Loris Karius.
Back in May, it was revealed that Bayern Munich's nutritionist Mona Nemmer had accepted Klopp's invitation to become part of Liverpool's new-look conditioning team.
Widely regarded as one of elite sport's leading nutritionists, Nemmer joined Bayern in 2013 after five years working with the German football association, including the Germany national team.
She became a key member of Pep Guardiola's backroom staff but decided to leave the Allianz Arena for Anfield after the revered Catalan coach agreed a deal with Manchester City.
HOW NEMMER HAS HELPED TRANSFORM LIVERPOOL
But what has she done to help transform Liverpool this season?
Well, according to the Liverpool Echo, Nemmer has ensured that every member of Klopp's squad now has their own tailor-made diet using mainly local and organic produce.
They must all eat four meals a deal – it's compulsory – while a juicing station has been installed in the first-team changing room.
Liverpool's players used to eat sweets at half-time, but they now have apple juice laced with caffeine.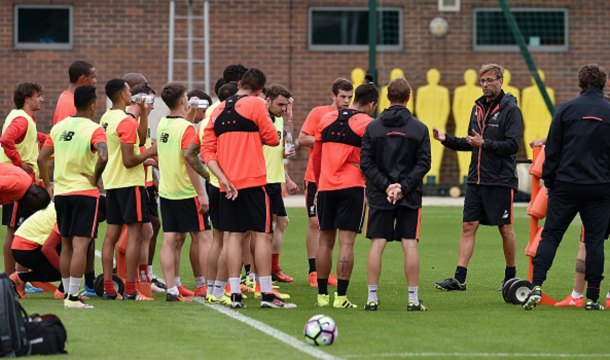 And after the match it's fresh pasta with a range of homemade sauces.
NEMMER: 'THE PLAYERS HAVE A BRILLIANT PERSPECTIVE'
"The players have a brilliant perspective," Nemmer said. "They are so open-minded. Together with Jurgen, they have given nutrition an importance and respect, and they have given me the chance to try this. That is not too common."
The changes have clearly had the desired effect. Liverpool currently sit second in the Premier League table, six points behind leaders Chelsea, and have scored more goals than any other team in England's top division this season.
The players all look hungrier, more determined and, crucially, fitter than ever before.
KLOPP HAILS NEMMER'S IMPACT
Klopp believes Nemmer deserves praise for making such a big impact during his first few months with the Reds.
"Usually in pre-season the players eat as much as they can as fast as they can," Klopp told the New York Times.
"But they were staying to eat and they loved it. They were eating unbelievable food. She had already made that first impression so they paid attention.
"We are not even halfway yet but we are going in the right way. We have even in a wild dream talked about opening a store or doing a recipe book.
"We can make this the best nutrition department in the world. I am not proud of much, but I am very proud of this."
Get the latest news and updates from Indian Premier League, ICC World Cup 2019, Match Prediction & Fantasy cricket. Follow SportzWiki for all cricket news, WWE News & Sports News.