JCC
Want to be a professional cricketer?
Register Now
*T&C Apply
Nikki Bella and her twin sister Brie have appeared on the "Better Together" show with E host Maria Menounos to discuss her partnership with Artem Chigvintsev on Season 25 of Dancing with the Stars. At that point, Nikki Bella was in a relationship with WWE franchise player John Cena. Just after a few months, she was out of that and started dating Artem.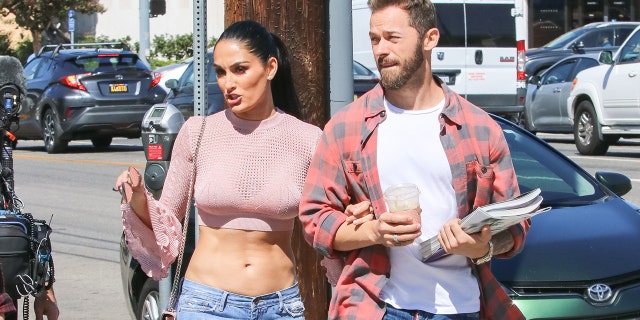 The former WWE Divas Champion detailed saying how vulnerable she is for her Russian boyfriend. Not even John Cena or any past boyfriends her could make her go that much vulnerable that she is for Artem. The good thing is these two hit it off right away when Nikki needed someone by her side after Cena's departure from her life.
"Artem was the first man that I ever had to be vulnerable for," Nikki Bella explained. "Like not even with John [Cena], or anyone was I ever so vulnerable for. But I had to depend on Artem to get me through this dance. To find the softer side of me, because that's what they kept wanting."
Nikki Bella Says WWE Neglected Her Neck Injury As She Was A Diva
Nikki Bella and Chigvintsev showed so much chemistry with each other as dancing partners in 2017. But they appeared to be the sixth elimination on Dancing with the Stars on October 30 episode of the show. The two eventually started dating down the road before getting engaged and now they are expecting their first child together. Nikki revealed that she told Artem 'no' when the first time he asked her out for a date.
Nikki Bella was doubtful that people would start judging her as she was moving in with a man who was dancing just a few months ago. They could jump into the conclusion that something was really going on between the two of them even when she was in a relationship with John Cena.
"I was just always so afraid I was going to get labeled," said Nikki Bella. "The girl that fell in love on Dancing with the Stars and left her fiancé. Because it is so intimate. It's such sexy dancing, but I'll admit I didn't really get to enjoy that part of it, which I wish I did."
WWE's Brie & Nikki Bella Become New York Times Best-Selling Authors
Speaking of Dancing with the Stars, Chris Jericho is another WWE superstar who featured in Dancing With The Stars in the past. Showing her competitiveness, Nikki Bella always wanted to be a better dancing performer than Jericho used to be.
"In my head, I have to beat Chris Jericho and because it kept telling me, you better go longer than Chris Jericho," said Nikki Bella.
Chris Jericho and his partner, Cheryl Burke were part of the season 12 of Dancing with the Stars who were eliminated 5th from the show on April 26, 2011.
Get the latest news and updates from Indian Premier League, ICC World Cup 2019, Match Prediction & Fantasy cricket. Follow SportzWiki for all cricket news, WWE News & Sports News.