Herschelle Gibbs, South Africa's former legendary batsman in an interview with Cricket Pakistan, termed the threats meted out to him by the Board of Control for Cricket in India (BCCI) over his participation in the inaugural edition of the Kashmir Premier League (KPL) as 'sad and disappointing.
The 47-year-old expressed his belief that politics should be kept firmly away from the sport and that he would always go wherever cricket was being played in the world.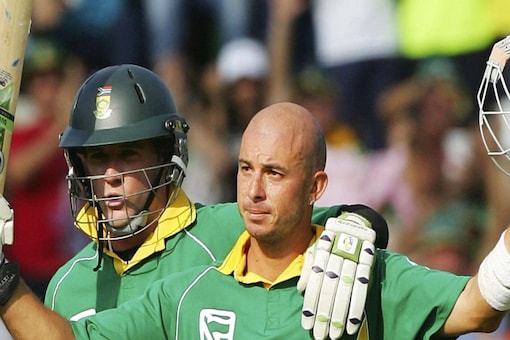 Herschelle Gibbs Found It Bizarre That The BCCI Interfered Suddenly And Said It's Sad When Politics Get Involved In Sports
Herschelle Gibbs plans to play for the Overseas Warriors in the six-team Kashmir Premier League, which runs from August 6-17 and includes several retired international cricketers and Pakistan stalwarts.
"No, there is no pressure on me whatsoever. I have been traveling for so many years to all cricket-playing countries without interference from the BCCI. I found it very strange and bizarre that they wanted to interfere with my business all of a sudden when I was coming to the Kashmir Premier League."

"For me, it is no politics. I just go where there is cricket being played. Kashmir is another place where they are playing cricket and that is the way I look at it. That is why I find it bizarre that the BCCI interfered all of a sudden and wanted to prevent me from coming here," Gibbs said.
"It was a little sad in a lot of ways because I have worked lots of times in India and have a lot of friends there. For them to want to step in and interfere and prevent me from coming here and threaten me by saying that I would be denied entry in India is sad and disappointing. I have never liked politics in sports. There is a lot of politics back home in South Africa cricket too. It's really sad when politics get involved in sports," he added.
Herschelle Gibbs, one of the accused in the 2000 match-fixing scandal, has signed up to play for KPL franchise Overseas Warriors. The tournament is likely to see six teams- Overseas Warriors, Rawalakot Hawks, Muzaffarabad Tigers, Bagh Stallions, Kotli Lions, and Mirpur Royals. Players like Imad Wasim, Mohammad Hafeez, Shahid Afridi, Shadab Khan, Shoaib Malik, Herschelle Gibbs, and Kamran Akmal are expected to participate in this league.
Herschelle Gibbs: KPL Couldn't Have Asked For A Fantastic Start In Picturesque Muzaffarabad
The former batsman praised the beauty of Muzaffarabad, where the KPL is being played while explaining that lack of practice was the reason why the fans were yet to see him in action for his side.
"It's beautiful. It's a wonderful opportunity to play. It's an inaugural time for the league. It's nice to be part of a new league for the first time. The location and the venue are fantastic. I think the games have been highly entertaining. I think the league couldn't have asked for a better start. Entertainment is what T20 cricket is all about and it has been a fantastic start," he said.
"Because it is winter back home, there hasn't been any nets available and because of the Covid restrictions back home in South Africa, there weren't any net facilities I could use indoors. When I arrived, I thought I could have a couple of practice sessions but there are no net facilities at the ground, unfortunately. I think it would be wrong for me to get a game at this stage. It would be unfair since I haven't practiced. But there might be a bit of surprise on the way," he concluded.
Herschelle Gibbs is a South African cricket coach and former cricketer, who played all formats of the game for fourteen years. A right-handed batsman who mostly opened the batting, Herschelle Gibbs became the first player to hit six consecutive sixes in one over in ODI cricket, doing so against the Netherlands in the 2007 Cricket World Cup.
He held the record for the highest score in a successful run-chase (175*) in the match where Australia for the 1st time in ODIs scored above 400- 434 but was beaten by South Africa. Regarded as one of the most naturally talented cricketers South Africa has ever produced, Herschelle Gibbs was also known as an excellent fielder, like his compatriot Jonty Rhodes. 
In April 2008, Herschelle Gibbs joined the Deccan Chargers of the Indian Premier League. His mediocre performance in the 2008 season made the Deccan Chargers' management put him on sale. However, he came up with splendid knocks in the second season helping the Deccan Chargers go ahead with four continuous wins in their first four matches.
He also played a crucial role in the finals by scoring an unbeaten 53 (48 balls) in the final when Adam Gilchrist went out for a duck. In the 2012 version of the IPL, he was signed by the Mumbai Indians with a reported fee of US$50,000. His top score is 69* (56) v Chennai Super Kings. In 2012, he scored 66* (46) for the Mumbai Indians.