Shoaib Malik talked about former India pacers Ashish Nehra and Zaheer Khan and how they created a problem for him and the rest of the Pakistan batsmen unlike former India all-rounder Irfan Pathan who had some memorable performances while playing against arch-rivals Pakistan. To date, Indian fans cherish his hat-trick in the opening over of the Karachi Test in 2006. Even with the bat, the former cricketer had contributed well.
Irfan Pathan had scalped 34 ODI wickets in 23 games against Pakistan but there is one player who always found it comfortable facing the left-arm quick. Former captain Shoaib Malik handled him pretty well, averaging 89.50 against the former Indian pacer.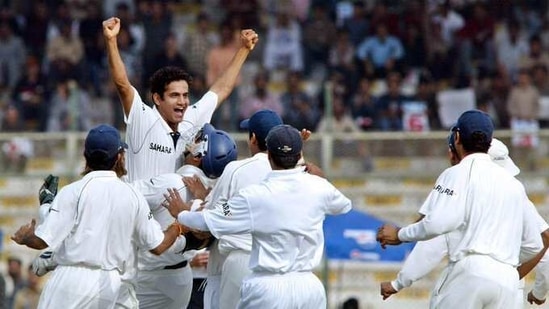 Shoaib Malik Played Well Against Irfan Pathan Since He Didn't Bowl Out Swingers Early In His Career
While speaking in an interview with Cricwick, Shoaib Malik spoke about having success against one of the finest Indian swing bowlers who often troubled the other Pakistan batsmen during his playing days.
"My average against Irfan Pathan is good because I play the inswing well. At that time, Irfan did not bowl out-swingers. He added it to his arsenal later, but early in his career, he majorly bowled in-swinging deliveries. So, I knew he would bowl an in-swinger, and I prepared myself accordingly," said the Shoaib.
The left-arm pacer Irfan Pathan became the first bowler to take a hat-trick in the first over of a Test match. That it came against arch-rivals Pakistan in their own backyard made it all the more special. It was the third Test of the series.
The first two Test matches had ended in draws and naturally, the pitch for the final Test had a greenish tinge to it, perhaps to aid the Pakistan fast bowlers more. But it was India captain Rahul Dravid who won the toss and opted to bowl first. Irfan Pathan was thrown the new ball and he did not disappoint his captain.
Irfan Pathan had 100 Test wickets averaging 32.26 and 173 ODI wickets averaging 29.72 playing 29 Tests and 120 ODIs. In 24 T20Is he picked 28 scalps averaging 22.07.
Shoaib Malik: Zaheer Khan And Ashish Nehra Always Targeted Bat's Edge And Hence Were Successful
The 39-year-old Pakistan batsman further talked about former India pacers Ashish Nehra and Zaheer Khan who had created a problem for him. Shoaib Malik said the duo always targeted the 'edges of the bat' and hence, were more successful. Shoaib Malik, who made his international debut in 1999, featured in plenty of games against India. He scored 1782 runs against the Men in Blue in ODIs at an average of 46.89.
"Zaheer Khan and Ashish Nehra targeted the edges of the bat. Hence, they took many wickets against Pakistan. If a bowler targets the edge, he will be more successful. I feel my ability to play the in-swinging deliveries helped me do well against Irfan," Shoaib said.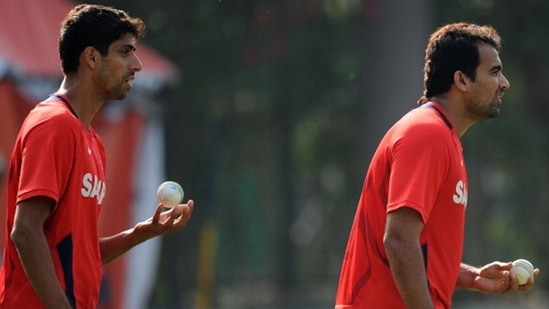 Both the seamers played a great role in India's success in the 2000s culminating in victory in the 2011 World Cup. Zaheer Khan was the joint-leading wicket-taker in the 2011 World Cup – 21 scalps along with Shahid Afridi. In fact, left-arm pacer Zaheer Khan had dismissed the right-hander Shoaib Malik 6 times in ODIs.
Ashish Nehra played 17 Tests, 120 ODIs, and 27 T20Is picking up more than 200 international scalps. He played his last Test in 2004 and last ODI in 2011 but at 36 he revived his international career because he had reprised the ability to move the ball at 140 kph, and became one of India's most successful bowlers in the 2016 World T20. Zaheer Khan played 92 Tests, 200 ODIs, and 17 T20Is picking up 311, 282, and 17 scalps respectively.
Shoaib Malik's last T20I was in September 2020 and his last ODI in June 2019. He played 35 Tests, 287 ODIs, and 116 T20Is amassing over 10,000 runs in all three formats combined averaging above 30 in each. Shoaib Malik became the first Pakistani batsman to score 10,000 runs in Twenty20 cricket in October 2020. He is married to Indian tennis star Sania Mirza.