Russell Domingo, Bangladesh head coach has revealed that Mushfiqur Rahim does not want to do wicketkeeping in the shortest format of the game anymore. Russell Domingo's revelation came after Bangladesh's defeat in the third T20I against New Zealand on Sunday.
Mushfiqur Rahim has informed the Bangladesh team management that he will no longer keep wickets in T20Is, according to Russell Domingo. Mushfiqur Rahim didn't keep wicket in the 3rd T20I against New Zealand, although it was declared before the series that he would split wicketkeeping duties with Nurul Hasan in the first four games.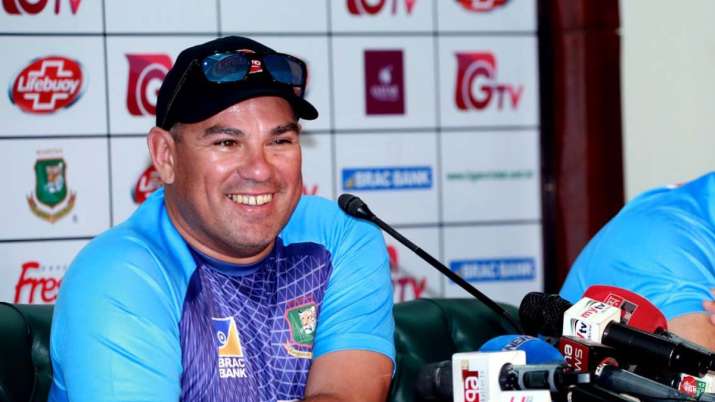 Russell Domingo: Bangladesh's Mushfiqur Rahim Doesn't Want To Keep Wickets In T20Is Anymore
Russell Domingo said that they have to quickly move on to allow Nurul Hasan, who has been keeping wicket in Bangladesh's recent cluster of T20Is since mid-July, to be the No. 1 wicketkeeper going into the T20I World Cup.
This is the first time that Mushfiqur Rahim has told the team management that he wants to give up wicketkeeping. Normally, he has insisted that he wants to play as a wicketkeeper-batter, particularly in the last five years when his wicketkeeping has come under the scanner. The most recent occasion was the second ODI against New Zealand in March this year when he dropped Tom Latham at a crucial stage of the game.
"There has been a change in plans. Initially, after speaking to Mushy, he was going to keep after the second game. But he told me he probably doesn't want to keep wicket in T20s anymore, so we have to move on. I don't think Mushfiqur's desire to keep in this format is great anymore. We have to focus on Nurul Hasan Sohan, and let him do those duties going into the competition," ESPNcricinfo quoted Russell Domingo as saying.
Mushfiqur Rahim is yet to come out in the open and reveal his side of the story on why he does not want to don the wicketkeeping gloves in the shortest format of the game. Spinner Ajaz Patel's four-wicket haul helped New Zealand defend 128 and defeat Bangladesh by 52 runs in the third T20I of the five-match series here at the Shere Bangla National Stadium on Sunday.
With this win, New Zealand registered their first win of the series and the five-game series stands at 2-1 in favour of Bangladesh. The fourth T20I will now be played on Wednesday. Chasing 129, no Bangladesh batter got going and the top-scorer was Mushfiqur Rahim as he played a knock of 20 runs. The Bangladesh innings folded inside 19.4 overs.
Nurul Hasan Is In Good Form Behind The Stumps
When Mushfiqur Rahim missed the T20Is against Zimbabwe and Australia due to a family emergency, Nurul Hasan took over with good form both behind and in front of the stumps. It opened up a bit of competition between the two, which the team management decided should be settled by splitting the wicketkeeping duties over four matches of a five-match series.
Mushfiqur Rahim has been a regular wicketkeeper in ODIs and till 2020, in T20Is. His inclusion as a wicketkeeper-batter allows the team to have the luxury of playing two world-class all-rounders. But there are many in Bangladesh who believe, with reason, that Mushfiqur Rahim should focus his energy on only batting, as he is arguably Bangladesh's best all-format batter.
At the same time, Nurul Hasan's reputation as the country's best wicketkeeper is backed by good domestic performances this year. For the selectors and team management, he was too hard to ignore as the wicketkeeper in Bangladesh's white-ball teams.
Left-arm spinner Ajaz Patel claimed a career-best 4-16 as New Zealand kept alive its Twenty20 series against Bangladesh with a thumping 52-run victory in the third game on Sunday. Off-spinner Cole McConchie (3-15) and left-arm spinner Rachin Ravindra (1-13) also played their part in dismissing Bangladesh for only 76 in 19.4 overs after New Zealand had recovered from 62-5 to a total of 128-5 on a slow surface.