Sachin Tendulkar is arguably the greatest batsman to have ever stepped onto the cricket field as he has tormented numerous bowling line-ups in his astonishing career. Time changed, playing conditions were revised and even a new format – a shorter T20 format came into the picture.
However, Sachin Tendulkar rose to every challenge and piled up runs consistently. From Glenn McGrath, Shoaib Akhtar to James Anderson and Muttiah Muralitharan, the Master Blaster gave tough time to many potent bowlers.
Sachin Tendulkar Named Best Batsman By Steve Smith Who Debuted 3 Years Before The Master Blaster's Retirement
In fact, Sachin Tendulkar, whose international career spanned over 23 years, didn't really lose his sheen even at the fag end of his career. Veteran Australian batsman Steve Smith is certainly of a similar opinion.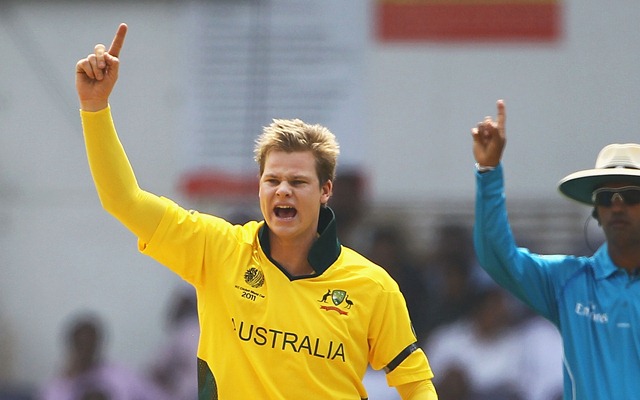 On Sunday, the right-handed batsman held a Q/A session on Instagram to interact with his fans. From revealing his favourite food item to sharing his IPL experience, Steve Smith opened up about many things. On being asked about the best batter he ever played against, Steve Smith tagged none other than Sachin Tendulkar.
It has to be noted that Steve Smith made his international debut in 2010, just three years before Master Blaster's retirement. This shows that the former Indian opener was a force to reckon with even in the twilight of his playing days.
The legendary Indian batsman has been the most complete batsman of his time, the most prolific run maker of all time, and arguably the biggest cricket icon the game has ever known.
Sachin Tendulkar currently holds the record for most hundreds in both Tests and ODIs. Incredibly, he retained a divine enthusiasm for the game till his last match. He also scored the first double-century in one-day cricket. In 2012, he became the first player to score 100 international centuries.
Later that year, though, he announced his retirement from ODIs. And on November 16, 2013, Sachin Tendulkar retired from Test cricket after a memorable 200th Test-the most by any player.
Steve Smith Picks Sachin Tendulkar Over Virat Kohli And AB de Villiers As The Best Batsman He Played Against
Moreover, Smith Smith has played against the likes of Virat Kohli, Kane Williamson, and AB de Villiers at their prime. However, he went with Sachin Tendulkar as the best batter he played against. Notably, Steve Smith, who's a part-time leg-spinner, has dismissed Sachin Tendulkar once in international cricket.
It was a 2013 Test match in Mohali where the leggie trapped Sachin Tendulkar in front and the legendary cricketer had to walk back after scoring 37 runs. India, however, went onto win that contest by six wickets. It was the same year when Sachin Tendulkar bid adieu to international cricket. However, many of his records like most runs in Tests and ODIs, most centuries in international cricket, and most Test appearances are still standing strong.
Meanwhile, it remains to be seen when Steve Smith will make a comeback on the field soon. The batsman's elbow injury has forced him to miss the white-ball series against West Indies and Bangladesh. His participation in the ICC T20 World Cup is also under dark clouds. Hence, the Australian fans would be praying for Steve Smith's speedy recovery with several important fixtures coming up.