Faf du Plessis predicted hosts India and defending champions West Indies as the front-runners to clinch the upcoming T20 World Cup. Both these sides are studded with prominent T20 stars. Hence, Faf du Plessis sees them thriving in the competition.
The countdown for the ICC T20 World Cup 2021 has begun, and all participating teams are gearing up for the tournament. Although the official dates and schedule are yet to come, the competition is slated to take place in the UAE in October-November. With T20 matches dominating the cricket calendar in the past few years, fans are expecting some mind-boggling action in the marquee event.
Faf du Plessis: West Indies Favourites To Win T20 World Cup With Dwayne Bravo, Andre Russell In Squad
Faf du Plessis picked West Indies, the defending champions of the T20 World Cup in 2016 as the favourite and frontrunner to win again with consistent big-hitting performers like Chris Gayle, Dwayne Bravo, Kieron Pollard and Andre Russell in the team.
"The shorter, the format, you feel like there are more teams that can have a chance. If I look at teams with good firepower and experience, you have to look at West Indies and the fact that they have brought back all their players; almost given them a directive to try and be the team that wins three times," Du Plessis said in a virtual press conference.

"All the guys you wouldn't have seen playing much of international cricket will be back; Dwayne Bravo, Andre Russell. That's a lot of experience if you count the number of T20 caps," he added.
Speaking of India, the Proteas talisman said the Virat Kohli-led side has all basics covered with several potent options in the batting and bowling department.
"They have experience, and they cover all their skills with good wrist spinners and fast bowlers, death bowlers and an explosive batting lineup. And England, a successful ODI unit, is a strong team too but India, West Indies are my favourites right now," he asserted.
Meanwhile, Faf du Plessis, who announced his retirement from Test cricket earlier this year, hasn't been a part of South Africa's T20I team lately. The 36-year-old hasn't been picked in the national side for the upcoming tour of the West Indies and Ireland.
Hence, it would be interesting to see if he features in the T20 World Cup or not. He'll next be seen representing Quetta Gladiators in the remainder of Pakistan Super League (PSL) 2021, which gets underway on June 9 in UAE.
Faf du Plessis: Standard In PSL Is Very Good
South African batsman Faf du Plessis has been one of the highest run-getters for Chennai Super Kings in the last two editions. Faf Du Plessis is all set to play for Quetta Gladiators in the Pakistan Super League (PSL), starting June 9, and has drawn an interesting comparison between the two neighboring countries' major T20 leagues.
The South African batsman said that while IPL is the playground for some top-quality spinners, PSL in Pakistan has a plethora of fast bowlers who are trying to prove their worth. Faf Du Plessis was in tremendous form for CSK this season in India and scored 320 runs in 7 matches at a strike rate of 145.45.
"The standard in PSL is very good. The thing that impressed me the most in the tournament is the fast bowlers. From a country like South Africa, where you grew up facing very fast pace, I was surprised to see the number of bowlers bowling at over 140kmph. I think India has a huge variety of spin bowlers. But, I think the real gem of the PSL is the amount of speed," Du Plessis said.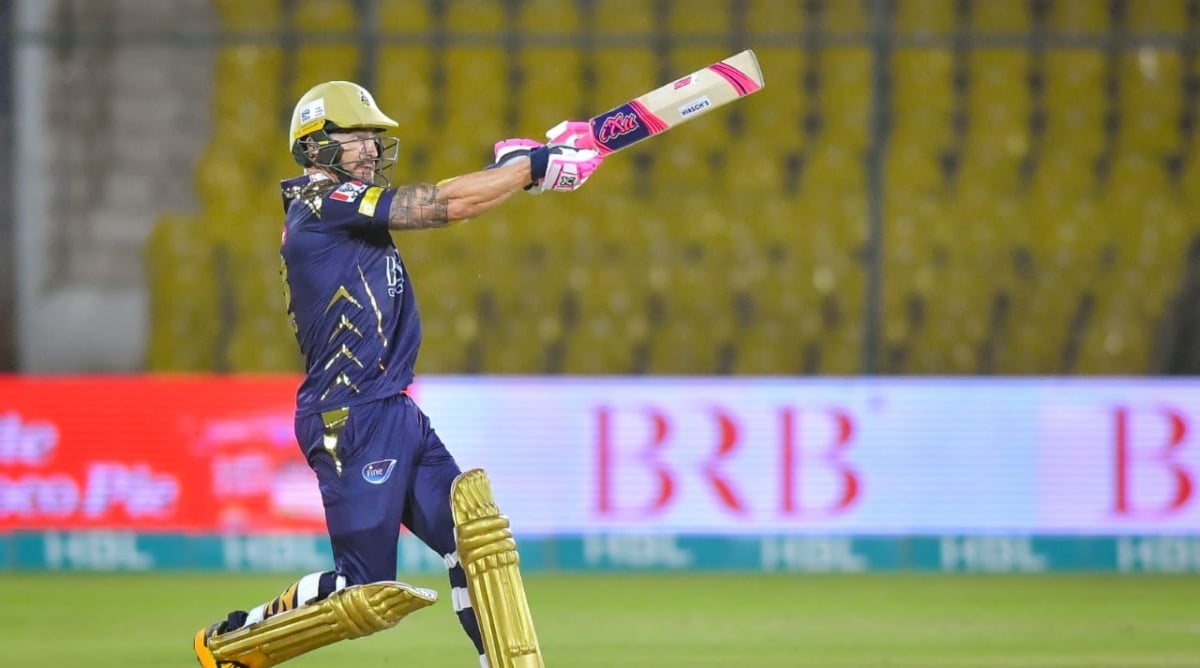 Faf du Plessis was in scintillating form in IPL 2021. Faf du Plessis was also a star in CSK's miserable campaign in the UAE in IPL 2020, scoring 449 runs in 13 matches at a strike rate of 140.75 with 4 fifties. CSK had performed poorly in IPL 2020 as for the first time the three-time IPL winners failed to qualify for the playoffs of the event.
"Very disappointing that another tournament had to be postponed due to COVID-19. It was kind of sad. My performance was going well but so was the team. Chennai Super Kings was playing some really good cricket. Very disappointing from that part," Du Plessis said.
The South African was a touch disappointed by the sudden postponement of the tournament due to violation of the Covid-19 bio bubble at various venues in India with several players and support staff testing positive.