Rhea Ripley is getting the grandest debut on the main roster that one can expect. In her very first match as part of the Raw roster, she will be challenging Raw Women's Champion Asuka for the title at the Grandest Stage of Them All, Wrestlemania 37. Given how long Asuka has been the champion on the red brand, there are heavy chances that she might end up losing the title to the latest import from the NXT roster.
In that case, Rhea Ripley would make history as she would become the first woman in WWE's history to hold the NXT, NXT UK, and a title from the main roster. We will see if that happens during this Sunday night when the title match against Asuka goes down on Night II. But The Nightmare has some advantages, thus far as the match won't be a triple threat and the biggest threat won't be present.
Wrestlemania 37 Week: WWE Announces Multiple Musical Performances
Many believed that Charlotte Flair would return in time for Wrestlemania 37 build to be one of the challengers for Asuka and thus make the title match a triple threat. But Flair has not returned to WWE on the road to the Show of Shows keeping a lot of fans under speculation about the comeback. It was hard to believe that the company would actually leave a marquee star, like Flair, out of the card.
Rhea Ripley was among those who genuinely believed that The Queen was going to be back before WrestleMania 37 and make her title match a Triple Threat. While speaking to Wrestle Talk, the challenger for the Raw Women's Title revealed that she revealed the expectation saying that she actually expected to face Charlotte Flair on two back-to-back Wrestlemanias but that wasn't the case.
Charlotte Flair Missing Wrestlemania 37 A Huge Loss, Says WWE Official
Rhea Ripley never counted Charlotte Flair out of Wrestlemania 37
"Yeah, I was expecting something like that to happen, but it hasn't. I hope that everything in Charlotte's life is doing great. I hope that she's mentally good and physically good," Rhea Ripley continued. "I don't really know what's going on with all of that, but I am very excited to step in the ring with Asuka. If Charlotte got added to the match, like I wouldn't complain. I think it would still be an amazing match, and it would be a lot of fun and hopefully I could get some payback for last year."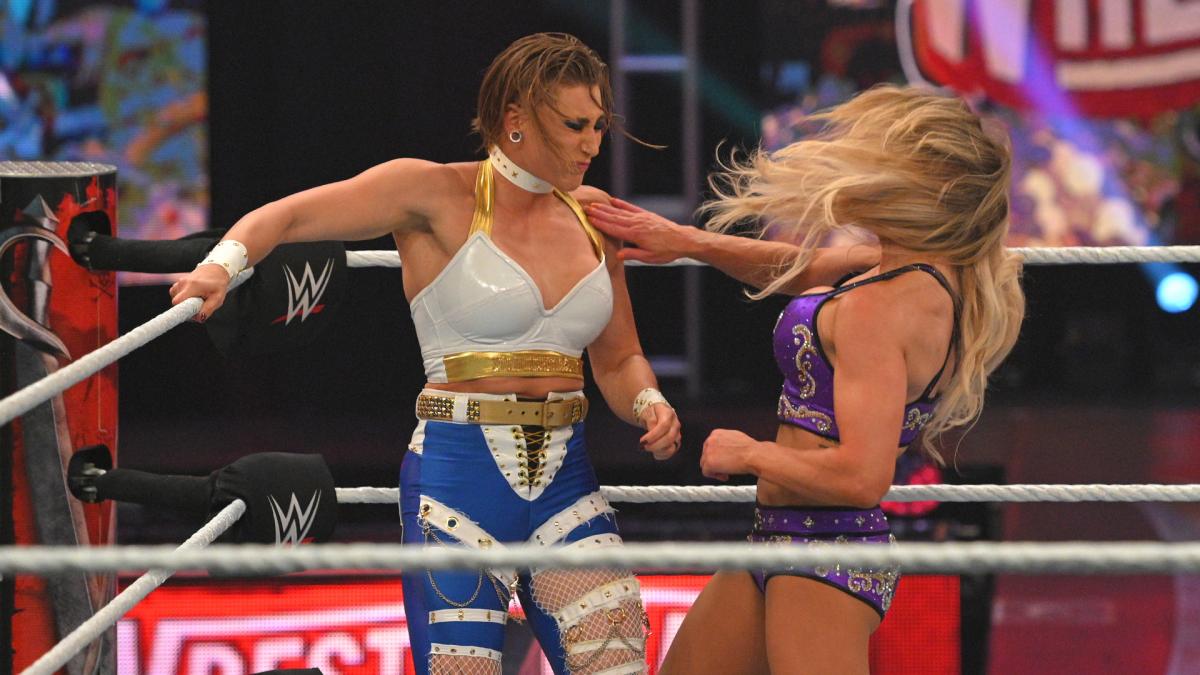 Last year, Charlotte Flair won the Women's Royal Rumble match and went on to challenge the then NXT Women's Champion Rhea Ripley to set up a singles contest on the main card of Wrestlemania. Flair would eventually go on to defeat The Nightmare to win her second NXT Women's Title.
As for this year, Charlotte Flair vs. Asuka was the originally planned WrestleMania match as Flair already challenged the champion to a match. But that changed WWE thought that Flair was pregnant. Eventually, she had to be sidelined after testing positive with the coronavirus. This is when Rhea Ripley was called from the NXT roster to replace Flair and feature in the big title match.