Former Indian batsman Sanjay Manjrekar and current player Ravindra Jadeja have had some war of words over the social network. After the former termed the Indian all-rounder as a "bits and pieces cricketer", Jadeja came down hard at him, condemning his comments. However, when asked Rohit Sharma's opinions on this, the right-hander maintained a neutral stance on the same.
Despite a dismal show by the spin duo of Kuldeep Yadav and Yuzvendra Chahal against England, Manjrekar backed them to bounce back. Ravindra Jadeja dealt with him in a hostile manner, asking him to respect people, and that he is still learning. Here's what Jadeja replied in his twitter account:-
Still i have played twice the number of matches you have played and i m still playing. Learn to respect ppl who have achieved.i have heard enough of your verbal diarrhoea.@sanjaymanjrekar

— Ravindrasinh jadeja (@imjadeja) July 3, 2019
While speaking at the post-match press conference after the win against Sri Lanka, the leading run-scorer of the current World Cup maintained a neutral pose on the spat. Sharma believed that everyone is entitled to their opinion and that it depends upon how he wants to interpret that person in a particular situation.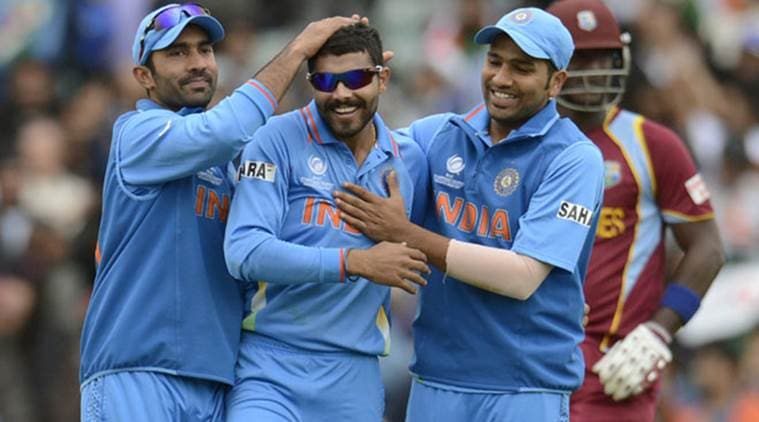 The 32-year-old opined that their sole job is to do the job that they are expected to do. It is always a challenge for a sportsman and, athletes need to shrug off these distractions and focus on the task at hand. Meanwhile, he was also stern on staying away as much as possible from controversies and looking to spend time as much time with the family, enjoying the atmosphere in England.
See, that's the challenge for the sportsman. All this distraction will happen, but every individual is different, and it depends on how he wants to think about that particular incident or situation. For me, like I said just now, I want to stay away from all of that and enjoy the beautiful weather in England," Rohit said.
"I have my family here as well. So most of the time I'm trying to do that rather than all those talks going around and things like that. Because as long as you're playing, that will happen. And we have to have a logistic manager because a lot of people are staying in the same hotel as us who want us to win the World Cup, who want us to score runs, score centuries."
"So you kind of want to stay away from all of that because eventually our job is to do that, our job is to come here, play good cricket and win the World Cup, we all know that. But constantly yapping in anyone's ear is not right. So I think for us as cricketers, it's important to focus on the job at hand."
However, Jadeja, in his first World Cup game of 2019, took figures of 40 for 1 in his 10 overs, playing a key role in restricting the Lankan lions to 264. India moved to the top of the table after their resounding win against Sri Lanka, and will go on to face New Zealand at Manchester in the first semi-final on Tuesday.
Get the latest news and updates from Indian Premier League, ICC World Cup 2019, Match Prediction & Fantasy cricket. Follow SportzWiki for all cricket news, WWE News & Sports News.