Rashid Khan – the Afghan leg spinner who was not retained by Sunrisers Hyderabad and Punjab Kings who couldn't retain keeper-batsman KL Rahul were two of the major talking points coming out of Tuesday evening retentions ahead of the IPL 2022 mega auction. Both non-retentions have much more to them than what meets the eye.
Having to release Rashid Khan, one of the leading bowlers in the T20 format, was indeed a difficult negotiation. As one franchisee insider said, letting go of Rashid Khan is akin to Royal Challengers Bangalore releasing Virat Kohli, or Mumbai Indians releasing Rohit Sharma. However, it didn't seem this straightforward when agents from both parties were involved in an intense war of price tags.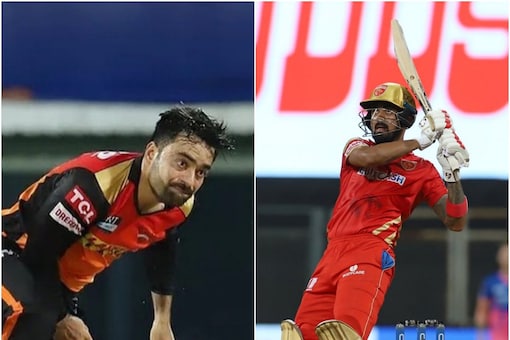 Rashid Khan Wanted To Get Back Into The Auction Pool: SRH CEO
SunRisers Hyderabad (SRH) announced the 3 retentions shockingly ahead of IPL 2022, with Rashid Khan not being retained. The ace leg-spinner from Afghanistan has decided to move into the player auction instead of being retained by the IPL 2016 champions.
SRH has retained New Zealand skipper Kane Williamson as their skipper. Uncapped youngsters Abdul Samad and Umran Malik, too, have been retained by the franchise.
Rashid Khan has been SRH's best bowler since joining the team back in 2017. His numbers in the IPL stand at a staggering 93 wickets from 76 games at an astonishing economy rate of 6.33.
Announcing SRH's retention list on Star Sports, the franchise's CEO K Shanmugam mentioned that Rashid Khan was a part of their plans. However, Mr. K Shanmugam stated that it was the player's choice to get back into the auction pool. The decision was respected and acknowledged by the franchise.
Mr K Shanmugam said: "It's a difficult decision but if a player wants to be in the auction because of the price, we definitely respect the decision. We will try and match him in (terms of) the price and see if we can pick him up in the auction".
Rashid Khan's prowess in the T20 format is not unknown. However, he remains one of only four players to have scalped 400 or more wickets. Hence, a bidding war is expected for him in the IPL player auction. This, of course, provided none of the two new teams from Lucknow or Ahmedabad pick Rashid Khan up in a draft prior to the auction.
As previously reported, the SRH team, which had first bought Rashid Khan in the 2017 auction for Rs 4 crore and then used the Right To Match (RTM) card in the 2018 mega auction, wanted to keep the spinner as their No 2 retention. However, it would have meant that Rashid Khan would be entitled to a fee of Rs 11 crore, which is Rs 2 crore more than his current salary.
After initially refusing to be the second retention, Rashid Khan apparently relented but later reneged. SRH says they still have a good equation with the player but not as much with a London-based agent who was playing hardball with the franchise.
The franchise might not have heard back from Rashid Khan after that, but they still hope to buy him in the auction – that is, if one of the two new teams, Ahmedabad and Lucknow, doesn't rope him in first.
KL Rahul Was Tried To Be Retained By Punjab Kings, But He Wanted To Go Into The IPL 2022 Auction: Ness Wadia
PBKS, in turn, failed to hold on to KL Rahul, whom they had appointed captain keeping long-term goals in mind. The franchise co-owner Ness Wadia did not hide his disappointment.
"He was our captain, we tried our best (to retain Rahul). We wanted him to stay but he wanted to go into the auction. He had different plans," Wadia said on Tuesday night (November 30).
KL Rahul is understood to be headed for Lucknow.
"We have retained Mayank and Arshdeep who were part of our strategy. In terms of bowling, we are confident Arshdeep will represent India soon. It is too early to say if Mayank will be captain but he is a talented and committed player.
"Our first step was the retention and we will decide what is best for the franchise in terms of captaincy," Wadia said adding, "Punjab Kings have not done as well as it should have done. We have plans for the next season to ensure better performance. Whatever we need to do we will do to improve and we are looking forward to having a right balance for the side."
Elsewhere, it was a surprise that Royal Challengers Bangalore left out Yuzvendra Chahal, one of the most consistent performers for the franchise over the years. It is learned that Yuzvendra Chahal may not have agreed to be the No 3 retention, which would have entitled him to only Rs 7 crore. A bigger amount at the auction table is surely a possibility, for which he left RCB.
One of the most expected retentions was of Venkatesh Iyer by Kolkata Knight Riders who, in a span of two months, became an elite player after performing well in the UAE leg of IPL 2021, managing 370 runs which led to his maiden India call-up. The absence of England's Ben Stokes and Jofra Archer from the Rajasthan Royals' list. Kumar Sangakkara strove to explain a part of it, saying Jofra Archer's fitness was an issue.
Tuesday (November 30) saw pre-existing IPL franchises announce their list of retained players ahead of the 2022 season. The usual suspects Rohit Sharma of MI, Virat Kohli of RCB, and MS Dhoni of CSK have all been retained by their teams.
It is worth noting that both Virat Kohli and MS Dhoni have taken a pay cut in comparison to the previous three-year cycle. Virat Kohli will now draw INR 15 crore, as opposed to INR 17 crore earlier. Meanwhile, MS Dhoni's salary is now INR 12 crore, having drawn INR 15 crore before.
Ravindra Jadeja has been retained by defending champions CSK as their highest-paid player at INR 16 crore. Some of the most notable Indian names to have not been retained by their teams include Shreyas Iyer, KL Rahul, Shikhar Dhawan, and Hardik Pandya.