Sanjay Bangar has hailed wicketkeeper-batsman Rishabh Pant for his reverse scoop shot against England pacer Jofra Archer in the 1st T20I. He said that the youngster will sometimes be dismissed while playing those shots but it's then when team management should back him.
Former India batting coach Sanjay Bangar has hailed young wicketkeeper-batsman, Rishabh Pant, for his audacious reverse scoop expressing "astonishment at the talent, ability and skill level of the 23-year-old cricketer.
Sanjay Bangar: Rishabh Pant's Shot Was Praiseworthy
Jofra Archer had taken a wicket and was bowling at a lethal pace to under pressure India batsmen when Rishabh Pant took everyone in the world by surprise. He reverses scooped Jofra Archer over wicketkeeper Jos Buttler and sent fans, commentators, and former cricketers into a frenzy.
"To play a shot like that against a bowler who is bowling at 140-150 kph and that too when Jofra Archer followed him after seeing him getting into a position for a shot like that, and despite that he got a bat to ball is praiseworthy. I was left astonished with his talent, ability, and where the skill level has gone," Sanjay Bangar told Star Sports.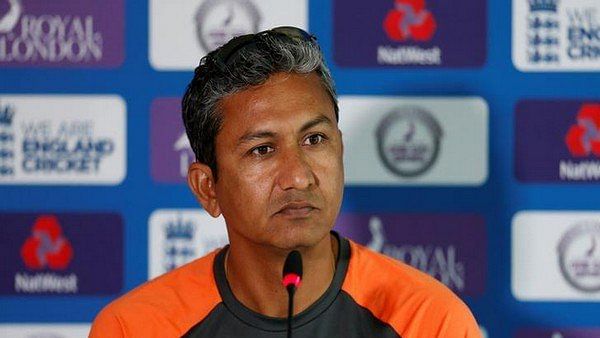 Rishabh Pant is coming off some solid form in the England Test series, having notched up scores of 91, 58, and a game-changing century in the final match in Ahmedabad, his third in Tests. Rishabh Pant hit a sensational reverse-flick off pacer Jofra Archer that went for a six. His shot was a calculated one too since Eoin Morgan had bought the third man up and a deep square leg and fine leg were present.
Rishabh Pant scored 274 runs in 3 Tests in Australia averaging 68.5. He scored 91,11, unbeaten 58, 8, and 101 in the 5 innings against England. He managed 270 runs against England averaging 54.
Sanjay Bangar Hails Rishabh Pant
Sanjay Bangar stated that Rishabh Pant should be backed and encouraged to play his natural game even if he is dismissed while executing "such shots". He called Rishabh Pant a "special player, a match-winner, and a stroke-maker." Rishabh Pant's average has been less than 30 and he has managed only 3 fifties in both the limited-overs formats combined as he has most often gifted his wicket but he will look to make amends.
"He is a special player, he is a match-winner and stroke-maker. And sometimes he will get out playing such shots. So, it will be necessary that he is encouraged to play his natural game and he will then be able to win the maximum matches for the team, the way he did in Australia.
"He did not get much batting before the Australia tour, he did a lot of hard work. He is playing in the same fashion, he is a game-changer who wins matches for his team," Sanjay Bangar concluded.
Rishabh Pant, who has put together a string of impressive performances for India since the Test series against Australia, scoring four fifties and one century in the last seven Tests, was included in India's T20I squad against England and even played the first game in Ahmedabad on Friday, 12th March where he scored 21 off 23 balls including 2 fours and a six.