Vijay Shankar talks about his relationship with Ambati Rayudu. A couple of years ago, Sunrisers Hyderabad's all-rounder Vijay Shankar was expected to become a significant part of India's limited-overs team. Owing to his all-around abilities, he was selected ahead of Ambati Rayudu for the ICC Cricket World Cup 2019.
However, a toe injury meant Vijay Shankar got ruled out of the tournament after playing just three games. Since then, he has not been picked in the national team despite India's dearth of fast bowling all-rounders.
Vijay Shankar Didn't Do Anything Bad After The 3D Tweet By Ambati Rayudu Playing 3 Games For India
In a recent interaction, the Sunrisers Hyderabad (SRH) all-rounder opened up about many things, including his comeback plans, online trolling, and also Ambati Rayudu's infamous tweet. As mentioned, Vijay Shankar made it to India's World Cup squad ahead of Ambati Rayudu, who was expected to bat at number four for the Men in Blue.
After the team for the gala tournament was announced, a disgruntled Rayudu tweeted: "Just Ordered a new set of 3d glasses to watch the world cup."
He apparently took a dig at Vijay Shankar's selection, who was deemed as a three-dimensional player. Since then, the 3D tag has been attached to Vijay Shankar.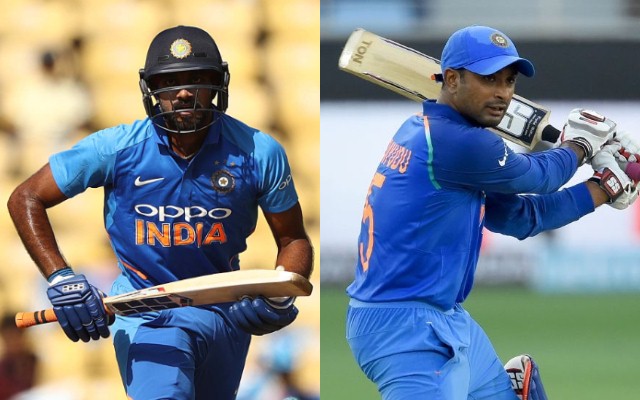 Time and again, social media users have used this tag to troll Vijay Shankar whenever the all-rounder endured a poor outing in the Indian Premier League or domestic matches. On being asked if the 3D tag frustrates him, Vijay Shankar said that people troll him without understanding his role in the side.
"I have no connection to that. They gave me a tag randomly and made it viral. But after that tweet, I played three games for India (World Cup) and did decently. I didn't do anything bad. Even in the IPL, my batting orders have been different.

"A lot of people compare me to Rayudu, but the batting orders and conditions we play in are different."

"It's okay to even compare, but at least see which slots we're batting in. A lot of people don't know that. They don't see that, and they just want to enjoy in social media at my expense," Vijay Shankar said in an interaction with News18.
Vijay Shankar has played 12 ODIs and 9 T20Is managing 324 runs in both formats combined besides picking 9 wickets combined.
Vijay Shankar: There's No Personal Issues And Grudge Against Ambati Rayudu
Vijay Shankar also said that he has no grudges with Ambati Rayudu and the two cricketers are in good talking terms.
"We talk well when we meet. There's no personal issue between us. It just so happened that his tweet became viral. I definitely don't have any grudge against Rayudu. Even when I met him recently in Delhi, we had a super conversation," the 30-year-old asserted.
Earlier, after the original 15-member Indian squad selection for the ICC Cricket World Cup 2019, AmbatiRayudu tweeted "Just Ordered a new set of 3d glasses to watch the world cup" in reaction to the "three-dimensional" cricketer comment of then chairman of the selection committee MSK Prasad for the all-rounder Vijay Shankar. In that period, the duo was fighting for a spot in the Indian squad for that tournament.
Ambati Rayudu disappointed in his last international series (ODI series against Australia at home in March 2019) and he also failed to impress in the IPL 2019.
Due to those weak performances, he was not included in the Indian 15-member squad for the ICC Cricket World Cup 2019. Although he was in the stand-by squad for that tournament, he was ignored during that tournament.
In July 2019, Ambati Rayudu surprised everyone by announcing his retirement from all forms of cricket. However, later in August 2019, he changed his mind and announced his return to the game. After his return to the game, Ambati Rayudu served for Hyderabad in the domestic List A and T20 tournaments.
He also played IPL 2020 and IPL 2021 for CSK. He scored 359 runs in 12 games in IPL 2020 averaging a decent 39.88 and had scored 136 runs in 7 games this season with a staggering strike rate of exactly 200, averaging 34.