Ronda Rousey has come back to the pro-wrestling context for the past few days as she made several comments on WWE producing fake fights which are for fun.
WWE Universe was outraged by these comments for obvious reasons and especially the female superstars within the WWE took shots at the former WWE Raw Women's Champion which includes Alexa Bliss.
Ronda Rousey Clarifies Her Comments On WWE Producing Fake Fights
In fact, Little Miss Bliss is the rightmost person to comment on Ronda Rousey as she's the one to take away months or rather almost a year of her career with her dangerous moves.
Ronda Rousey brought unique MMA skills while competing inside the squared circle which was not taken well by some of the WWE superstars. Alexa Bliss was the most affected by it as these ended up giving her a concussion.
Hall Of Famer Supports Ronda Rousey's Comments WWE Is Fake!
After Ronda Rousey's comments on wrestling being fake Alexa Bliss posted a tweet containing a video where Rousey gave her a concussion during a live event match. That injury kept her out for almost a year.
During an interview with Sporting News, Bliss discussed Rousey's comments which may have been offensive to the entire female locker room.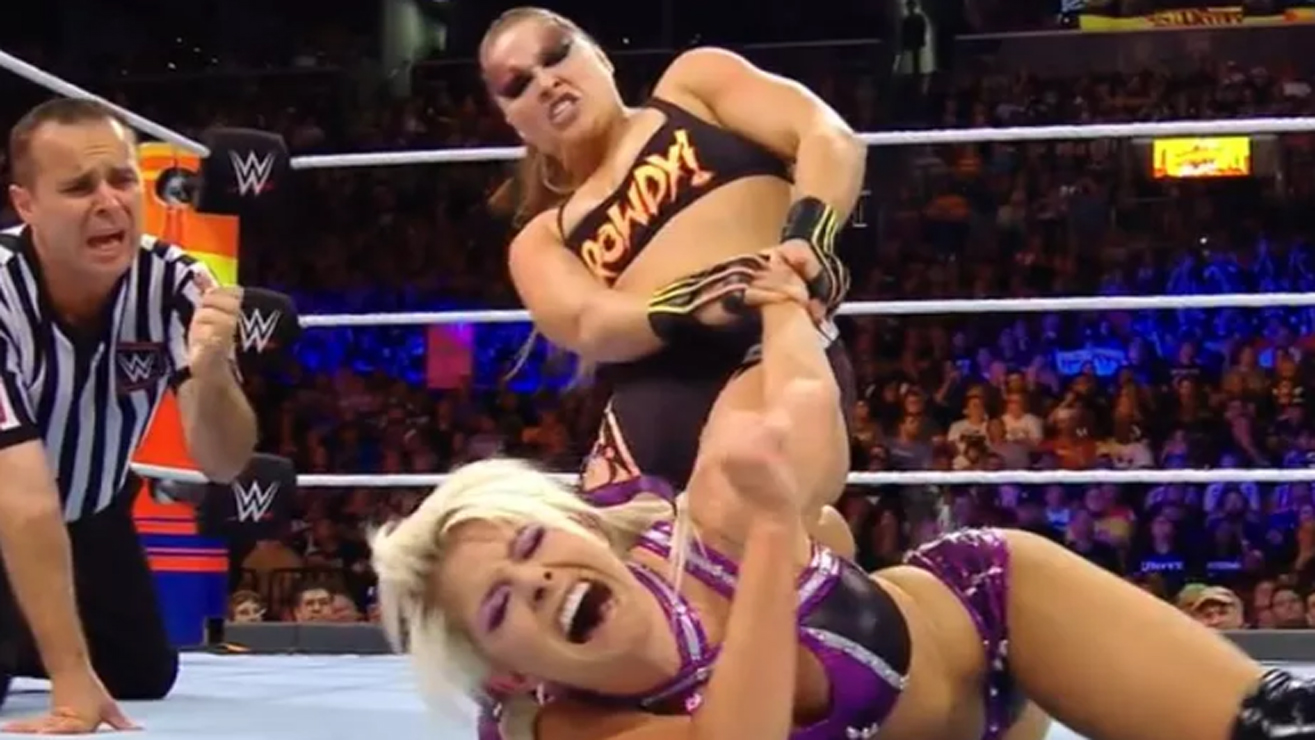 "Here's the thing: I want to start off saying I have a lot of respect for Ronda. I do. We get along great. I just said this already, and I'll say it again, I don't like when people use the F-word — when people say fake — because what we do is not fake," stated Bliss. "She's accomplished a lot in MMA. She came into our business and everyone was more than accommodating, more than wanting to see her succeed. It's kind of that thing where it's like this is a two-person thing. Every match that we have, you're only as good as the person that you're in the ring with." (Courtesy wrestlingINC.com)
The five-time Women's Champion particularly focused on her case stating that her run in WWE continued for almost six years without a single injury. Then she got involved in a program with Ronda Rousey and ended up getting multiple concussions upon which a whole documentary was released.
Flashback video: WWE Superstar Ronda Rousey Breaks Ribs Of TV Presenter
So Alexa Bliss stated that it was unfair to talk like that about those performers who put their bodies on the line while stepping into the ring, every single time.
Alexa Bliss was then asked when Ronda Rousey returns to the company, whether herself and some others in the locker room would have a conversation with her for the triggering words towards pro wrestling.
"Probably. I don't know unless that happens. I have a lot of respect for her. She's done a lot. She did an amazing job in WWE. We respected her business, and we made sure that we catered the matches to her style and so we didn't disrespect her style. So you know, just for the people that helped you along the way like, don't disrespect us and our business, that's all," responded Bliss.
For that matter, Nia Jax who was the former best buddy of Alexa Bliss was very vocal on this issue. As stated by her on the social media, she threatened Ronda Rousey to physically hurt her for these comments when she shows up, the next time around.