The Miz appeared on this week's episode of WWE Backstage on FOX who got into an inadvertent with one of the co-hosts of the show.
CM Punk is the concerned name whom the A-lister tried to pinch and in return get back a fitted reply on social media. It also dragged Saudi Arabia PPVs in the context to which Punk is definitely not going to perform, ever.
CM Punk Reveals Original WWE Wrestlemania 30 Match Card Featuring Him
The Miz was a special guest on this week's episode of WWE Backstage. The show was about to be over when the former WWE Campion stated the following,
"Oh yeah, we are now done with WWE Backstage. They are taking the microphones off me. It was great, it was amazing. I feel like this was the best WWE Backstage episode ever. It was the best… was it the best ever?"
CM Punk Is Current Second Favorite To Win WWE Royal Rumble 2020
It was a classic heel version of The Miz where he is trying to go back to don his usual gimmick starting from this past episode of SmackDown. He also claimed that this episode of WWE Backstage was the best-ever one by commenting the below words,
"What do you mean in and around? Name one that was better. Name one."
Renee Young mentioned that it could have been the debut edition of the show on November 19th where Ember Moon was the special guest. In response, Miz said,
"Oh, sorry. I didn't 'change the culture,' My bad. My bad."
Stephanie McMahon Wants CM Punk & AJ Lee Back In WWE
It was in reference of CM Punk's surprise appearance on WWE Backstage, where he stated the below words,
"It's as simple as this, just when they think they've got the answers, I change the culture. I'll see you here next week."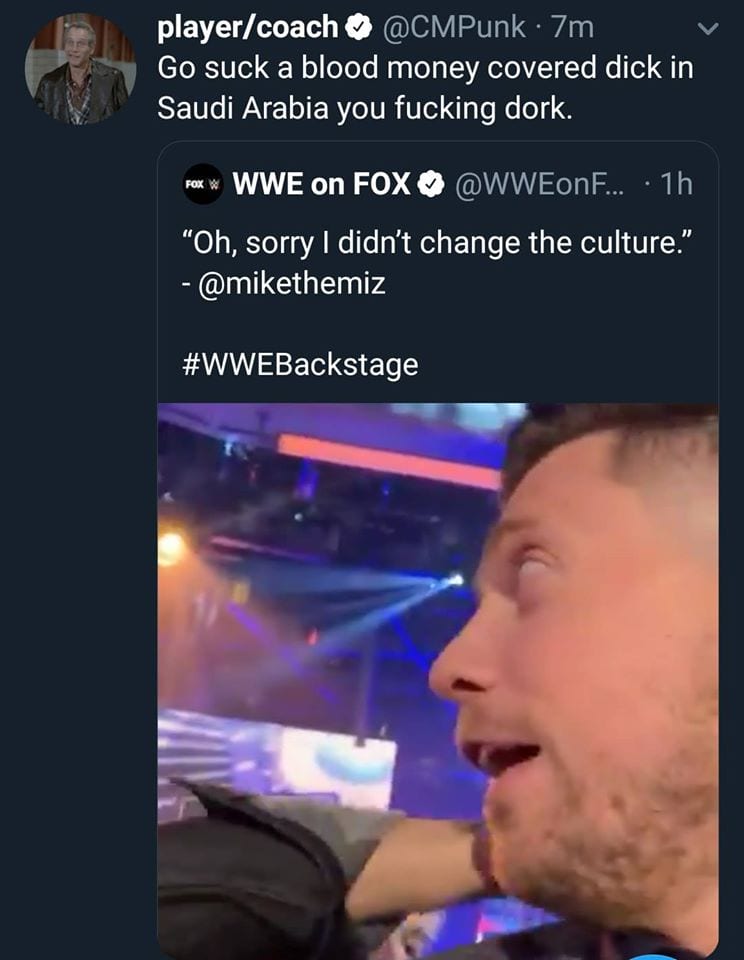 Now, CM Punk did not take The Miz lightly for sure and went on to take a shot via his Twitter account saying, "Go suck a blood money covered d*ck in Saudi Arabia you f**king dork."
Saudi Arabia @WWE 2020@steveaustinBSR vs @CMPunk

Retweet if you wanna see that

Like if you would rather not

— Chris (@freeway_chris) January 6, 2020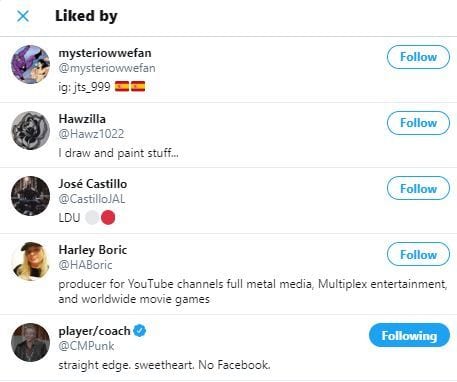 It clearly showed the hatred of CM Punk towards Saudi Arabia events as well. Previously a fan asked on Twitter whether "Stone Cold" Steve Austin vs. CM Punk in a Saudi Arabia WWE PPV match is possible.
The fan asked people to 'retweet' his tweet for positive answer 'like' his tweet if they don't. Punk ended up liking the tweet hinting that there's no way the match can happen.