CM Punk is away from WWE programming for more than five years now despite which fans chant his name whenever they find something irrelevant.
It was back at Royal Rumble 2014 that he decided to quit the company as his body was beaten up from a rigorous schedule. But WWE was forcing him to perform that could have been life-threatening as per his claim.
CM Punk Is Current Second Favorite To Win WWE Royal Rumble 2020
So CM Punk walked out of the WWE after the Royal Rumble night and thereafter the planned WrestleMania 30 match card had to change.
Impressive Streak Of WWE Superstar Big Show Ended In 2019
He was originally supposed to feature in a match against Triple H which had to be called off due to his departure. As a result, Daniel Bryan had to pull off double duties on a single night.
The former WWE Champion, CM Punk noted on Instagram that he was doing some spring cleaning when he found a sheet with WWE's original plan for WrestleMania 30.
It contained the marquee matches from the show including his own where he was supposed to compete against Triple H. As for the main-eventer, Daniel Bryan, he was about to go up against Sheamus in a rematch from WrestleMania 28.
WWE Wants Seth Rollins Vs. CM Punk At Wrestlemania 36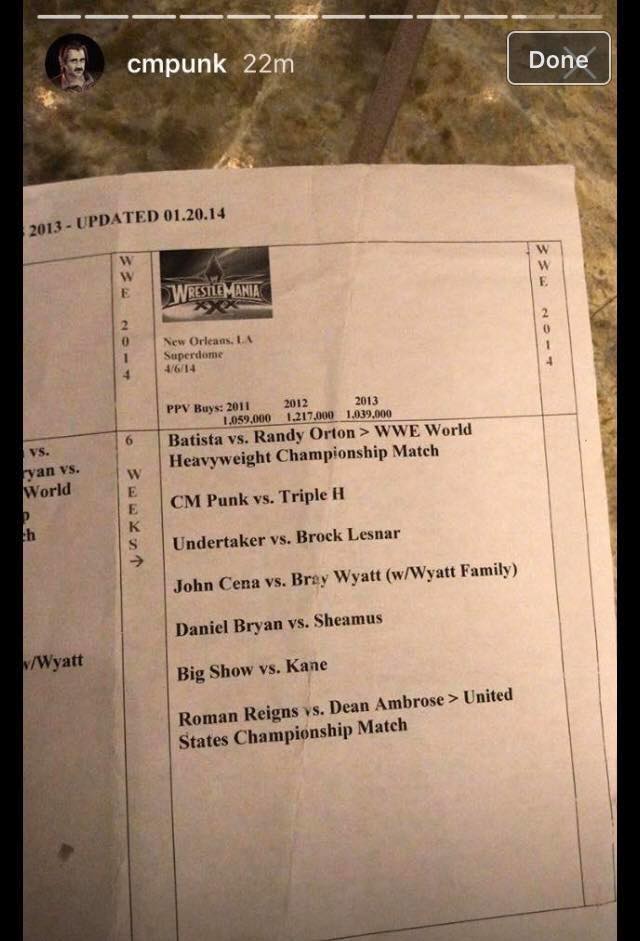 Here's the match card as revealed by CM Punk,
– WWE World Heavyweight Championship Match: Randy Orton (c) vs. Batista
– The Undertaker vs. Brock Lesnar
– Triple H vs. CM Punk
– John Cena vs. Bray Wyatt
– United States Championship Match: Dean Ambrose (c) vs. Roman Reigns
– Kane vs. The Big Show
Originally, Daniel Bryan had to take on Triple H in the opening contest of the show in order to earn a championship opportunity at WrestleMania 30. Thus, he entered the singles title match between Randy Orton and Batista to make it a triple threat. The rest is history where Yes-O-Mania was born as Bryan walked out of the show with the gold.
CM Punk has recently been back on FOX discussing WWE programming on a frequent basis. There've been constant speculations whether WWE could eventually bring him back or not. Triple H noted on SI Media Podcast saying the doors are still open for discussion,
"Look, I've read about that as well and to be clear, Fox is doing this show and it's their show and it's something that they're doing to talk about the WWE Universe and everything going on it. They have a long list of people that they've been interviewing, but as far for us, one of the things this company has shown over and over again is 'never say never.'"
Get the latest news and updates from Indian Premier League, ICC World Cup 2019, Match Prediction & Fantasy cricket. Follow SportzWiki for all cricket news, WWE News & Sports News.
Related posts
NZ v IND 2020 – Virat Kohli Is At His Best When He Is Riled Up – Gautam Gambhir
Former Indian opener Gautam Gambhir wants a riled up Virat Kohli to take the field in the second Test match against New Zealand in Christchurch. It is cognizance of the fact that Kohli likes to take the bull by its horns and his attitude brings…
New Zealand vs India 2020: Ravi Shastri Hints At Major Changes For Second Test
Indian chief coach Ravi Shastri has revealed the team's playing combination for the second Test match. The visitors had lost the first Test match by 10 wickets and thus there can be some changes to the playing XI. It was reported on Thursday that Indian…