Mandy Rose has really been enjoying her time on SmackDown in a role where she plays the love interest for Mr. Money In The Bank Otis. These two have been seen in lovey-dovey sessions as of late as she transitioned into a babyface character, moving on from a villainous character. She recently has caught up with ComicBookMovie.com to discuss a number of topics.
Before becoming a singles competitor on SmackDown, Mandy Rose and Sonya Deville worked together where they were part of two tag teams – Absolution and Fire & Desire. Although these two had a decent run on the female roster, they never became tag team champions. Rose was asked if missing out on an opportunity does really bothers her.
WWE's Golden Goddess Mandy Rose Drops Memorial Day Bikini Photo
The gorgeous WWE star stated that things happen for a reason and not having a title run doesn't mean everything for a wrestler,
"We were best friends, so I don't know what she's mad at, but the fact that maybe some people saw more of a star in me, that's not my problem."
"Don't hate the player, hate the game. You just never know. Championships really aren't everything. A title around your waist doesn't make you … of course, it's nice to have, and it's something we all want to have, but it really doesn't have much to do with the success of your career," Mandy Rose stated.
Photo: Mandy Rose Suffered Wardrobe Malfunction On WWE Smackdown
For those who don't know, Mandy Rose came to the WWE from a fitness background and she's also a blonde head. This often led to comparisons with WWE Hall of Famer Trish Stratus. Rose has the belief to excel in both professional wrestling and fitness, at the same time taking inspiration from the legendary female wrestler,
"Trish had the same tribulations to get through as well. We're both from the fitness world and were models, and people have this idea that 'You're just a model,' but have you ever seen a model and an athlete at the same time?"
"That's possible. It's just ignorance, to be honest. People just assume that you can't do both, but I've proven myself up until this point and I've proven myself that you can have both and you don't just have to be a pretty face. Why can't you have both?"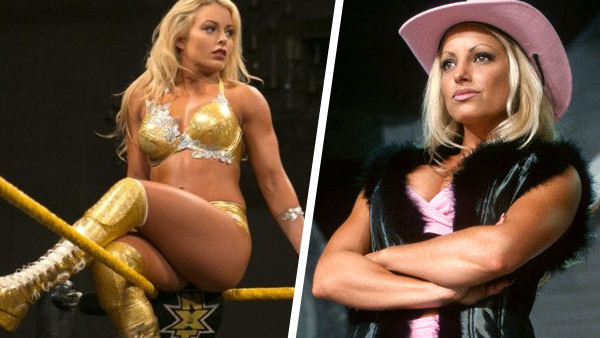 Speaking about Stratusfaction, Mandy Rose also mentioned how she'd love to share the ring with the former Women's champion and perhaps the greatest of all-time. She picked Stratus as her dream WrestleMania opponent. The legend has been an inspiration to her who's also been a sweet person to her. Rose believes they could produce a 'hot match', together.
"I would say myself versus Trish Stratus," Rose stated. "She's always been a huge inspiration for me, and like I said earlier, we've had very similar paths in this business, and she's always been so sweet to me every time I see her.
"She is just an amazing woman who has created so many amazing moments in her career, and coming from a fitness background, she was able to really prove to people that she had what it takes, so that's a similar story for me. So, I would definitely say that would be a hot match up for sure!"
Apparently, WWE creative team has been very high on both the former Fire n Desire members, Mandy Rose and Sonya Deville. While the latter is garnering mainstream attention by going after the lead role in the Batwoman series, her former tag team partner could be in the championship picture, sooner as she's accompanying the Money In The Bank winner. We'd see in due course whether she ends up being a future champion.
Get the latest news and updates from Indian Premier League, ICC World Cup 2019, Match Prediction & Fantasy cricket. Follow SportzWiki for all cricket news, WWE News & Sports News.