At present, WWE is making plans for the 2020 edition of SummerSlam that might not have bigger star powers from the female roster, Becky Lynch, Charlotte Flair, or Ronda Rousey. It is going to be a unique show as the fans won't be in attendance. It's now been reported that they're not saving room for the Baddest Woman On The Planet.
Ringsidenews.com has learned that WWE doesn't have any creative plans set for Ronda Rousey at SummerSlam this year. Her name wasn't mentioned during the creative meeting of WWE that seemingly suggested that she'd out of the WWE picture. Thus, her return is not happening at any time, soon despite there's a big void on WWE's female roster, right now.
Sasha Banks Invites WWE Fans To Her Jungle In Latest Insta Photo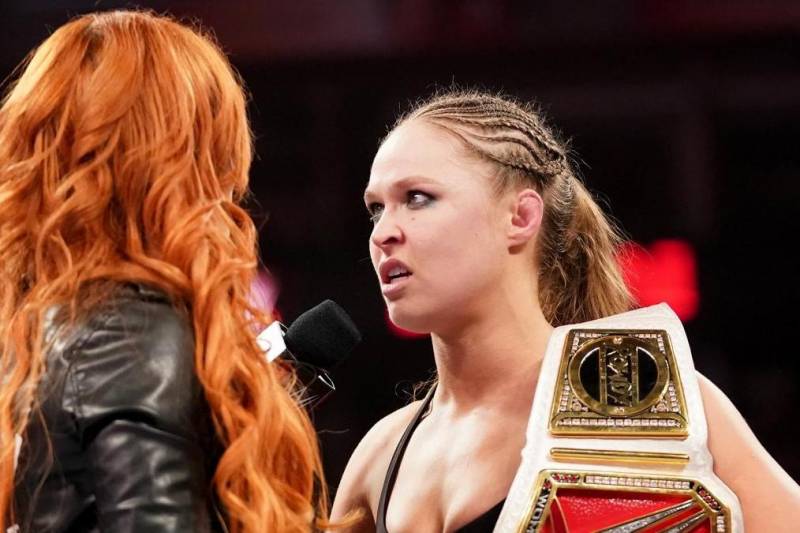 The last time we heard from Ronda Rousey was on her YouTube channel while she was portraying her on-screen heel persona. So she said that she wanted to stay at home rather than performing for the ungrateful fans.
Technically, that's not true as a performer like her always wants to give the best as an athlete inside the ring. She's not pregnant either that would bar her from coming back.
Nikki Bella Describes Ronda Rousey Debut A 'Slap' To WWE Women
It's just that without any audience present in their shows, WWE might not be having enough reason to get back the mainstream attention back on TV. Even if she comes back in the future, it won't be for a full-time stint. Ronda Rousey has let know that the grueling WWE schedule isn't appropriate for her.
The current assumption is that WWE will do everything they can to get Ronda Rousey back when WrestleMania Goes Hollywood, next year. But there're doubts whether WWE will be able to hold next year's show of shows in California amid Coronavirus outbreak. The state authority plans not to allow any mass gathering until April of 2021.
We should note that Ronda Rousey does have a strong connection with SummerSlam, where she won the Raw Women's Championship against Alexa Bliss, two years ago and started a historic title reign. She held the belt till WrestleMania 35 where she lost the belt in the main event to Becky Lynch. According to Triple H, this stint makes her one of the all-time greats,
"I think Ronda's in a place in her personal life where she's figuring some things out. But, the thing with Ronda is you never know what she is saying. Is she attacking the business really or is she attacking the business because she knows that's what will light up the fans that love the business?"
Get the latest news and updates from Indian Premier League, ICC World Cup 2019, Match Prediction & Fantasy cricket. Follow SportzWiki for all cricket news, WWE News & Sports News.