Bobby Lashley and MVP are dominating the Monday Night RAW roster who are also looking forward to adding more members to their faction named The Hurt Business.
Apparently, they're up to scaring down people while doing so. As a result, the two of them were seen in a physical altercation at a public place that was thought to be real but it wasn't.
The Dominator and his manager were seen in a viral video on the internet while they're 'roughing' someone up at a restaurant. MVP was the one to post the video to his Instagram handle as his client got into a quick physical altercation at Miller's Ale House. A masked man bumped into Bobby Lashley & MVP and asked them if they had a problem.
Francine: Former ECW & WWE Diva Shares Details On Her Breast Implants
Bobby Lashley quickly grabbed the man by the jaw and hung him into a corner. MVP asked the man if he had a problem with which the anonymous person answered no.
The two WWE superstars then left the premises as the masked person was seen recovering and afterward, he went ahead to his way. The video caught the attention of the fans as they were thinking it would have been a segment for WWE.
However, it was later noted that the segment has nothing to do with WWE TV programming and was purely done to gauge interest among the fans for the faction of Bobby Lashley and MVP.
A Reddit user named Era Of Rain52 disclosed that his friend works at the Ale House where Bobby Lashley and MVP filmed the segment. It was entirely scripted but this wasn't filming for WWE TV and they did it on their own.
Tessa Blanchard: WWE Close To Signing The Only Female World Champion?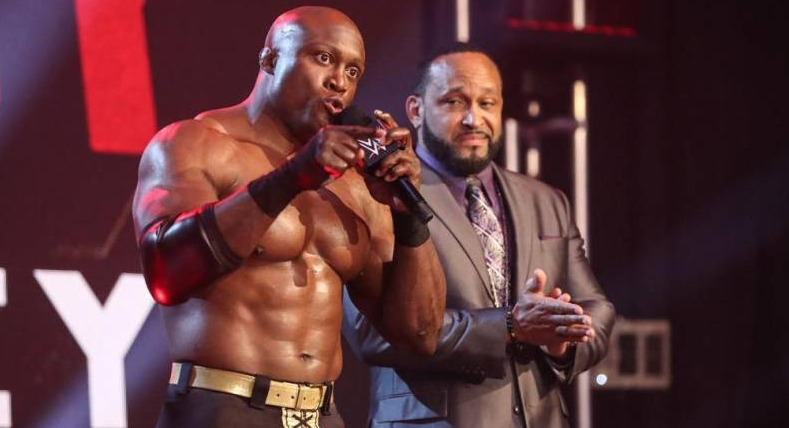 It was also mentioned that Bobby Lashley and MVP are regular customers and another customer came up with the altercation idea. They two WWE stars were happy to oblige the idea as the manager of the place was also sounded okay with the pitching. Here's more from the Reddit user,
"So my friend works at this ale house. This actually isnt something for WWE, Lashley, and MVP are regulars at that location and one of the guests asked if something like this could happen kinda like as a fan fantasy thing. The manager ran this by with MVP and Lashley and this was the result of it."
As noted previously, the online video got quite a bit of attention. It wasn't a bad idea from Bobby Lashley and MVP to do something that could prove their dominance. Although WWE has nothing to do with the segment, it's believed that the Hurt Business can show the segment on Raw to scare WWE roster members.
Get the latest news and updates from Indian Premier League, ICC World Cup 2019, Match Prediction & Fantasy cricket. Follow SportzWiki for all cricket news, WWE News & Sports News.