Fallouts from the 2020 Royal Rumble match will be the key part of tonight's edition of WWE Raw as we kick off the Road to WrestleMania 36 in April. We should also note in this context that the next PPV event following Rumble has also been confirmed as Super ShowDown emanates this February.
WWE Royal Rumble Full Results: January 26, 2020
With that being said, storylines for the Saudi Arabia show will also begin on the post-Rumble episode of WWE Raw that takes place at the AT&T Center in San Antonio, Texas.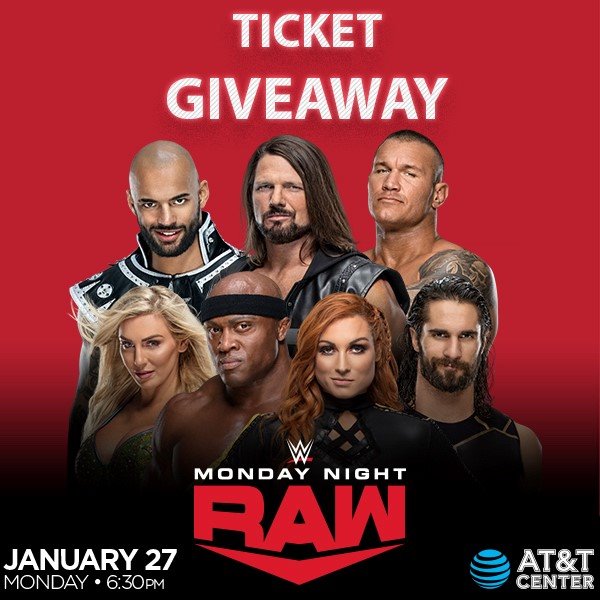 WWE Champion Brock Lesnar is scheduled to make an appearance on tonight's episode of WWE Raw which probably would give a hint of his next championship opponent.
After what went down with Drew McIntyre (he won the Rumble match and eliminated Lesnar) in Royal Rumble, it's almost confirmed that these two will have a match at WrestleMania 36. But for now, Lesnar might have to have an additional title defense in Saudi Arabia.
Drew McIntyre eliminated Brock Lesnar AND won the #RoyalRumble! What a moment! pic.twitter.com/1RWO9aoW5E

— NoDQ.com: WWE Backlash 2020 news #WWEBacklash (@nodqdotcom) January 27, 2020
At present, it looks like Cain Velasquez should work as a stop-gap opponent for Brock Lesnar by taking on him at Super ShowDown. Velasquez was originally scheduled to make his return at Royal Rumble. But since the plans did not go down that way, chances are there that he might make a return on WWE Raw to set up the rubber match at the upcoming PPV.
In the female division, WWE Raw women's championship is safe around the shoulders of Becky Lynch. After months of wait, she was finally able to earn a victory over Asuka via submission move which must be giving her pleasure. Moving forward, she'd look forward to getting her next opponent over the championship.
Meanwhile, it'll be interesting to see what plans WWE will have for the Women's Royal Rumble winner, Charlotte Flair. She's certainly not going to face Becky in an umpteenth rematch.
You awaken every dragon, every wolf, every monster that sleeps inside you and you remind them what hell looks like when it wears the skin of a gentle human. #RoyalRumble ?? pic.twitter.com/WoRmf2iesP

— Ms. WrestleMania (@MsCharlotteWWE) January 27, 2020
As for the only announced matchup for WWE Raw, a singles contest between Lana and Liv Morgan will go down on the show. This match will mark the return of both of them in singles action after a long time. There's no love lost between them as seen in the past few weeks. But they must be fuming even more after the bad blood cost them in the women's Royal Rumble match.
In this circumstance, WWE.com barred Lashley and Rusev from ringside so that these two females can settle their score without chaos,
"In a match where both The Bulgarian Brute and The All Mighty will be banned from ringside, Liv and Lana will square off in singles action on Raw, bringing their simmering rivalry-within-a-rivalry to a boil. The match will mark Liv's first singles competition in six months, as well as an opportunity for the pair to settle the score on their own unfinished business. Given the (still unelaborated) revelations from Lana's wedding to Lashley, it's clear these two have a lot to talk about — or, more likely, fight about — before all is said and done."
Never say never.

The #RatedRSuperstar @EdgeRatedR is BACK! #MensRumble #RoyalRumble ?? pic.twitter.com/J5UmQs6TOZ

— WWE (@WWE) January 27, 2020
Perhaps, we can expect to witness WWE Hall of Famer Edge, as well on this week's WWE Raw. He is speculated to sign a multi-year deal with the WWE which will allow him to compete in special events in due course. Super ShowDown could be the first event where Edge might compete in his first match after the Royal Rumble return went down. There should be some buildups in this context on tonight's show.
The Viking Raiders and @WWE_Murphy join WWE Monday Night Raw to face off in an Eight Man Tag Team Match against Kevin Owens, @SamoaJoe , @WWERollins and the AOP. Get in on the action and purchase your tickets now! https://t.co/2sn8fqv23w pic.twitter.com/e35VNUGs40

— AT&T Center (@attcenter) January 22, 2020
Locally, WWE Raw is promoting a huge tag team match where Samoa Joe, Kevin Owens, and Rey Mysterio face Seth Rollins and AOP in a tag team action. Also, AJ Styles and Randy Orton might go one-on-one in a grudge match as per the current advertisements. Perhaps, one of these matches could end up being a dark match on the night.