Kolkata Knight Riders (KKR) CEO Venky Mysore has said the IPL franchise has zero tolerance towards any kind of discrimination meaning their captain Eoin Morgan and coach Brendon McCullum could each face sanctions for historic tweets mocking Indian accent.
During an exchange on social media in 2018, Kolkata Knight Riders and England limited-overs skipper Eoin Morgan and England batter Jos Buttler used 'Sir' to mock Indian fans. The duo was then joined by former New Zealand captain Brendon McCullum, who is the head coach of Kolkata Knight Riders.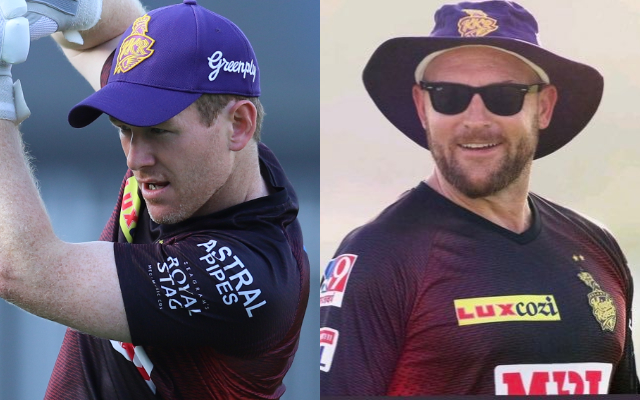 Kolkata Knight Riders CEO Venky Mysore: KKR Has Zero Tolerance For Any Sort Of Discrimination
The conversation has come to the limelight again with England debutant Ollie Robinson being suspended pending investigation for his historic tweets deemed as sexist and racist.
"We don't know enough about it to comment at this time. Let's wait for the process to be completed to get all the facts before we jump to any conclusions. Just to reiterate, the Knight Riders organization has zero-tolerance for any sort of discrimination," KKR CEO Venky Mysore told Cricbuzz.
Although some of those tweets have been deleted, the screenshots of the comments are doing rounds of social media. Speaking on the matter, KKR CEO Venky Mysore said that the franchise would wait to learn about the conclusion.
However, he also made it crystal clear that the Shah Rukh Khan-owned side has zero-tolerance for any type of discrimination.  Despite a star-studded squad, the Kolkata Knight Riders (KKR) have had a torrid first half of the IPL 2021, losing 5 out 7 matches, and languishing at the 7th place on the points table, just a couple of points above Sunrisers Hyderabad.
Captain Eoin Morgan and coach Brendon McCullum have been criticized for some of the tactics in the field and with the batting order. Kolkata Knight Riders will be in concerning jeopardy if some of their overseas players opt out of the remainder of the IPL 2021, which is set to resume in September in the UAE.
Shakib Al Hasan, Eoin Morgan, Ben Cutting, Andre Russell, Sunil Narine, Pat Cummins may miss the UAE leg.
ECB Reiterated Stance Against Discrimination Of Any Sort
The England and Wales Cricket Board (ECB) has reiterated its stance against discrimination of any sort and said it will discuss how to proceed further on such instances of past comments in an appropriate manner.
"There is no place for discrimination in our sport, and we are committed to taking relevant and appropriate action where required. Given the concerns which have been raised are clearly now broader than a single case, the ECB will discuss how we deal with issues over historical social media material in a timely and appropriate manner."
ECB will consider each case on an individual basis. A report suggested that Jos Buttler and Eoin Morgan can face the repercussions from ECB if they come out guilty of insulting the Indian fans.
"Each case will be considered on an individual basis, looking at all the facts. We will assess cases with the ECB before making further statements," the spokesperson said.
The paceman led England's attack with 4-75 in the first innings at Lord's and followed up with 3-26 in the second while in between making a useful 42 with the bat. But Ollie Robinson found himself making an unreserved apology after stumps on Wednesday, his first day in Test cricket, for tweets that included comments suggesting Muslim people were linked to terrorism and derogatory remarks about women and people of Asian heritage.
Ollie Robinson will miss next week's second Test against New Zealand at Edgbaston after being suspended from all international cricket pending an investigation into racist and sexist Twitter messages, the England and Wales Cricket Board (ECB) announced Sunday.