The current WWE Intercontinental Champion Jeff Hardy has been an inspiration to many of the professional wrestling superstars. Starting from the 90s, he's still actively pursuing an in-ring career that is an incredible accolade. The veteran recently spoke with Matty Paddock of The Daily Star to discuss how WWE has used his personal issues for various storylines over the years.
Jeff Hardy Speaks On WWE Using His Drug & Alcohol Issues On TV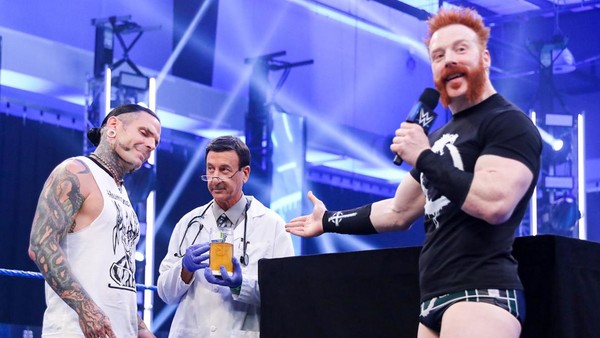 Jeff Hardy has recently won the Intercontinental Title from AJ Styles on the pre-Summerslam 2020 episode of SmackDown. But before that, he was involved in a feud with Sheamus where his past issues with drugs and alcohols were mentioned. He agreed to do it because he knew it would be worth, in the end. He could also feel that their Bar Fight would turn out to be a good one.
"The stuff with Sheamus that's happened most recently, I knew there was a great outcome in it," Jeff Hardy said. "I knew that bar fight was going to be cinematic and good. All the stuff building up to that match, I just knew the outcome was going to be fantastic. And it's good to face challenges like that because there's so much negativity in the world."
Revealed: WWE's Plans With Retribution Faction & Its Members
It should be noted that WWE had to deal with a lot of negative fan feedback on social media for showing Hardy's issues with drugs and alcohol on TV. Even other members of the Hardy family wasn't apparently very happy about it. But Jeff Hardy said he willingly did the storyline and didn't see any of that as he's not a social media guy.
"I'm not a social media guy at all, I don't read comments or the negativity of people who thought it was wrong or that [WWE] were treating me [badly], I don't read any of that," he said. "I'm just confident in myself to get through it, and when I get a feeling that something's going to be good, I just run with it."
The Charismatic Enigma continued saying that he also had some creative influence in some of his own storylines and matches that included the recent feud with Sheamus. WWE eventually allowed Jeff Hardy to write the script for the Bar Fight with Sheamus. He did enjoy the process of writing but most of his ideas weren't used.
"When the idea of the bar match was thrown out there, I wrote up a whole script of how the match would possibly go," Hardy revealed. "Most of it never happened, but I do love [doing] that.
"A lot of that stuff I said in that first meeting of me and Sheamus in the bar was stuff I actually wrote… it felt good to have ideas that they liked and bring them to life, just from being involved in the recovery world."
Jeff Hardy is currently enjoying his fifth reign with the Intercontinental Championship who is also a top superstar of the SmackDown roster. His contract could've been over, by this time if not he was away from WWE programming due to several injuries. His elder brother, Matt Hardy's contract had finished and he'd transformed into an All Elite Wrestling superstar for the past few months.
Get the latest news and updates from Indian Premier League, ICC World Cup 2019, Match Prediction & Fantasy cricket. Follow SportzWiki for all cricket news, WWE News & Sports News.