Former WWE Divas Champion Kaitlyn had all the tools to become one of the cornerstone figures of the division. Given the fact that she was the winner of the only female season of NXT back in the days, it took her the least time to rise to stardom and thereby capture the title on the roster. But personal life had been a priority for her and thus she had to keep her distance from the circuit.
Going through Internet searches, it would be pretty understandable that Kaitlyn was into the bodybuilding business in the past. For that purpose, she posed in minimum clothes and even in bare-body while doing a photo shoot. She never shied away to show off her body in front of the camera, mostly after getting over with her WWE career. At one point, her private media also got leaked, online.
Ex-WWE Diva Kaitlyn's Topless Photo Surfaced On Internet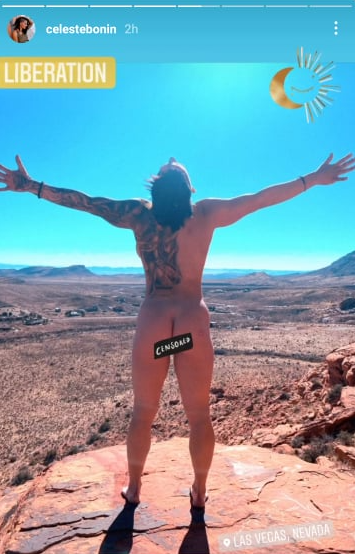 In the latest, Kaitlyn posted a photo of her without clothes on her Instagram story. In the shot, it can be seen that she wore nothing as she blocking the sun on top of a mountainous site, perhaps. The click was done from the backside to avoid any frontal nudity, of course. In a similar background, the ex-WWE star also posted a few recent pictures on Instagram.
Kaitlyn Birthday Photos: Former WWE Divas Champion's Incredible Change In Look
Kaitlyn found success in WWE in the past
Kaitlyn, real name Celeste Bonin, found success after winning NXT season 3. Within sometimes on the main roster, she won a Battle Royal to become the number one contender for the Divas Championship. She would eventually move on to defeat Eve Torres to pick up her first and only Divas Championship. The reigns lasted for 153 days.
During an interview with Ring the Belle, she mentioned how the introduction of Total Divas in that timespan, stole her thunder. Kaitlyn left WWE in 2014 and she considers herself retired from the industry. For a one-off occasion, she made her in-ring return in 2018 by participating in the Mae Young Classic tournament. As seen in the below statements, she revealed how entering a full-time WWE schedule is impossible for her,
"The thing is with WWE, if you are associated with them, it's such a huge commitment and I have a business and a ton of other stuff going on so, couldn't necessarily commit to a 300-day-a-year type of schedule."
"But to go back and do this one-off, I think I was there for a week and doing press and all that stuff, which is cool to be back in that world again and it'd be on my terms."