Kevin Owens is scheduled to face Roman Reigns in another title match at the Royal Rumble pay-per-view event. This would be the third time that these two would lock horns in a match during their current feud while at Rumble, they'll be locking horns for the second time in their career. He had to pick the brain of Adam Pearce to secure the match.
Roman Reigns had to be tricked into signing the contract and make the match official. After everything was said and done, Reigns' Special Counsel Paul Heyman was impressed with the antics. He was quick had to give credit to Kevin Owens for pulling one over on them. It was a tremendous job indeed considering how Heyman has some backstage connections.
Kevin Owens on Paul Heyman rejecting match against Brock Lesnar
During Talking Smack, Kevin Owens revealed that he has tried to secure matches against a client of Heyman's in the past. He wanted to compete in a match against Brock Lesnar. But for some reason, he was rejected time and time again.
"I know it [Heyman's concern about Owens] is about as sincere as you were every single time I'd go to you these past four, five years, and tell you, 'Hey, I wanna fight The Beast Incarnate.' And you'd say, 'Oh, I'll talk to him about it.' That never happened, just like you don't care what happens to me at the Royal Rumble."
WWE Raw Results (18/01/21): Alexa Bliss vs Asuka; Gillberg Appears; Randy Orton
Brock Lesnar was the most protected superstar in the WWE whose position has now been taken by Roman Reigns. With Kevin Owens maintaining a volatile spot on the top spot of the roster, the match never happened on TV. However, the two did square off in a one-off house show match in the past.
Now, Paul Heyman's backstage influence turned Reigns into the top-most heel wrestler in the professional wrestling business. This was something he needed much to stay in the top position, but then he was constantly rejected by fans. He's making an impact with each move and Kevin Owens will have to work the hardest to secure that Universal Championship on January 31st.
WWE Releases Wrestlemania Report On Next 3 Edition's Schedule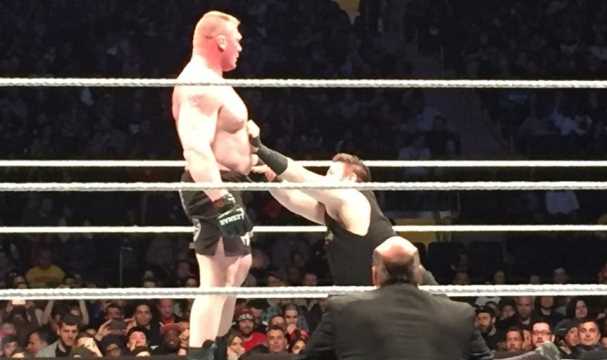 He will now face Reigns in a Last Man Standing match at the Royal Rumble for the coveted title. Paul Heyman did give Owens credits for outsmarting them. During Talking Smack, Kevin Owens was a guest on the show where Paul Heyman was the co-host. Heyman was quick to remind him that he must face the consequences at the Royal Rumble.
"You outsmarted us. I gotta hand it to you. 30 something years in this industry not a lot of people have pulled over — I've pulled over a lot of things and a lot of people and you out maneuvered us. Checkmate. I mean, well played, Kevin. It's so devious. It's so straight-forward. It was in plain sight — card subject to change — and WWE management can find a suitable replacement. Right in front of us, you were hiding in plain sight and we didn't see it coming. Wow. It's brilliant in its simplicity."