Mandy Rose hasn't been involved in anything special on WWE Raw for the past few weeks. She's formed a tag team on the show with Dana Brooke while chasing the Women's Tag Team Titles held by Nia Jax and Shayna Baszler.
But to date, the two potential contenders found no success. That being said, the scorcher might be looking forward to getting into a new angle which might have already been started, this week with major mainstream attention garner.
Before WWE Raw went on the air, Mandy Rose shared a photo from backstage of ThunderDome in a skimpy orange outfit. She wanted the fans to caption the photo while also teasing that she could be up to something big on Raw. The assumption wasn't fully wrong, after all.
WWE Diva Kelly Kelly Is A Treat In Black Lingerie Outfit Photos
A backstage segment featured on Raw with Bad Bunny talking with Mandy Rose, who was wearing his merchandise. She also wanted a t-shirt for Dana Brooke while also mentioning that Bunny would be featured on SNL this coming weekend.
WWE Star Seth Rollins Shares Cute Sleepy Photo of Becky Lynch And Baby Roux
Mandy Rose posted photos with Bad Bunny
Damian Priest then approached Bunny while Sarah Schreiber interviewed them both. Priest and Bunny were interrupted by the sound of Tozawa rolling Truth up to win the 24/7 title. Tozawa, while celebrating, collided with Priest, and Priest launched him into a stack of production cases. Priest then instructed Bunny to cover Tozawa. Bunny did so to become the new 24/7 Champion.
This is Bad Bunny's first reign with the WWE 24/7 Title while Tozawa briefly held the title for the 8th time. As for Truth, he was enjoying his 49th run with the title before losing it on Raw.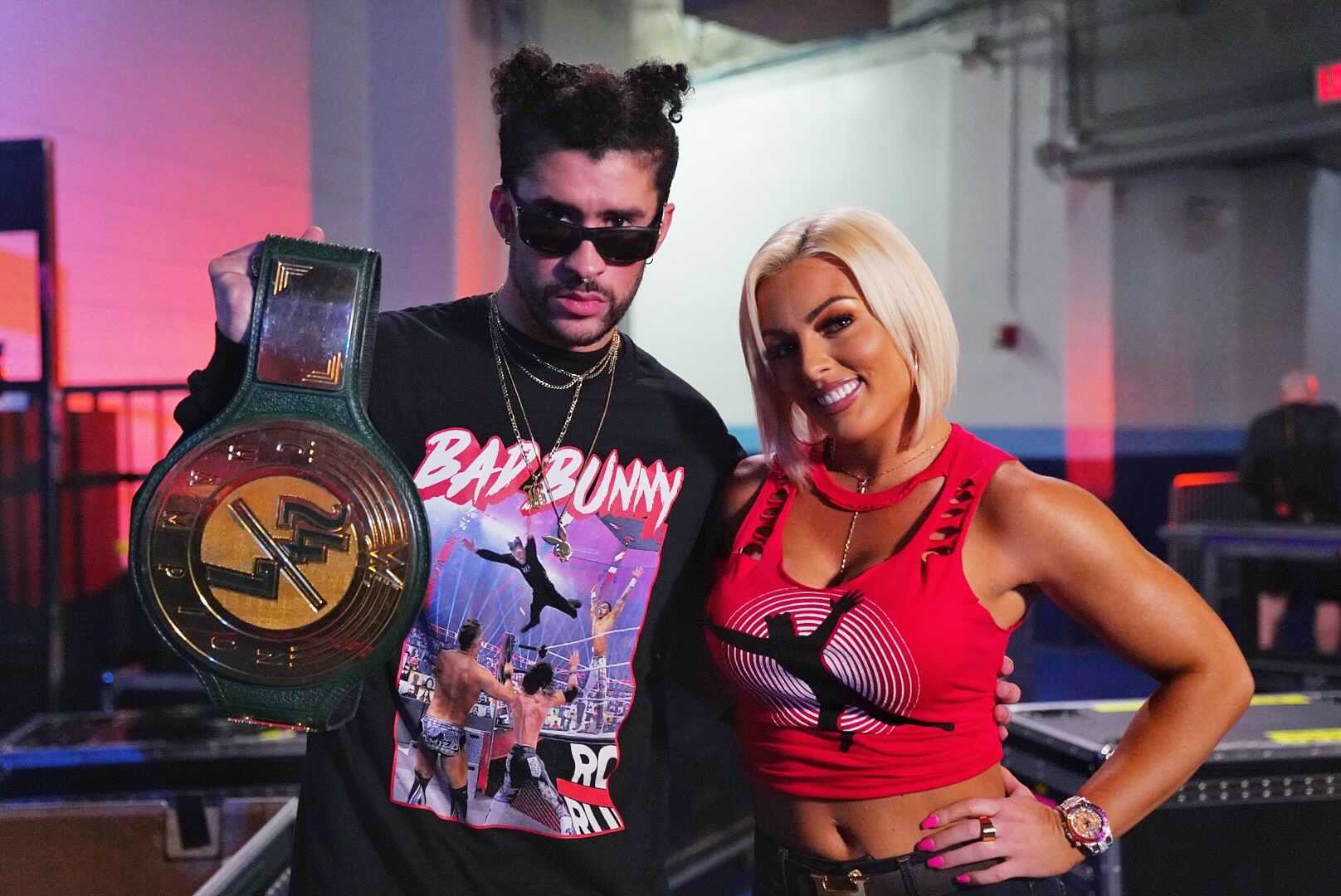 Mandy Rose then shares a number of photos and videos through her Insta stories with the new champion although WWE never officially started anything with these two.
Meanwhile, NXT Superstar and former 205 Live General Manager Drake Maverick, has a hilarious response on Bad Bunny becoming a 24/7 Champion and mingling with Mandy Rose. He wrote on Twitter,
"If you're planning on getting married anytime soon there's a chance it won't go so well. Heard that off a mate. Congrats"
If you're planning on getting married anytime soon there's a chance it won't go so well.

Heard that off a mate 👍🏼 Congrats https://t.co/1nNpje1gnQ

— DRAKE MAVERICK (@WWEMaverick) February 16, 2021
It should be noted that Maverick's wedding day was ruined as he would be rolled up by R-Truth to lose the 24/7 Championship on the happiest day of his life with his wife Renee Michelle.