Mandy Rose Wardrobe Malfunction On WWE Smackdown. Mandy Rose has made a big change in her in-ring gear on this past episode of SmackDown. Instead of her Golden Goddess gear, she has started sporting Daisy Duke cut-off denim shorts and a denim vest while competing in the ring.
This wardrobe change-up was to match up with Otis' working man gimmick and his in-ring gear as these two have been portraying roles of on-screen lovebirds.
Photo: Mandy Rose Wardrobe Malfunction On WWE Smackdown
But the changed denim gear hasn't given a comfortable experience to Mandy Rose as the dress did not hold up while taking bumps. During this past episode of WWE Friday Night SmackDown, Rose and Otis teamed up in a mixed tag match against Sonya Deville and Dolph Ziggler. For a brief moment, some of the fans may have spotted something with Rose by pausing the frame which they shouldn't have seen Mandy Rose naked.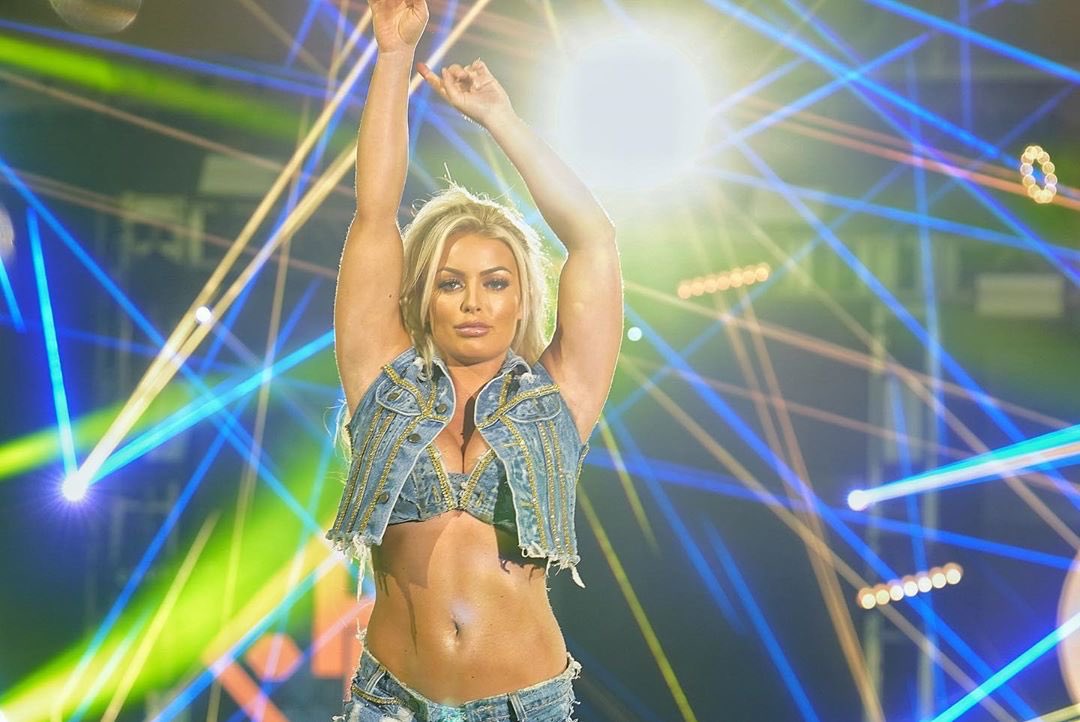 They have spotted private parts of Rose getting flashed on the screen which WWE and FOX probably didn't want to show up. Otis' girlfriend accidentally exposed herself while bumping on the mat. The image had to be blurred for all rightful reasons. For the accurate one, you have to go find it out on the internet or you can simply click here. But as for the netizens, Mandy Rose remained quite the eye-treatment on every Friday Night.
WWE Star Mandy Rose Wishes To Visit Beach After Dropping Bikini Photos
The interesting this is that Friday Night SmackDown was filmed in advance and aired on tape delay. They mentioned AJ Styles' trade to the blue brand which Michael Cole stated as a late addition. But surprisingly the editing team missed the nip slip by Rose and it was out on social media. As for the match where the mishap took place, Rose digested another pinfall loss against her former Fire n Desire partner Sonya Deville.
Interesting: Mandy Rose Herself Wanted To Begin WWE Love Angle With Otis!
The storyline between these two also involving Otis and Dolph Ziggler started around WrestleMania 36. Rose was recently interviewed by SI.com. During the interview, she revealed how she pitched the storyline to Vince McMahon,
"It's hard to get in Vince's office, but I finally got in and I pitched this story," Rose said. "He loved it, he had some ideas, and then Sonya and I had a lot of say in the creative, which was really cool. We were able to write a lot of it. We all worked together, and that's one of the reasons it's worked so well. Everyone's been really passionate about it." (courtesy sescoops.com)