Nikki Bella continues to embrace pregnancy in a way that only she can. We have to say through recent past experiences that she is perhaps looking even more gorgeous with a baby in her belly.
She knows this too well and does not back down while showing off her body, at all. Previously the elder Bella showed her body transformation through some uncovered snaps and she has done it, yet again. Now some pictures have appeared online of Nikki Bella naked shoot during her pregnancy.
Nikki Bella Posts Topless Photos Revealing Body Changes In Pregnancy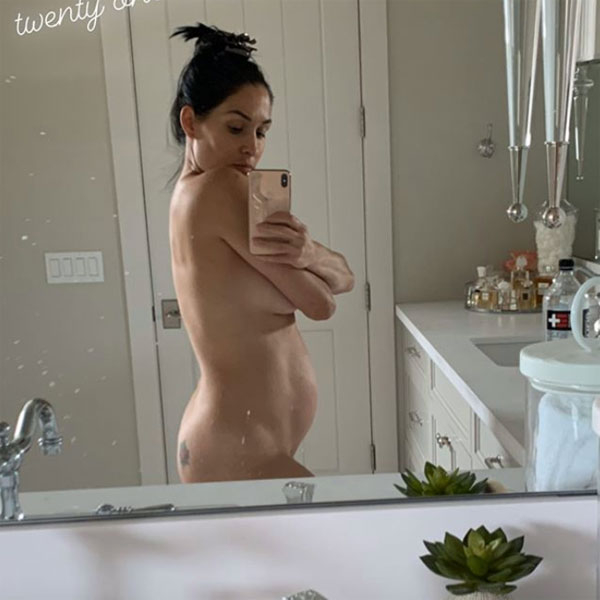 In Pictures: WWE Superstar Nikki Bella Shares Naked 21st Week Pregnancy Selfie
The longest reigning Divas Champion in WWE history took to Instagram to share with her followers that this marks the 21st week of her pregnancy. She posted a selfie along with the update which was not any regular old selfie. Nikki Bella chose to give a progress update on an Instagram Story with a completely naked mirror snapshot.
Nikki Bella Reveals Amazing 'Sex Life' Details With Artem Chigvintsev
As seen in the picture, Nikki Bella covered her breasts with her arms while showing off her gorgeous pregnancy curves and growing belly. She was supposedly posing in her bathroom sans any clothes. This is not the first time for sure while she was posing naked in front of that mirror.
The Bella Army quite often gets treated with topless snaps from the former WWE star. When it comes to showing off her great body, Nikki does not have many inhibitions unlike her twin sister Brie Bella.
Nikki Bella Posts Revealing Pictures On Social Media, Again
As announced on the very first day of 2020, Nikki Bellas disclosed that she was expecting her first child with fiancé Artem Chigvintsev. The news seemed pretty exciting for the Bella Army as her twin sister Brie Bella also revealed that she was pregnant with husband Daniel Bryan. The duo is due less than just two weeks apart!
Nikki Bella Suffers Wardrobe Malfunction On Social Media
WWE has announced in February that both Brie and Nikki Bella will be inducted into the 2020 Hall of Fame during WrestleMania 36 weekend. Amid Coronavirus outbreak, they canceled that appearance much longer as they were expecting babies.
Now all these events have been withdrawn as the state of Florida issued a stay-home mandate. Brie Bella recently spoke on the tough times affecting their lives,
"We had to cancel a bunch of stuff that we were working on," Brie said. "We had a live podcast tour that we were putting together and a book tour. And, something that really tore our hearts out is Hall of Fame got cancelled. We were like, 'oh my gosh. The year we get inducted in it gets cancelled!"
"My husband has an autoimmune disease, he also fought asthma really bad when he was young. He was always sick when he was a kid and I'll admit … I lost sleep last night. I was kind of like, 'ugh.' I'm grateful my husband is still employed, but at the same time, I'm really scared that he's just out there. I just pray so much for him that he stays healthy and all that, but it's like this weird tug-of-war."