Renee Young is no more with the WWE, nowadays but she still remains on good terms with the company. Beginning her journey in the professional wrestling world with zero knowledge, she cemented her own legacy in the biggest organization in this genre with hard work and dedication that is appreciated by WWE officials. She used to be a fan-favorite which was an additional achievement, too.
There's a connection with the WWE Universe and Renee Young that hasn't obviously ended. Now she has utilized the same by inviting her former boss, Vince McMahon, to her Oral Sessions podcast. She took her Twitter-handle to do the same while responding to a fan on Twitter. The fan apparently asked her to interview McMahon following her recent sit down with AEW Chairman Tony Khan.
Renee Young Shares Latest Pregnant Photos; Sells 'Warmies'
"Hey @VinceMcMahon you down?!" the short tweet of Renee Young stated. The CEO of the WWE isn't obviously that much communicative on Twitter and he didn't respond back to her. Meanwhile, his ex-employee thanked Tony Khan for his openness and honesty during their interaction on the Podcast.
Hey @VinceMcMahon you down?! ☺️?? https://t.co/7J7YJFUsGn

— Renee Paquette (@ReneePaquette) January 19, 2021
Thank you for having me on your show! It was so much fun catching up, & you're such a great host, it was the best conversation! So good, in fact, that I forgot several times throughout the chat that we were recording a show! Also, I can't wait for Jon to finish writing this book!

— Tony Khan (@TonyKhan) January 19, 2021
Renee Young Praised AEW Owner On Her Podcast
Renee Young tweeted, "Hey hey hey!!! Tuesdays are for Oral Sessions y'all!! And this week I've got on the president of @AEW, @TonyKhan! He was so open and honest! So glad to have him on and pick his brain out wrestling, AEW, and just his life!"
WWE NXT: Update On 2021 Men And Women's Dusty Tag Team Classic
Khan responded by saying that he didn't feel like recording a show during the podcast which was rather a friendly conversation. He also mentioned how Renee's husband, Jon Moxley is writing a book and he can't wait to read it fully when the publication is fully out. There's no update on the same, yet. For those who don't know, Renee Young herself brought out a cookbook of her own, recently.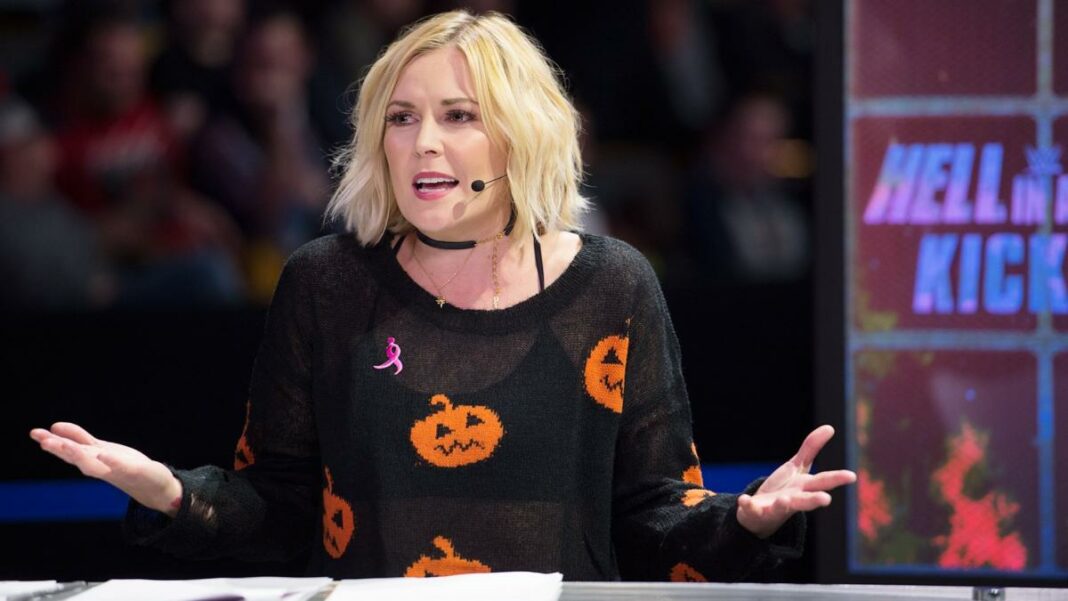 Renee Young is pretty happy to do her own things after leaving the company in 2020 summer. While speaking to Insight with Chris Van Vliet, she revealed that there were some tough times while securing a visa and green card. WWE helped her to get that, but it also extended her tenure with the company.
"It was always a damper on things, like 'oh my god, how am I going to get this going?' So, when I got the job with WWE they're like, 'we'll take care of all your visa stuff. You don't have to worry about that, we'll do it.' So, they got me my visa and my green card. They did all that."
"That was always a thing that kinda made me nervous about leaving or even looking into doing something else. I was like 'what if I don't get my visa or my green card or I don't get a job fast enough and then I'll just have to go back to Canada, and then what do I do?