Alexa Bliss had the most interesting storyline of last year with The Fiend Bray Wyatt that produced the opener of WrestleMania 37 Night Two. In an attempt to branch out of her association with Wyatt, she betrayed her master, causing the split. While Wyatt has since been disappeared from the scene, his former partner is making quite the impact on Raw.
Wyatt had disappeared after one final Firefly Fun House segment during the RAW After WrestleMania. Alexa Bliss then introduced us to a doll named Lily. We have no idea what is going on in her head as each week passes by. We can only assume that Lily is encouraging her to do some destructive things. Whatever the Raw Superstar does, Lily made her do it.
Mandy Rose Has Problems With Alexa Bliss' Goddess Persona In WWE?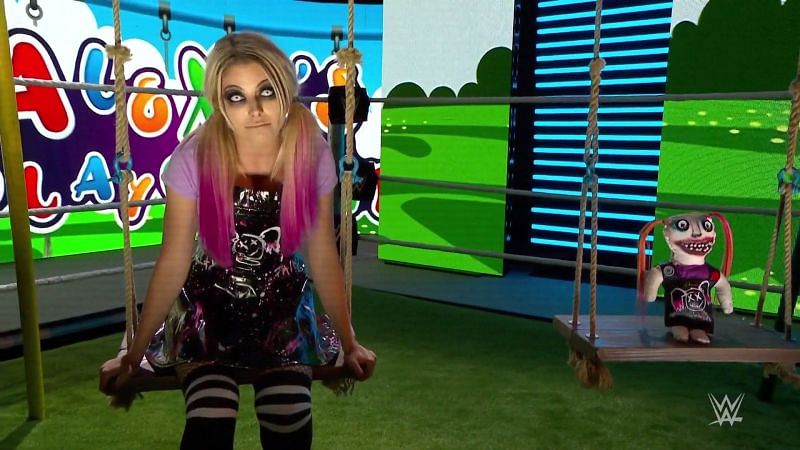 It was noted in a recent report by PW Insider that WWE could have reserved a very interesting end game for this ongoing storyline. It was said that Alexa Bliss might end up managing "the 'live' version of the doll." That means a talent from the roster will be playing the character in days to follow. There's no update on whether anyone has been considered for that role.
Alexa Bliss Says 'I Can Be In No Better Place' In Romantic Photos With Boyfriend
WWE has quite the plans for Alexa Bliss & Lily
A chance is also there where Lily could simply be used as a storyline device that will disappear from the TV when the time comes. For the time being, WWE is already cashing in big-time with Alexa Bliss/Lily merchandise is on its way to the WWE official shop. As long as the merch keeps on keeps moving, they're not expected to cut the ties between these two.
We'll have to see what will be waiting for Alexa Bliss in the near future, but it certainly is something very bizarre. Lily, a new doll friend of The Goddess was introduced after WrestleMania who is incredibly creepy and it has added a new dimension to the character of the former champion. Several photos of her and Lily through the years were also revealed which were originally photoshopped.
Alexa Bliss then told a story from her childhood saying a girl was making fun of her on the playground when she was little. She apparently "shoved that b**ch off the swing and she fell on her ass." The teachers asked Bliss why she did that. She then told the truth: "Lily made me do it." That being said, Lily is very influential and ready to encourage violence.