JCC
Want to be a professional cricketer?
Register Now
*T&C Apply
One of the gorgeous and talented female wrestlers of the WWE roster is Sasha Banks. She has millions of fans all around the world as you can find on social media. In the latest post of hers, a fan wanted to show her attraction towards the former Raw women's champion in hope for a better response. But the recent returnee took a solid jibe on the male and thereby putting him back to his place.
Watch Video: Sasha Banks Wardrobe Malfunction On WWE Raw
A user on Instagram with the user-id @hontestabe1993 commented in one of the posts Sasha Banks shared. He seemed visibly upset stating 'I just found out ur married n it broke my heart'. Instead of showing sympathy to the fan, the current number one contender for the Raw women's championship wrote 'like you had a chance….stay broke.'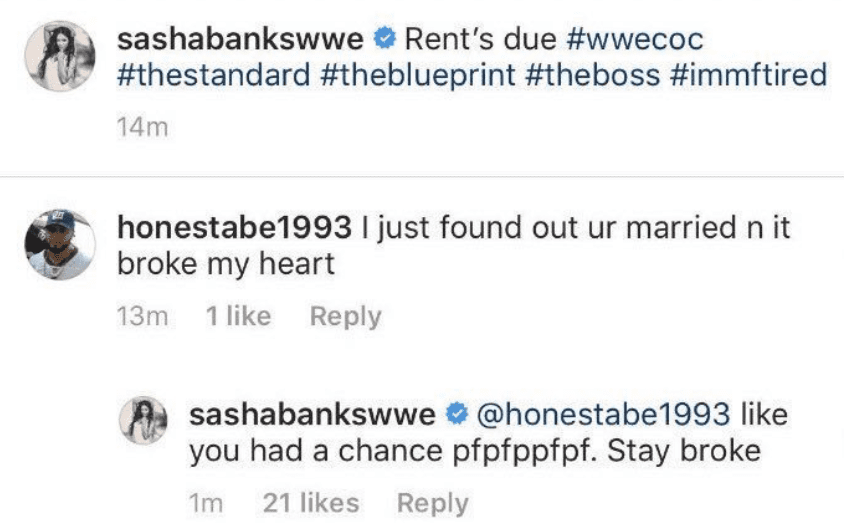 Sasha Banks Net Worth and Salary
This was an awesome portraying of the on-screen heel role that Sasha Banks plays on Monday Night Raw. Quite often, the superstars do not maintain the kayfabe thing on their social media handles since it's not their workplace. But Sasha has been hell-bent on getting attention ever since her return happened. So she is donning a psychotic heel persona that everyone will hate. This indicates why she behaved in a negative way towards the fan. For those who don't know, WWE backstage employee Sarath Ton aka former wrestler Mikaze is her husband. They tied the knot in a quiet ceremony back in 2016.
The nice couple Sasha banks and mikaze pic.twitter.com/bRhydLdWbb

— Jason G LegitBoss 😎 (@Jason_Gilliam05) January 11, 2018
Sasha Banks is one of the most prominent female faces that WWE roster possesses. She is perhaps the most technically gifted athlete, going by some of the fans' opinions. However, the company failed to utilize her in a significant way for the past four years that led to a conflict with the creative team. This might be one of the reasons why the Legit Boss decided to stay away from the public for quite sometimes.
The four-time women's champion was a recent guest on the WFNZ Show, The Mac Attack. She spoke about how taking a break WWE was best for her as she did not have any in the past seven years. As per her, people need to step back and re-evaluate their lives for self-realizing, (courtesy wrestlingINC.com)
"I've been doing this for seven years straight, no breaks," Sasha Banks said. "People need to step back, re-evaluate their lives, take care of their souls, and their minds. I'm back and better than ever. I got myself a championship match on Sunday, so I think I did quite well for myself."
Get the latest news and updates from Indian Premier League, ICC World Cup 2019, Match Prediction & Fantasy cricket. Follow SportzWiki for all cricket news, WWE News & Sports News.