Host Taz Comments On Torrie Wilson-Sable WWE Judgement Day Makeout Segment. WWE contents used to be on a totally different level, a few years ago as they'd have the non-PG ratings intact. Seeing vulgar things on their programming was something usual where lesbian makeout sessions were also allowed. Sable and Torrie Wilson were part of such a scene back in the days in the name of sports entertainment. Taz was the closest spectator of the session who has his own take of the happenings.
Host Taz Comments On Torrie Wilson-Sable WWE Judgement Day Makeout Segment
Sable and Torrie Wilson featured in a famous segment at Judgement Day 2003 pay-per-view event that was too hot to handle. In fact, such things would define WWE TV, back in the days. They first stripped down in front of the audience in a competition and then they kissed inside the ring. They did it because of an ongoing storyline where Sable was playing mind games with her then opponent, Torrie.
WWE News: Torrie Wilson Reveals Interesting Details On Her Infamous Expose
One fan tweeted out a photo of Taz who was the host of the stripping session between Sable and Torrie Wilson. The former commentator was apparently surveying that "hot lesbian action" on WWE television.
The fan wanted to know what was going through his mind during that segment. The All Elite Wrestling employee revealed what he was thinking and it was something that most wouldn't assume.
"My flight in the morning was going to board at 5:30 am so I probably need a 4 am wake up call," was Taz's short reply to the tweet of the fan.
See Pictures: WWE Hall Of Famer Torrie Wilson Gets Married
Those have been totally different days in the WWE where female superstars were defined only because of their body showcasing efforts. Stripping down in bikinis and involving in bikini fights used to be regular things for them. Sable and Torrie Wilson can be considered pioneers in this trade.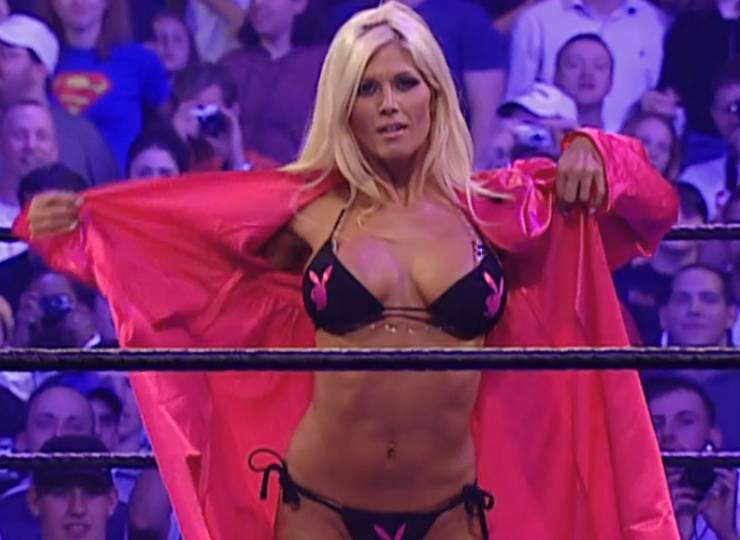 Sable was the one to give birth to the term Diva whereas Torrie Wilson was one of the most popular female superstars of the Ruthless Aggression Era. The WCW trade became a sensation due to her oomph factor.
She alongside Sable had also featured in Playboy Magazine Cover in the same year as the rivalry continued. Moving forward, Torrie was inducted into WWE Hall of Fame, last year whereas Sable is waiting for her number to come.
Get the latest news and updates from Indian Premier League, ICC World Cup 2019, Match Prediction & Fantasy cricket. Follow SportzWiki for all cricket news, WWE News & Sports News.