The Rock is often helmed as the most electrifying man in all of sports entertainment and that's for some obvious reasons. He's the one who made the way for professional wrestling superstars to go mainstream. But that's not all, it's also safe to say that he's also become the biggest box office attraction in the Hollywood world, moving ahead of the legendary career that he pursued in the WWE.
Despite leaving wrestling on a full-time basis, The Rock managed to be in great shape which keeps the rumor mill ongoing about one last hurray in the WWE. Whenever his filming schedule permits he wants to be back inside that squared circle and his global fanbase is also ecstatic about seeing him back in the ring, once again. There're speculations about him coming back to WWE, next year.
Becky Lynch Vows To Return From Injury Within WWE Wrestlemania 39
Roman Reigns is the most likely set opponent for him at the 2023 edition of WrestleMania 39 that's also being touted as WrestleMania Hollywood. This is a dream match that was even hinted at The Rock's "Young Rock" show. The titular character told a young Roman Reigns that a match between the two is WrestleMania-caliber only.
Wrestlemania 39: Latest News On WWE's Plan For Main Event Match
The Rock could team up with her daughter at WrestleMania
Given the current circumstances, The Rock going up against WWE's Tribal Chief should happen at some point, but another match has been indicated by legendary WWE announcer and former WWE Head of Talent Relations Jim Ross who now works for AEW. Ross proposed on his Grilling JR podcast that The Great One should definitely think of a mixed tag team match with his daughter Simone Johnson ala Ava Raine of WWE.
The 20-year-old NXT Superstar is yet to make his debut on TV as she is still gearing herself up at the WWE Performance Center. But Ross suggested that The Rock could produce the perfect launch for his own blood on the grandest stage,
"Here's the thing, I could see Rock having a mixed tag with his daughter at WrestleMania, I can see that. Now, there will be naysayers that will knock that idea, which is fine, that's expected. But that's a safe [option], it's a way to get him on TV, get his name and her name and image in the promotion."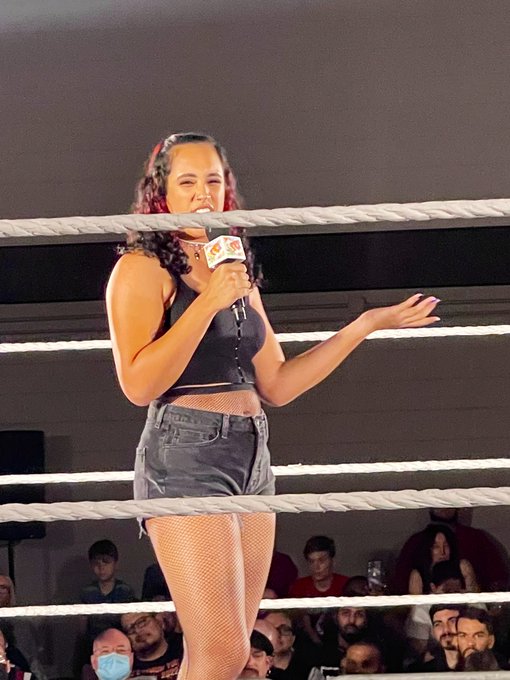 The Rock's daughter Ava Raine is trying hard to make it to NXT programming since joining the WWE, two years ago. Recently, she appeared on a house show to sharpen her promo skills and received criticisms over it. With Triple H taking things over in the WWE, she could surely expect to get some interesting booking angles once she appears on TV. Only time will tell whether WrestleMania will be her launching platform or not.