WWE SummerSlam 2021 edition may take place this year, earlier than usual. WWE usually conducts this pay-per-view event in late August but going by the latest reports, the date could be preponed. Their current ThunderDome setup will be expiring in the first week of August. Hence the PPV could be planned to go down once WWE moves to a different venue.
As seen in recent times, WWE generally started shows in a residency with a PPV event. Perhaps that tradition will continue as @Wrestlevotes now reports that if things work out a certain way, SummerSlam 2021 may be held earlier than expected. The company is looking to make this particular show to be an official kickoff to a "return to touring" for the company.
WWE Throwback Smackdown: Major Returns; New Title Match Announced
WWE is looking to have SummerSlam be the official kickoff as a "return to touring." With that said, if things work out a certain way, the PPV might be even earlier than usual this year. I've heard 3 to 4 locations are on the table, with 1 having better odds than the others 😉

— WrestleVotes (@WrestleVotes) May 7, 2021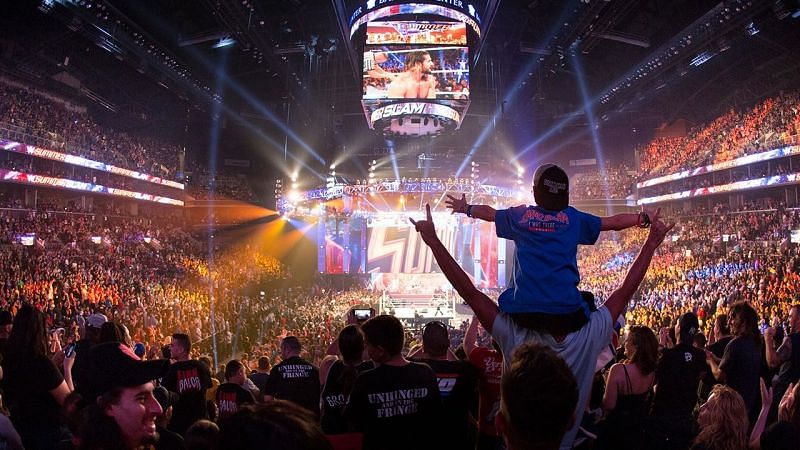 WWE's earlier announcement on the current ThunderDome residency at the Yuengling Center in Tampa, Florida noted that they will carry out shows at this venue in a closed-set capacity with no fans in attendance. The schedule from this venue is expected to wrap up on Monday, August 2. There's no word on where they would be heading, next. SummerSlam 2021 could be their next destination, afterward.
WWE Star John Cena Says He's The Greatest Villain In Fast & Furious Franchise
Locations being scouted for WWE Summerslam 2021
There is still no word on the location for the Biggest Party of the Summer but 3 or 4 locations are being nurtured. It was previously reported that WWE has been considering an outdoor stadium setting in Phoenix, Arizona, or somewhere in Texas to hold SummerSlam 2021 in August. Last year's scheduled host city Boston is also under consideration.
It should also be noted that SummerSlam 2021 is expected to be the next WWE event after WrestleMania 37 to have live fans in the crowd. WWE President & Chief Revenue Officer Nick Khan spoke with Joe Otterson of Variety about 'Mania to indicate that WWE may be coming up with an announcement on resuming their touring schedule.
Khan was asked whether WWE has any plans to host more events with a live audience after WrestleMania and he replied with a positive answer.
"Any plans? Yes. Any plans we can share? Stay tuned," Khan stated hinting at some bright news around SummerSlam 2021. "But just know that once we're back on the road, we're on the road full time. We're not looking to do other one offs. Again, this was WrestleMania. And we felt it needed to be done for the fans. So look for news coming soon."