On a recent bygone episode of Total Divas, the WrestleMania 35 outing of Ronda Rousey was covered. It was that history-making night where three women main-evented the show. Becky Lynch and Charlotte Flair were the other two apart from Rousey who competed in the match. But the post-match hiatus of the former champion raised concerns among everyone.
WWE News: Rey Mysterio Reveals What Pushes Him To Perform Even At This Age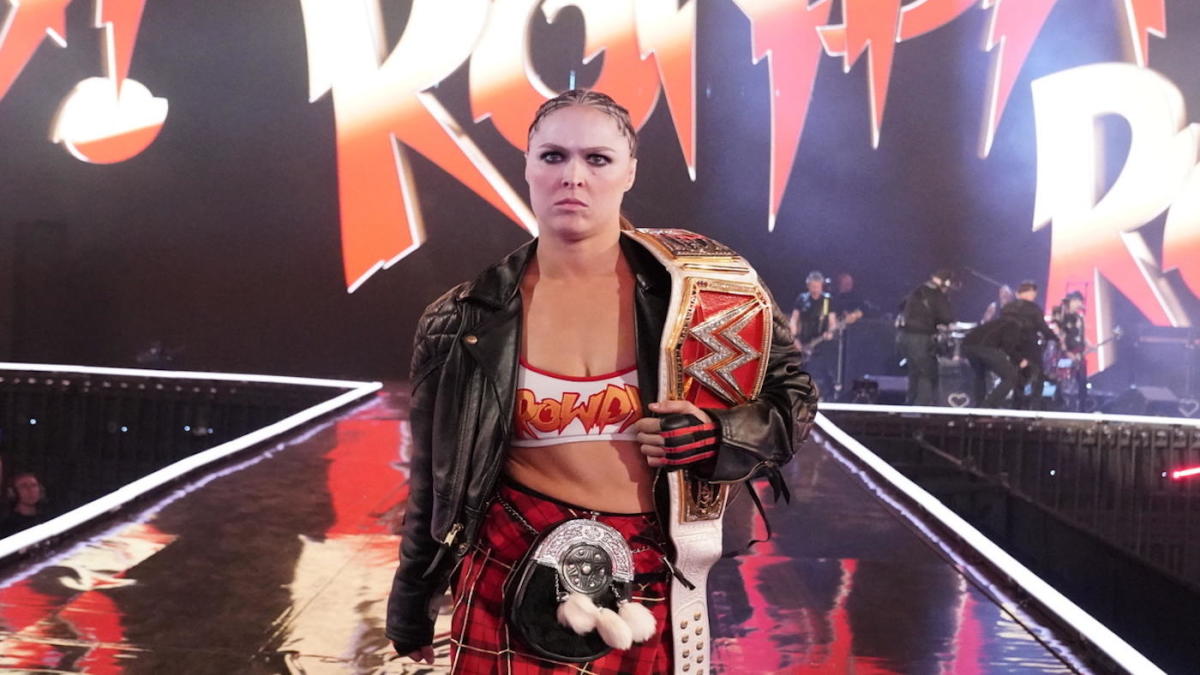 As shown on Total Divas, the cast members were visibly upset that Ronda Rousey was leaving them after the biggest event of the year. They had the least clue about it.
Nikki Bella Still Hoping To Make A Miraculous Return To The WWE
Live Divorce Segment And Huge Title Match Announced For WWE Raw
Ronda and Travis Browne were focused on starting a family as they took a trip to Las Vegas to spend time together. The entire saga was dubbed as an 'impregnation vacation' which may have not been fruitful, for now.
It was thought that Ronda Rousey will become a mother and her WWE hiatus could be extended. But that may not be the case as her comments on a recent interview from E Online.
She is not putting any pressure on herself or Travis and let nature take control of ongoing things. They are definitely not in a hurry while expanding a family,
"We're just putting it out in the universe and letting nature take its course and not trying to rush it or put any pressure on ourselves," Ronda Rousey said. "Just kind of enjoy our time as a family together. Enjoying every day and accepting it whenever it happens."
"You know, we're not taking ovulation tests or anything like that," she added. "But, I'm also not on the road 200 days a year and taking power bombs every night. So, I'm sure that helps."
With that being said, it's pretty safe to predict that Ronda Rousey must be inching closer to making a return to WWE.
Top 10 Interesting Facts Of Ronda Rousey's Career
She is not getting into motherhood and having pro-wrestling left inside her is one of the reasons. Her contract with the WWE is intact until 2021 and hence we can expect her to come back as WrestleMania 36 approaches.
Ronda Rousey Pranked Her Sister In Latest Youtube Video
As reported earlier, Ronda Rousey is the current favorite to win the Women's Royal Rumble match in 2020.
This ensures another huge WrestleMania match featuring her. Most probably, this match will have Becky Lynch against her in a single's capacity as this much-anticipated contest is yet to become a reality in the WWE.
Get the latest news and updates from Indian Premier League, ICC World Cup 2019, Match Prediction & Fantasy cricket. Follow SportzWiki for all cricket news, WWE News & Sports News.
Related posts
Nothing About Revenge: Virat Kohli Praises New Zealand Cricketers
Virat Kohli-led Indian team is ready to begin their journey in the New Zealand tour. While they are preparing for their first international meeting since the semi-final of ICC Cricket World Cup 2019, the Indian captain has no desire to consider the upcoming matches as…
IPL 2020: Rob Cassell Joins Rajasthan Royals as Fast Bowling Coach
Former Australian domestic cricketer Rob Cassell will handle the fast bowling coaching role of Rajasthan Royals (RR) in the upcoming season of Indian Premier League (IPL 2020). The 36-year-old Cassell served for Australia Under-19 in the ICC U19 Cricket World Cup 2002 in New Zealand,…