JCC
Want to be a professional cricketer?
Register Now
*T&C Apply
Former NXT Tag Team Champion Matt Riddle is all set to make his debut on SmackDown, soon. On the bygone edition of the show, WWE Hall of Famer Kurt Angle appeared to introduce the fresh talent to the WWE Universe. Matt Riddle had an impressive stint on NXT who will now be gearing up to enjoy his run in the mainstay league on the blue brand.
The Original Bro didn't show up, but a vignette was aired on SmackDown featuring him and his incredible athleticism. WrestleVotes is reporting that backstage officials see a lot of potential in him. They have high hopes for him on SmackDown and henceforth he will continue to receive big push upon debut. Here's what the source reported on him,
"Those in power have very 'high' hopes for Matt Riddle on SmackDown."
Maria Kanellis Reveals Whether WWE Knew About Her Pregnancy
Back in 2019 November, it was also reported that WWE Chairman Vince McMahon considers him similar to a younger version of Shawn Michaels from back in the days. He does mix up MMA-kind of action with professional wrestling style to bring unique athleticism to the table.
BROOOOOOOOO!!!@SuperKingofBros is coming to Friday Night #SmackDown! pic.twitter.com/pfIIezaooA

— WWE (@WWE) May 30, 2020
An interesting theory is also roaming around the internet about Matt Riddle going to the SmackDown brand instead of RAW. It looks like RAW Executive Director Paul Heyman is the one behind this move. He does really likes Riddle's work, didn't want him to join the red brand. The reason behind this is the presence of Brock Lesnar on the flagship show.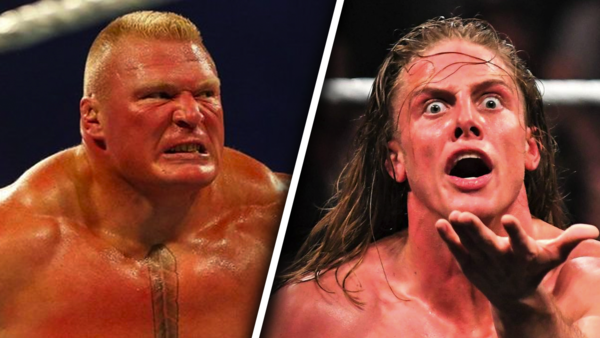 The Wrestling Observer discussed that Matt Riddle has a real-life heat with Brock Lesnar which could be the reason why he's being kept away from RAW:
"The strange thing about this is that Paul Heyman is a big fan of Matt Riddle so you'd think he's going to RAW, but this Matt Riddle / Lesnar deal — I mean it's weird like I'm sure there are aspects of it who are people that are just encouraging Matt Riddle to do what Matt Riddle does, but on the other side this, if anything else should tell you that this is legit because if they were trying to work together to build something up for a match I mean Matt Riddle goes to RAW.
Lesnar's not around it's not like he can say I'm not gonna share a locker room with him. Lesnar probably won't be around until they're running shows with fans again."
For those who don't know, ever since joining the WWE, Matt Riddle has been very much vocal about retiring the Beast Incarnate. He sent several tweets tagging Brock Lesnar and thereby provoking him. Lesnar reportedly had a backstage altercation with him where he urged not to tag him in tweets ever. WWE also kept Riddle away from Lesnar during the 2020 Royal Rumble match, earlier this year.
WWE Star Brie Bella Says She And Daniel Bryan Are Growing Apart
Get the latest news and updates from Indian Premier League, ICC World Cup 2019, Match Prediction & Fantasy cricket. Follow SportzWiki for all cricket news, WWE News & Sports News.