With the #SpeakingOut movement taking over the internet wrestling community, several wrestlers have been accused of sexual harassment as of late. The names have been involved from WWE, AEW, Impact Wrestling, and many more independent promotions. The latest name to get added to the list of accused persons is a WWE Hall of Famer.
It's none other than the former Olympic Gold medalist Kurt Angle who's now been involved in a sexual assault allegation. Former TNA wrestler Rhaka Khan aka Trenesha Biggers has let known her bitter truth with Angle while they both were in WWE's rival promotion. She posted the following on Facebook on her #SpeakingOut experience.
"Kurt Angle was beating me up, biting holes in my face, forcing me to have s*x with him, and threatening to take my job from me if I broke up with him, no one had my back. I have receipts.
#speakingout"
Rape Comments On Sasha Banks: AEW Suspends Sammy Guevara In #Speakingout Movement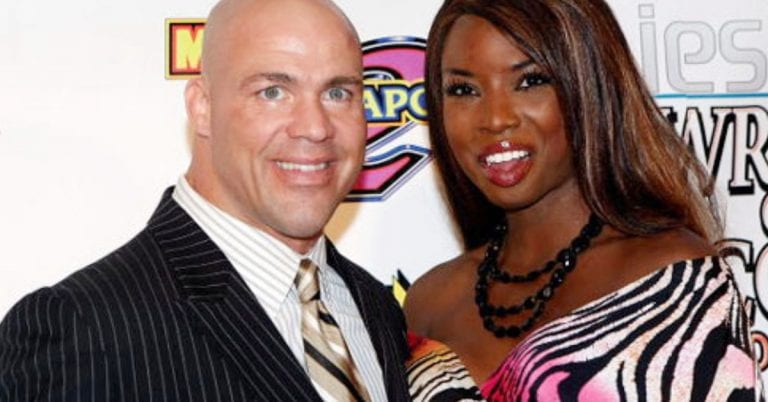 Thus Kurt Angle has become the latest name to be involved in the movement that recently hampered the career of many pro-wrestlers due to their misdeeds. Just a couple of days ago, another top WWE star Brock Lesnar was accused by Terry Runnels for showing his private parts. Now, a legendary name like Angle added a whole new dimension to the whole #SpeakingOut controversy.
The first name from WWE to be added to this #SpeakingOut controversy was Matt Riddle who was accused by indie scene wrestler Candy Cartwright. While Matt and his wife openly denied any such instances, Candy offered more evidence on social media to show she was sexually exploited by Riddle, a couple of years ago.
#SpeakingOut: Top 10 Sex Scandals Related To WWE Women Superstars
Riddle is now working with WWE to file a defamation lawsuit against Candy. Meanwhile, Jack Gallagher was fired by WWE once some UK based female wrestlers accused him of sexual harassment. AEW wrestler Sammy Guevara made some rape comments on WWE superstar Sasha Banks to get fired from the company in another big instance of #SpeakingOut.
Famous indie wrestler Joey Ryan who has been working with Impact Wrestling for the past few months has been alleged with some big accusations by several female athletes. Afterward, Ryan was fired by Impact. Also, WWE star Paige's mother Saraya Knight left the pro-wrestling business closing her own promotion as a result of #SpeakingOut.