Edge and Randy Orton collided in a Last Man Standing match at WrestleMania 36 and battled for 36 minutes at the biggest event of the year. Edge was the last man standing in his feet in his comeback match which was thought to be the end of the storyline but it's not. Now Edge has responded to yet another challenge from Randy Orton to set up the next encounter at Backlash that could be another longer match.
It is being promoted as 'The Greatest Wrestling Match Ever' between Edge and Randy Orton. Reports suggest that the match was taped this past Sunday and it'll air next Sunday when the Backlash 2020 pay-per-view airs, live on the WWE Network. Some of the details regarding this match are now available courtesy of the reliable sources.
Seth Rollins Says He's Unfinished Business With WWE Hall Of Famer Edge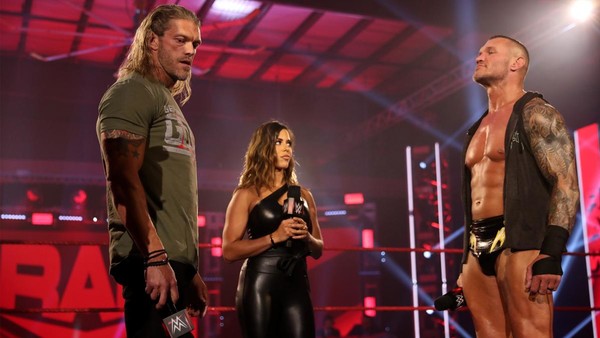 The Wrestling Observer noted that the taped match was 'excellent', where Randy Orton and Edge competed against each other just like two professionals. They only filmed that one match on Sunday as the officials wanted to make sure that the two get 'every chance in the world' to have a great match and they could live up to the billing, following the post-match editings.
Here are more details revealed on the match,
"I heard a lot of selling. It's really long — I think really long. That's the idea to not to swerve you on the greatest match ever by making you mad when they have a terrible match. It was very much to do the best match that they possibly could.
I still don't know the finish, but they're going to do a great wrestling match and I believe that Randy is gonna do something diabolical and he is going to cheat to win."
Dave Meltzer noted in his report saying that Randy Orton and Edge went out there to produce the most intelligent match they could ever be a part of. This is another reason why it'd likely be a very long contest. But going by the above report, it appears that the Apex Predator would stand tall and thereby settle the score with his former Rated RKO partner.
Additional reports suggested that the rest of the match card of Backlash wasn't taped in advance. The other part of the pay-per-view is expected to be broadcasted live from the Performance Center, this Sunday. Edge vs Randy Orton at WrestleMania 36 received criticism due to slow pace and this time around, they want to erase the bad vibes and have the greatest wrestling match ever.