WWE is returning to Saudi Arabia for another event on February 27th. It has started the speculations that some of the biggest names in the pro-wrestling circuit will be present on board for the show on that night that is being promoted as Super ShowDown. The company will reportedly be traveling with a couple of Hall Of Famers, this time.
Rey Mysterio Open To Do Hair Vs. Mask Match At WWE WrestleMania 36
As per the earlier reports, Hulk Hogan is the first name who will feature at Super ShowDown in some capacity. But the bigger news from PWInsider.com came that multiple sources have confirmed them "there is a lot of talk" going on about Sting. He will reportedly be traveling to Saudi Arabia for WWE's next event. This is just a rumor at this point as no confirmation is not available.
Sting will be a "major part" of the show as well, as per the source. It was not updated what the 2016 Hall of Famer might be doing at Super ShowDown but there are chances that he could be wrestling.
After a return by Edge from a career-ending neck injury, at Royal Rumble 2020, it's possible that Sting will also get cleared by the medical team of the WWE and hopefully come back to action.
"Over the last few hours, several sources within WWE have told PWInsider that there's been a lot of talk that WWE Hall of Famer Sting will be a major part of the 2/27 Saudi Arabia event next month, possibly even returning to the ring for one more match." (courtesy ringsidenews.com)
Speaking of Sting, this leads to the dream match against The Undertaker which had the least chance to become a reality. At this point also, there's no update on this match as the "current creative that was pitched did not involve The Undertaker."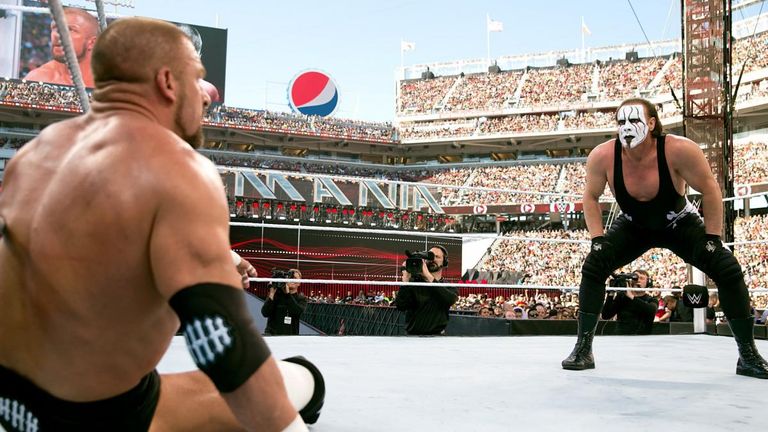 WWE's deal with Sting might have also not 100% done at this time. It was earlier believed that Sting was going to be present in Houston for the Royal Rumble "to get the ball rolling" for his future appearances. But that did not appear to be in that way. So further talks are going on at this point among the creative on using Sting at Super ShowDown. Hopefully, he could be back in action after years of wait.