After weeks of delaying, WWE announced a six-way elimination match for the SmackDown Women's Championship, a couple of weeks ago. Dana Brooke was unable to perform in the scheduled match changing the lineup.
Now, Bayley is set to defend her SmackDown Women's Championship against Sasha Banks, Lacey Evans, Naomi and Tamina Snuka in a Fatal-5-Way elimination match at WrestleMania 36.
Revealed: WWE Smackdown Star Big E's Conversation With Mia Khalifa!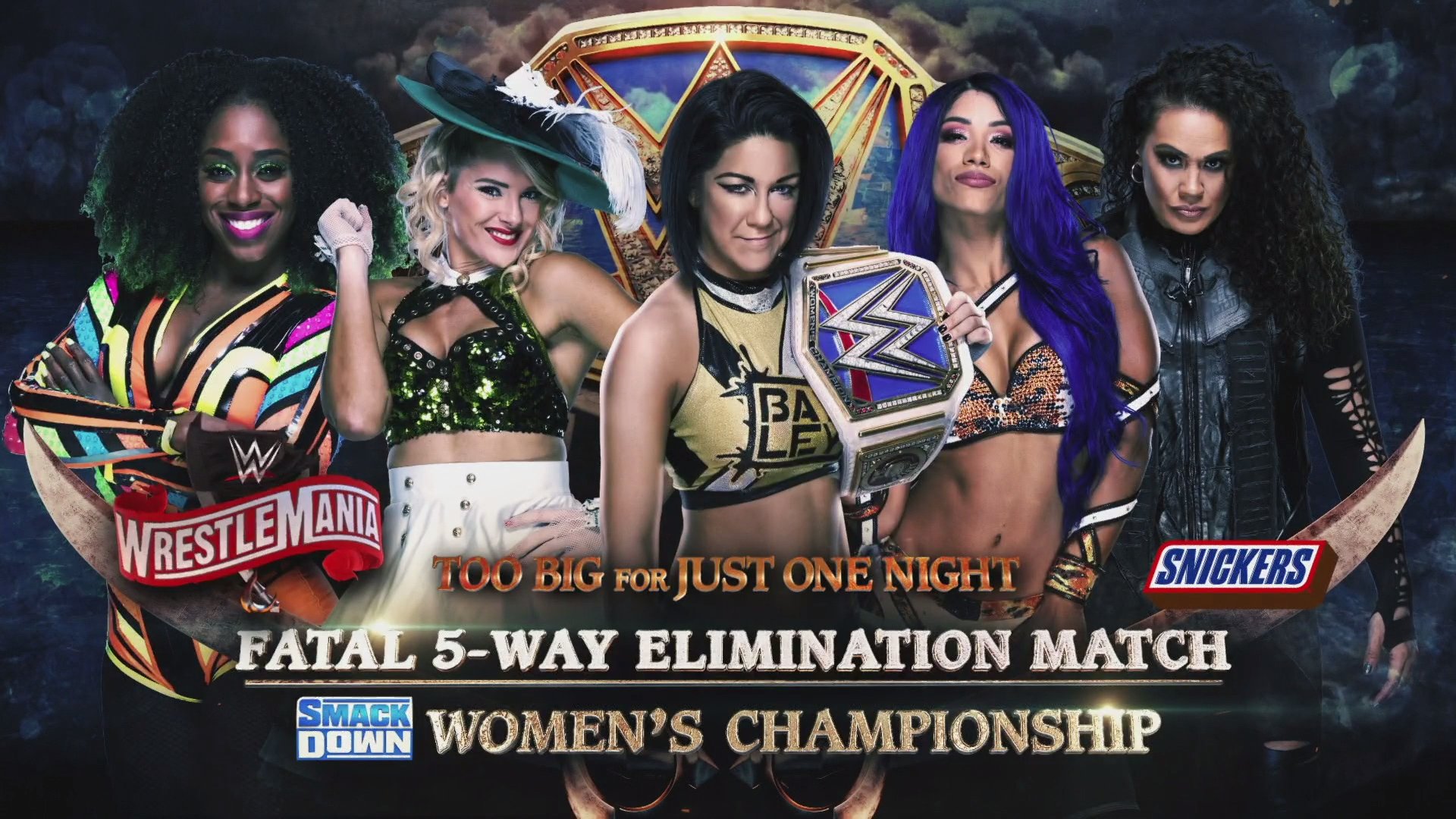 As reported earlier by Wrestling Observer Newsletter, WWE originally wanted to do a singles contest for this title match from the blue brand.
Bayley & Sasha Banks were originally supposed to fight one-on-one at WrestleMania 36. But the officials didn't get enough time to build up this match as Sasha was out with an injury for a while from January onwards.
Spoiler: WWE Plans Huge Title Change At Wrestlemania 36
But this is a feud that has to happen at one point considering these two are the top two names of the SmackDown Women's Division. As of now, the plan is to turn one of them, babyface to make the rivalry happen once WrestleMania 36 gets over. The fatal-5-way will act as an inducer to make the feud a reality in due course.
Real Reason Why WWE Canceled Sasha Banks Vs. Bayley At Wrestlemania 36
As noted by wwfoldschool.com, the current plan is to do this Fatal 5 Way match at WrestleMania 36 and then move on to a singles feud between Bayley & Sasha Banks.
It was noted that most probably Sasha will turn into a babyface figure keeping after spending just six months as a heel. Here's a detailed report on the longer planning between the two of them,
"The gimmick is that Bayley is all mad about a five-way. But Sasha, who is supposed to be Bayley's best friend, was mad until her name was announced in the match.
The company wanted to do Bayley and Sasha at WrestleMania and to their credit, given that there was no time to build it up…literally, this came up a week or two ago.
They kind of got it pushed with 'we'll do the five-way which will be the start [of the feud] and then we'll do the singles match when it's not so rushed."
The plan will look even more concrete if the title changes hands at WrestleMania 36. Already some pictures are doing around the internet that Sasha Banks has won the SmackDown Women's Title at WrestleMania 36 tapings.
There's no truth to the rumors. But it won't be a surprise if WWE pulls the plug as this would create bad blood between these two to start the rivalry, organically.
Get the latest news and updates from Indian Premier League, ICC World Cup 2019, Match Prediction & Fantasy cricket. Follow SportzWiki for all cricket news, WWE News & Sports News.
Related posts
Aakash Chopra Reveals His Current ODI XI
While the coronavirus has pressed the pause button in the world, including the cricket world, former Indian cricketer Aakash Chopra is regularly bringing out the list of his various best teams. Recently, the 42-year-old revealed his favourite Current ODI XI. Apart from choosing the eleven…
I Wanted To Keep Shane Warne Under The Wraps – Allan Border
Former Australian skipper Allan Border revealed that he didn't want the England team to get used to Shane Warne and thus he wanted to keep him under the wraps for the 1993 Ashes series. Allan Border-led Australia had obliterated England 4-0 on their previous tour…