Former Women's Tag Team Champion Alexa Bliss seems to be the newest target of the hackers as she has now been forced to secure her Twitter account. Social media can end up being the worst place due to online harassment and WWE superstars often faced that harsh reality. Some of the fans don't really know how to properly respond to celebrities which can be dangerous for mental health.
Former Raw Women's Champion Alexa Bliss has also been a target of online harassment that is the reason why she turned her Twitter account to private so that only her followers can see her tweets. A concerned fan of Bliss asked her Tag Team partner Nikki Cross for an update on the health of Bliss. It was The Goddess, herself who replied back, instead.
Podcaster Compare Alexa Bliss' Wrestling Skills With S*x, WWE Stars Respond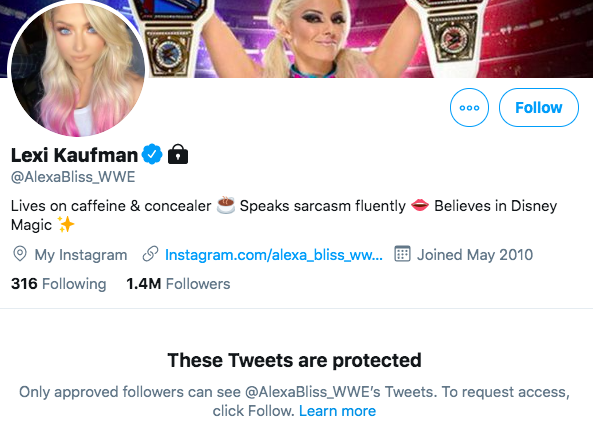 Millions of Alexa Bliss fans got to know that she has been doing well but then decided to take some time off from being public on Twitter. She blamed increasing negativity on the social media platform that caused her absence while stating the following,
"I'm fine, just tired of the harassment. Focusing on my mental health at the moment. Everyone stay being kind out there."
Is Alexa Bliss Happy On WWE Filming Shows During Coronavirus Pandemic?
Not only on Twitter but also on Instagram, a self-proclaimed fan of Alexa Bliss also tried to embarrass her as you can check it in the given screenshots.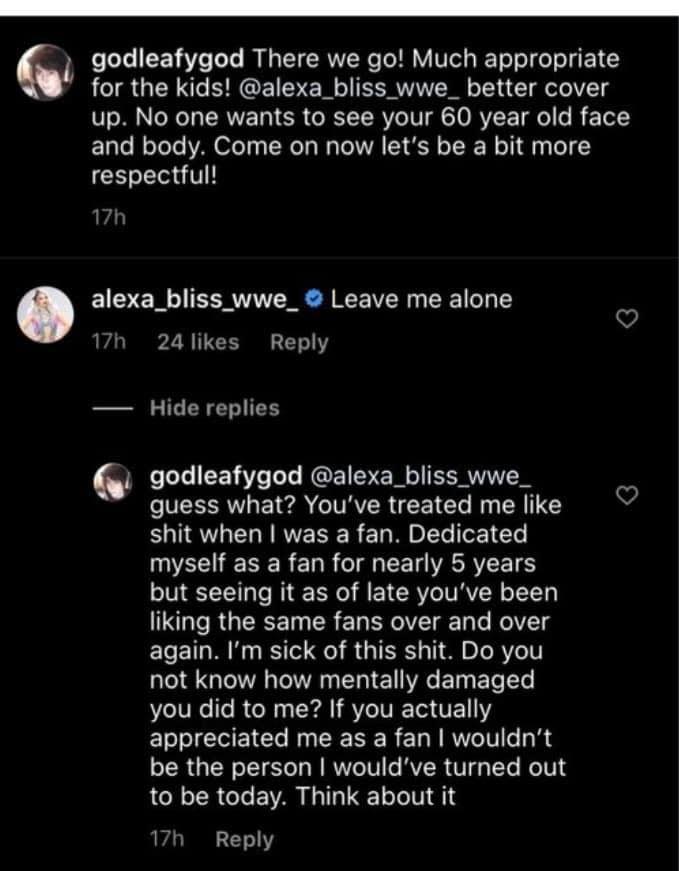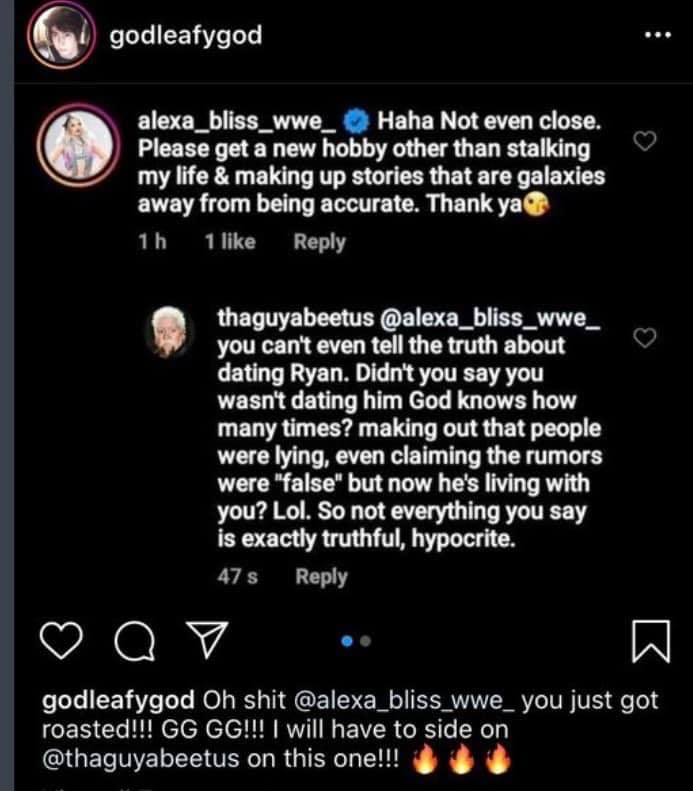 As seen during Backlash pay-per-view event on this past Sunday night, Alexa Bliss competed at Backlash pay-per-view. She teamed with Nikki Cross to take on The IIconics – Billie Kay and Peyton Royce and Sasha Banks and Bayley over the WWE Women's Tag Team Titles hanging on the balance. She was seen in a reckless mood to pull off quite an aggressive performance. But in the end, Sasha Banks stole the pinfall win from her to retain the titles alongside Bayley.
For those who don't know, Alexa Bliss went through a tremendously tough journey to come this far in the WWE. She already dealt with mental trauma due to an eating disorder in the past. Then she picked up a pair of concussions while working with Ronda Rousey in 2018. Following this, Bliss was concerned whether her in-ring career might be over or not
"It was very scary because I didn't know if I was going to be able to get back in the ring again," Alexa Bliss recalled in an interview with BT Sport. "Because you know we've had a lot of WWE Superstars have to retire from that. And you know, I didn't want to be one of those. But with concussions it's such a dangerous thing because it could take a week to heal or it could take a year. You can't just wrap a brain up in a cast and hope it heals." (courtesy wrestlingINC.com)