The altercation between Charlotte Flair and Becky Lynch continued on Raw after which the latter took to Twitter to respond to the ongoing. She responded to a jab by the former RAW Women's Champion and claimed herself to be the most over superstar of the WWE roster despite being at home for more than a year.
This week's Raw RAW featured an in-ring Championship Coronation segment where Charlotte Flair celebrated her Money in the Bank title win over Rhea Ripley. The segment ended with Flair getting booked in a rematch against Ripley where she had to defend against Ripley. There was a point during this segment, where the fans inside the American Airlines Center in Dallas, Texas chanted for Becky Lynch.
Flair responded to those 'we want Becky' chants by saying that the former Four-Horsewoman member is at home breast-feeding while she is here in WWE dominating the entire women's division. Becky Lynch responded on Twitter and saying she's still the most over in that female division.
"Breastfeeding at home and still the most over woman in the division," The Man wrote.
Carmella Receives Another WWE Smackdown Women's Title Match Opportunity
Breastfeeding at home and still the most over woman in the division.

— The Man (@BeckyLynchWWE) July 20, 2021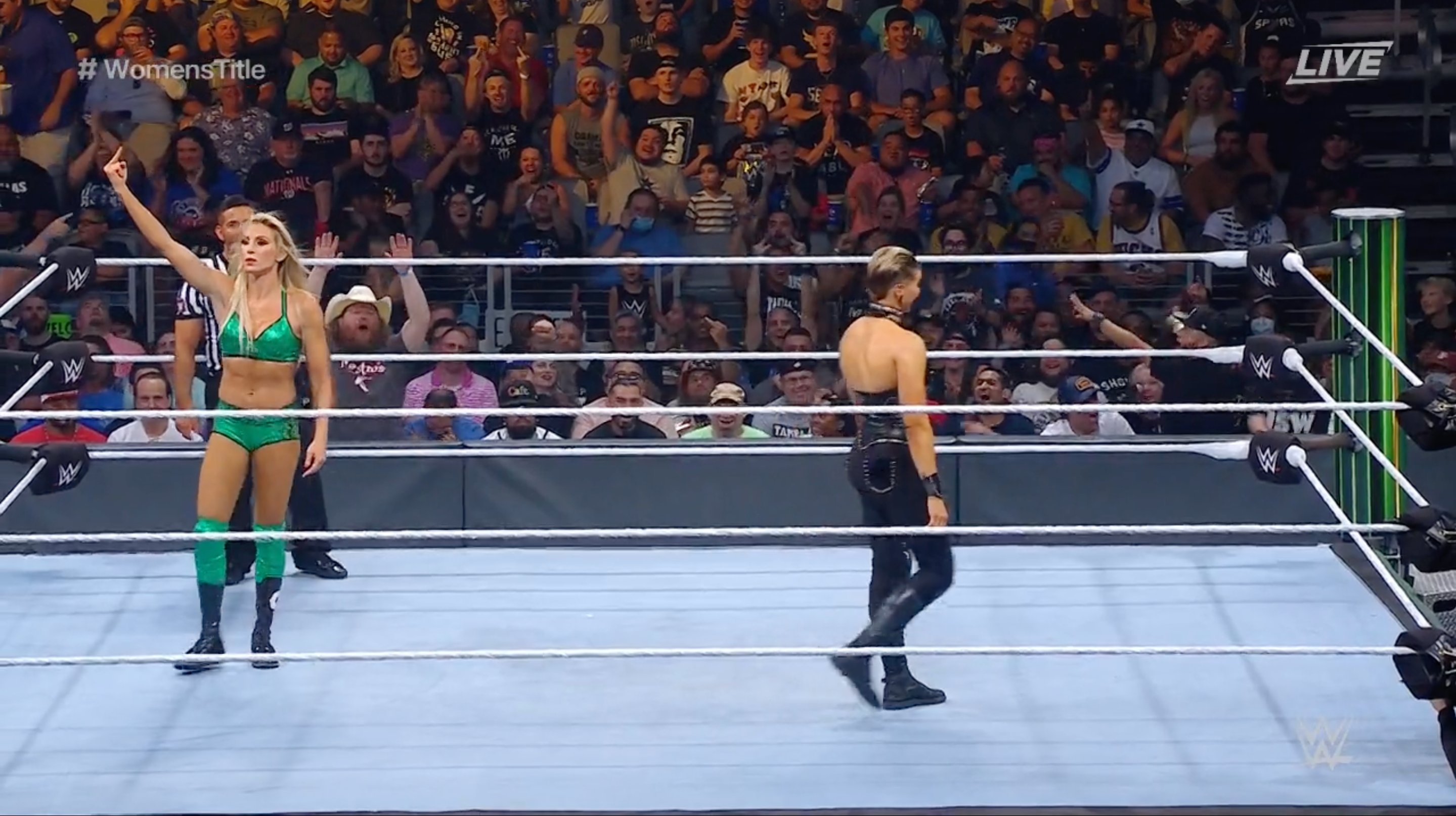 Becky Lynch attended WWE Money in the Bank 2021 PPV
Back at Money in the Bank 2021, fans chanted for Becky Lynch several times during the Flair vs. Ripley title match showdown. Flair responded to one of those "we want Becky!" chants by showing the crowd a middle finger. WWE production tried to black out the screen to block that middle finger point-out to the crowd, but the live Peacock/WWE Network feed was still able to pick up that feed, generating some negative reactions from the fans.
Before MITB 2021, Becky Lynch had confirmed that she was at the Dickies Arena in Fort Worth, Texas for the pay-per-view. This came after reports indicated that she was scheduled to be backstage for the show, which led to speculation that she could be returning on TV.
Photos: Becky Lynch Is In Great Shape Ahead Of WWE Return
Becky Lynch then took to Instagram and teased the fans ahead of the first WWE pay-per-view on the road of this summer by quoting, "Beautiful day in Fort Worth Texas. I really hope no one gets taken out of this ladder match. #mitb." But ultimately, the return is yet to happen. She is out of action since WrestleMania 36, where she retained the RAW Women's Title over Shayna Baszler.