Carmella returned on WWE television this week after teasing for the past several weeks. She was indeed the mystery SmackDown woman, as predicted by so many fans over social media. Now, everyone from the WWE Universe is well-aware that the former Money In The Bank winner has become "Untouchable." Now, this has appeared to be quite similar to that of a previous gimmick channeled by WWE.
Carmella has already been dealing with trolls from fans due to her brushed-up appearance. She then has to deal with a fan who said: "Rehashing the Emmalina gimmick yet again? Please don't tell me we've got 4 weeks of her coming out then going back without doing anything."
Carmella: WWE Star Posts Super Hot Photo On Instagram Before Return
Carmella Shuts Up Fan Who Compares Her With Emmalina In WWE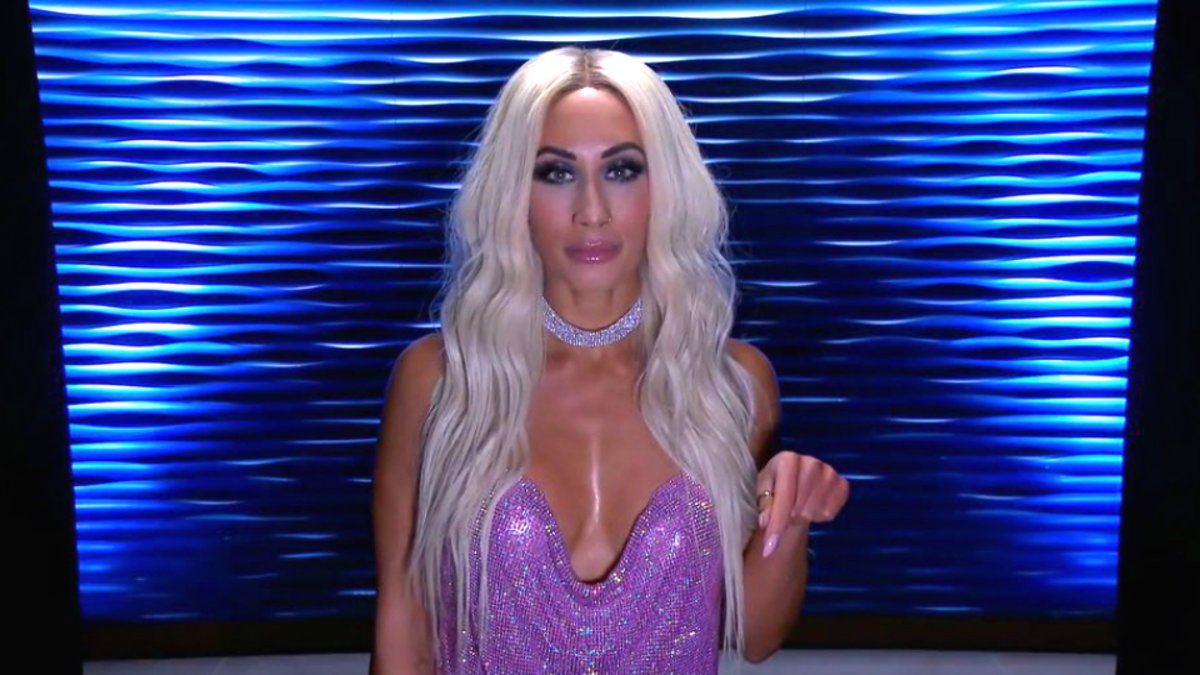 Carmella fired back with a reply that she hasn't even 'scratched the surface' with her return.
"You have no idea what you're in for…..haven't even scratched the surface yet, babe."
For those who have forgotten about Emmalina, this was supposed to be former WWE Diva Emma's character. Unfortunately, after a lot of promotions, it was dropped without doing anything that created a lot of backslash within the WWE Universe. Lana was also supposed to receive the same type of character but now Carmella's new Untouchable character seems familiar with this Emmalina gimmick.
She's dealing with the same comparison from fans. Obviously, she's not someone who's going to remain quiet about it and hence decided to defend herself. Although Carmella is Untouchable, she's still a human being who seems to feel very bad after seeing hurtful things about herself over on the social media.
Tenille Dashwood Instagram: Former WWE Diva Emma Becomes A Traveler
After jumping on Twitter following the big reveal on SmackDown, her timeline was full of hatred. Fans were really nasty while calling Carmella an ugly person while dragging her appearance following her SmackDown return.
The former SmackDown Women's Champion had to shut up those haters on Twitter. Being out of the public eye for over five months doesn't mean that she's become irrelevant but the reactions from the fans turned out to be quite toxic. This is what Carmella had to say about the ongoing hate around her,
"Been off tv & out of the public eye for over five months. I come back for one night & the amount of negative comments I see just based on my looks alone is disgusting. I forgot what a toxic place social media can truly be. Thank god I know what a hot bit*h I am."
The good thing is that the Princess of Staten Island possesses a dedicated fan base who can always back herself up. So the negative comments are definitely not going to take her down from achieving her goals.
Get the latest news and updates from Indian Premier League, ICC World Cup 2019, Match Prediction & Fantasy cricket. Follow SportzWiki for all cricket news, WWE News & Sports News.