Tyson Fury has recently made headlines in the pro wrestling world as he issued a challenge to WWE Champion Drew McIntyre to a wrestling match. He was apparently thinking a lot of who he'd like to punch in the face and it seemed that the Scottish Psychopath should be on top of his list.
This match is obviously getting nurtured for a long time since both Drew McIntyre and Tyson Fury belong to the United Kingdom. They do believe in main-eventing a pay-per-view in the UK, someday. So one of them thought of firing the first shot and it was accepted, quickly. So the question remains whether WWE is interested to book the fight.
Status Of 2020 WWE Crown Jewel Amid COVID-19 Pandemic
Does WWE Plan To Bring Back Tyson Fury On Their Programming In 2020?
Tyson Fury hasn't been seen in WWE for almost a year now but he does want to make a comeback and WWE also wants the same through a correct deal and match. It was noted in the Wrestling Observer Newsletter that Tyson Fury possesses the same position as that of Brock Lesnar in the WWE. Their names are huge and the company doesn't want them to waste in any smaller show.
The money they could be warranted should be stocked for any high profile events. WrestleMania and Saudi Arabia pay-per-views are the biggest of them while also have huge question marks around these and so it seems that WWE won't be signing either of them for a match, right now.
"Tyson Fury (who issued a challenge to Drew McIntyre this past week for a match), [is at the] point where Saudi Arabia and WrestleMania are the only shows that make sense right now and the belief right now is Saudi Arabia won't happen this year."
WWE isn't likely to make it back to Saudi Arabia in 2020 and they're likely to make something work out for 2021 and perhaps conduct an additional show. But another show in 2020 isn't going down.
CHALLANGE vid to @DMcIntyreWWE bring it you greasy chump! @WWE @btsportwwe @WWEonFOX pic.twitter.com/58wzNE487R

— TYSON FURY (@Tyson_Fury) August 30, 2020
We should note that things got intense when Tyson Fury uploaded a video during a recent train ride. The undefeated boxer stated that he was thinking about who he wants to punch in the face. The King Of Claymore County came to his mind, right away and he threw the challenge.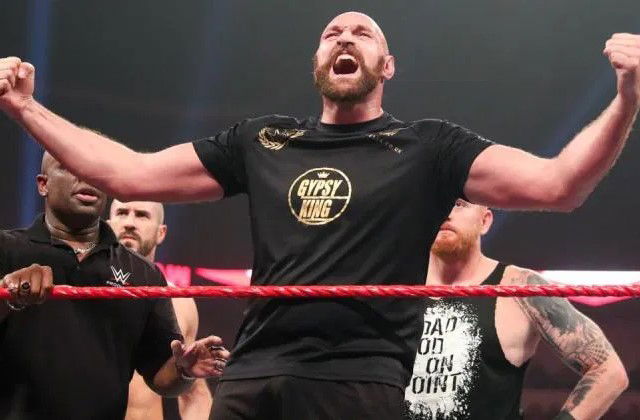 "So, grow a pair, step up to the plate, and come fight the master — me. So, this is an official challenge video to Drew McIntyre, the WWE Heavyweight Champion of the world. I already knocked your pal out, Braun Strowman. I'll do the same to you. Bring it." (Quotes courtesy wrestlingINC.com)
McIntyre later responded to the statement asking WWE head-honcho Triple H to pay attention to the pledge made by the Gypsy King. It would be interesting whether WWE pays attention to it or not.