Edge made perhaps the greatest comeback in the history of professional wrestling, last year by entering the 2020 Royal Rumble match. After nine long years, he returned to the competition when no one thought to see him back in action, ever due to neck concussions. But he made it possible giving hopes to many out there who are dealing with fatal injuries.
But then the momentums for the Rated R Superstar stopped like anybody else as the coronavirus pandemic made its spread. 2020 was a tough year for everyone and it definitely sent to a roller-coaster ride of emotions, throughout the year. The Rated R Superstar was ready to compete in a singles match for the first time since 2011 against Randy Orton at WrestleMania.
Edge Notes On Controversy Over WWE Royal Rumble 2021 Win
The rekindled feud against Randy Orton was said to be the best of that season that eventually produced two matches, namely WrestleMania 36 and Backlash. Edge then suffered a torn triceps during that Backlash match meaning that He talked about the roller coaster of emotions he went through from last year's Royal Rumble to this year's edition, in an interview with Vicente Beltrán of ViBe & Wrestling.
Edge on the tough part of his comeback match
The tough part of his comeback match was that he was supposed to wrestle in front of an almost 70k plus audience but it was eventually trimmed down to zero. It was certainly unexpected but being a veteran star he had to cope up with the situation just like everybody else. Edge also supported the idea that WWE should continue providing entertainment to the fans during that tough time.
"The Rumble last year was so overwhelming on so many fronts, first of all getting the news that I can do this again. I knew the work that I was putting in but you still don't know that work will cost that result that you are hoping for," admitted Edge. "I am very big on visualization, I believe that if you dream it you can make it happen and the Rumble was the realization of these dreams that I had and then I had to work to make those dreams come true. When I see that now it almost feels like a decade ago because so much has happened in the interim obviously with the world and what we all have been struggling through and we are hopefully finding our way through."
Daniel Bryan and Edge Pushing For Different Agendas In WWE Creative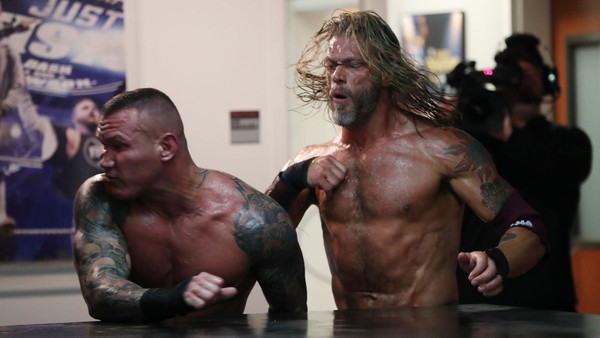 "We get to WrestleMania and it was probably the strangest for me because it was soooo empty and it was soooo quiet and it was so unlike anything that I've ever experienced in terms of performance especially within the confines of the world of wrestling. That was a weird one, that was hard. I'm so thankful that I had an opponent like Randy Orton because it made what was fairly an impossible situation seem possible."
"Then we get to Backlash and I am super excited about that. Just to get in and wrestle, that's all I wanted to do. I just wanted to back in and exchange wrestling holds and do it with one the best that is ever done it. Didn't want to get injured but that's what happened. Sometimes I push myself a little too hard but that's the way I am wired, I don't know."
A devastating injury like the torn triceps Edge suffered at the age of 46, it's hard to get over from that. Some may just consider simply give up. But the 'grit' of Edge and the will to work too hard finally cleared him to be in this year's Royal Rumble and become the winner. There's nothing that can be worth main-eventing WrestleMania, after all.