Maryse stirred up the WWE Universe, quite a bit with her gorgeous presence on the post-Wrestlemania 37 episode of Raw, this week. The night after the Show of Shows is considered to be the biggest episode of the year considered some surprises are bound to be in-store. The excitement was just doubled with The Miz bringing in her beautiful wife on the show for promotional purposes.
The Miz and Mrs show returned on the USA Network, last night immediately after Raw went off the air which was the main reason behind Maryse's appearance. As seen on social media, the blonde-head was on a promotional spree, all along for the reality TV series dedicated to the happenings in Manor MarMiz situated in Hollywood, California.
Kaitlyn Finds Inner Peace In Meditation; Check Out Photos
In a few snaps shared on Instagram, Maryse promoted skincare products, she has been endorsing for some time. She looked absolutely stunning in a deep neck full-length gown which revealed her cleavage line. In other posts, the former Divas Champion shared some snaps from her appearance on Monday Night Raw in a black outfit.
WWE NXT: Champions Reunite, Debut, New Champion Crowned And More
Maryse currently sporting a short hair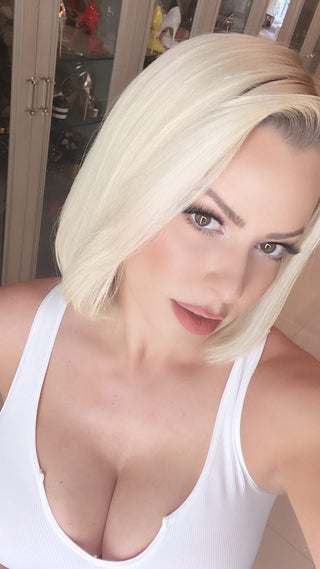 Plus, in the latest post on Instagram, Maryse asked her followers whether she should sport long or short hair. While she was seen with long hair on Raw, it seems that she has shortened those after the show. Another cleavage-revealing photo in a white dress garnered quite the attention on the internet.
And so did Maryse's appearance on this week's Raw where she was a special guest on Miz TV hosted by The Miz and John Morrison. She later made the scheduled show-up on the talk show where the couple promoted the new season of Miz & Mrs. This segment led to a match where Damien Priest faced The Miz and John Morrison. During the match, the French Diva got involved, allowing The Miz to get the pinfall win.
Maryse has been off WWE television since late 2019. She was involved in The Miz's rivalry with 'The Fiend' Bray Wyatt at that point. In that angle, Wyatt terrorized Miz's family which involved the latter's wife and baby Monroe. To be precise, one of the most beautiful WWE Divas of all time didn't make any live appearance during that storyline. Rather, her last appearance before this week's Raw happened back at Elimination Chamber 2019.