WWE announced that Hell in a Cell is going to be the next pay-per-view in line in their calendar and the assumption is that Roman Reigns will be defending his Universal Championship in one of the main events of that night. That being said, the speculations are ongoing on who could be next in line to challenge the Head of the Table for the title that he is carrying since Payback 2020 event.
During Wrestling Observer Radio, Dave Meltzer broke down the current scenario on WWE SmackDown who also thereby projected the matches that fans are likely to see at Hell in a Cell pay-per-view event structure. Per him, Jimmy Uso and Roman Reigns are bound to battle on that night but that won't be happening inside the unforgiving steel cage structure.
Noelle Foley: WWE Legend Mick Foley's Daughter Suffering From Hearing Disorder
The analysis noted how it would be too early for their feud to compete inside a Hell in a Cell structure,
"Roman Reigns and Jimmy Uso haven't had a match, so starting them out in Hell in a Cell would be ridiculous. I'm not saying they won't do that, but it would be ridiculous. Now they have to do something."
WWE Hell In A Cell 2021: Spoiler On Three Cell Matches For The PPV
Jimmy Uso is opposing Roman Reigns on Smackdown
Former WWE Tag Team Champion Jimmy Uso recently made his return to SmackDown as he was cleared to compete following his injury, suffered all the way back at WrestleMania 36. Since the return, his twin brother Jey Uso is forcing him to fall in line and thereby join forces with their cousin Roman Reigns. Jimmy is hesitant in doing so who is rather hopping around wearing the 'nobody's b**ch' t-shirt.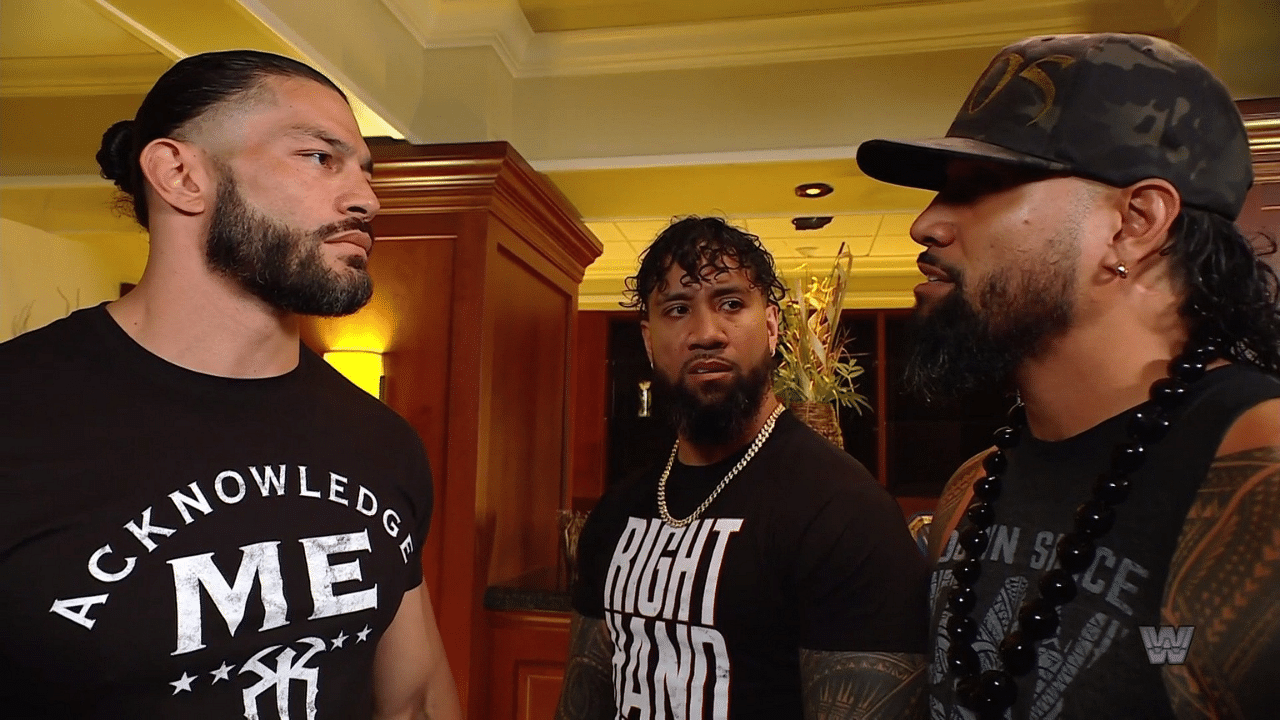 Jimmy reminded everyone of how Roman Reigns punished Jey Uso to get him aligned with at last year's Hell in a Cell event. The elder Uso also refused to attack Cesaro on SmackDown who was set to battle Reigns for the Universal Championship at WrestleMania Backlash, but he eventually joined the brawl as Jey was attacked by Cesaro.
Following his successful title defense against the Swiss Cyborg at Backlash without anyone's assistance, Roman Reigns took to Twitter to send a message to Jimmy Uso. He denied Jimmy to send any texts to him for any aid and also informed that a confrontation could be waiting between the two of them on SmackDown. That being said, this Friday night, we may officially see the beginning of the feud over the Universal Title.