Sasha Banks had been part of some major speculations throughout 2019. She had a very interesting time, a couple of years ago filled with goods and bads. She made history by winning Women's Tag Team Titles only to drop it at WrestleMania 35. She left WWE television after WrestleMania and made headlines, afterward.
Reports suggested how badly she wanted to quit the WWE although she never directly accepted. It seems that there was some apparent truth about it the whole dramatic situation. While speaking to The Broken Skull Sessions, Sasha Banks opened up about the issues she suffered at that point.
As stated by her, Sasha Banks was dealing with depression issues. WWE controls so much about the on-screen character of a superstar, even their hair color. Not to mention, the rigorous schedule they used to offer back in the days before the pandemic hit. These were the key contributing factors to Banks being unhappy. She couldn't find the real version of herself under pressure.
In one instance in the interview, she used her hair color to illustrate how lost she really felt at the time.
"Depression. Depression was taking over. My mind was taking over. My thoughts were taking over. This place was being bigger than me. And I really, really lost myself because for a good seven years, I didn't even hear my real name. I didn't hear Mercedes anymore. All I heard was Sasha Banks, and traveling on the road, we only get one to two days off."
Sasha Banks: Kiera Hogan Doesn't Hate WWE Star For Blue Hair
"So, I'm home, not even seeing what my real hair looks like. All I see is purple hair every single day. There were just so many things that were just — I let it control me. I let it take it and be like, 'This is too much' instead of being like, 'You know what? Everything's good. Breathe. Everything's fine,'" Sasha Banks continued.
"I couldn't even look at myself. I didn't even know who the hell I was. How I was going into work, how angry I was going in, how sad I was. I was not the person that I dreamed to be."
Sasha Banks Reacts To Stephanie McMahon's Daytona 500 Promotion
Sasha Banks made a major comeback to WWE in 2019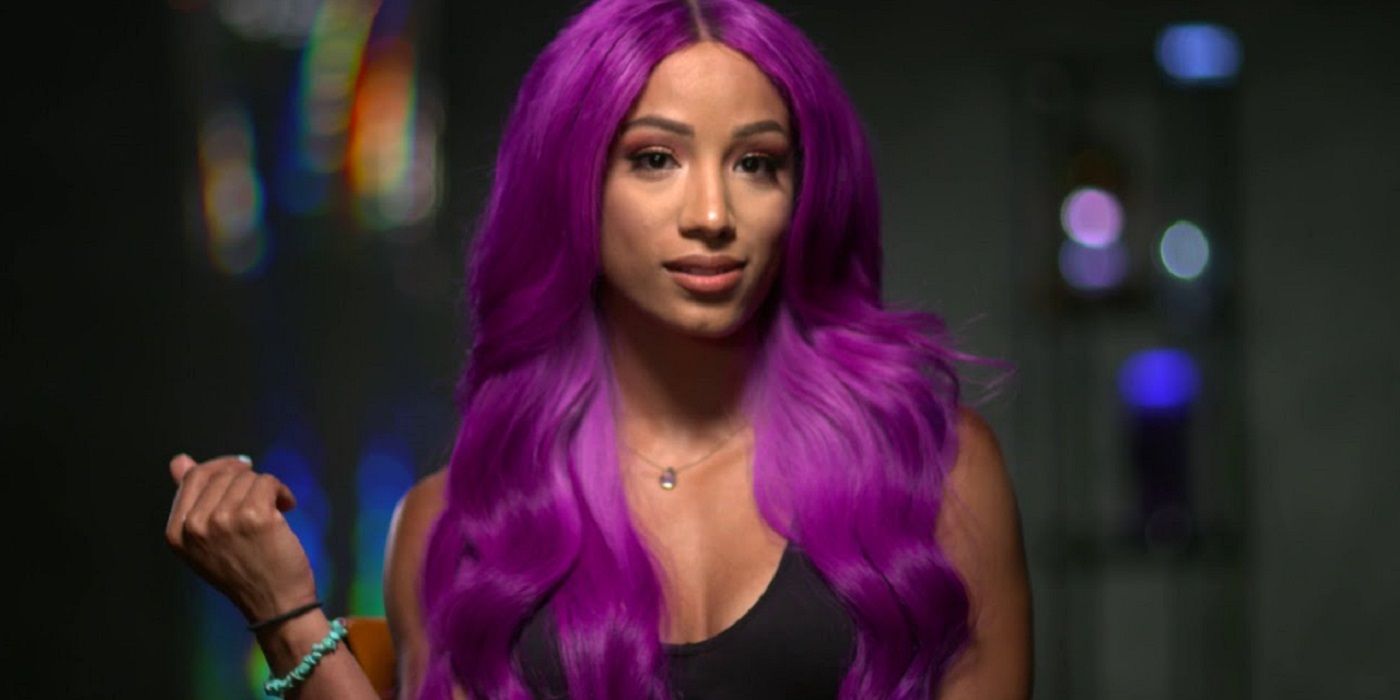 This was the point why the multi-time Women's Champion did want to leave the WWE. Thankfully though, she had enough resiliency to go through the hard times and then come back to where she really belonged. Sasha Banks was able to make a grand return to WWE and she is seemingly having a much better time, without a doubt. Her previous purple hair color doesn't exist anymore as she sports a blue color, nowadays.
Given her age, Sasha Banks must be having a ton of career left inside her. She is still SmackDown Women's Champion who had a failed attempt to the WWE Women's Tag Team Titles at Elimination Chamber 2021. But that probably won't hinder her from going into WrestleMania. At present, the rumor is that Banks will defend her Women's Title against the Royal Rumble match winner Bianca Belair at the Show of Shows.