Sasha Banks may not be having the best time of her life for the past few weeks where she lost two titles within a week and thus had to drop the self-proclaimed Golden Role Model tag. She then also got disbanded with Bayley after a vicious attack but she's still seemingly residing on the top of her game, at this time.
Whether it's tag team wrestling or in singles action, Sasha Banks has proved her potential to be an all-time great by being an eight-time women's champion. Also, no one has won the Raw Women's Title more than her that is on five different occasions.
WWE Evolution 2: Sasha Banks Wants Dream Match Against Trish Stratus
WWE Star Sasha Banks Talks About Having Kids & Retirement
Although Sasha Banks doesn't have the belt anymore, she has enjoyed every bit of the new heel persona that she donned after returning from a hiatus. She has spoken about the same during a conversation with Table Talk w/DVon.
"I mean, it's amazing being Sasha Banks 24/7. I always felt like I've been on top of my game but I was just always waiting for that right chance and the right stars to align.
But you always have to walk into work with or any place that you go and really know that you're the best and you have to make sure that people don't take that in a bad way. It's like, 'Why are you saying that you're better than me?' You should be saying that you're better than me as well. I'm just here to be the absolute best," stated Banks.
Sasha Banks Shares Photoshoot Pictures From WWE Raw On Instagram
Sasha Banks is just 28 years old but she's been in the professional wrestling business for the past 10 years whereas she's with WWE since 2012. With a ton of wrestling experience in her arsenal, she asked how long she plans on doing this. Also what could possibly be his influence to hang up the boots.
The Legit Boss didn't have a definitive answer to the question as she plans on sticking around to the scene for perhaps a decade more.
"Hmmm, maybe until the wheels fall off. Hopefully not. I'm going to do it until I just feel like I've done everything I wanted to do," said Banks. "How about that?"
"Health as well. I'm going to leave healthy and really fulfilled with what I've done because I've already been very fulfilled in everything as well and very healthy with what I've been doing in the ring. I've been taking care of my body. I've been happy, healthy, and full. So, who knows how long? It can be forever. I can be like Ric Flair!"
"They ask me if I'll retire tomorrow. I'm still one of the youngest in the WWE! I'm going to be here for a long time. Get used to that. Ask me that question in like 10 years."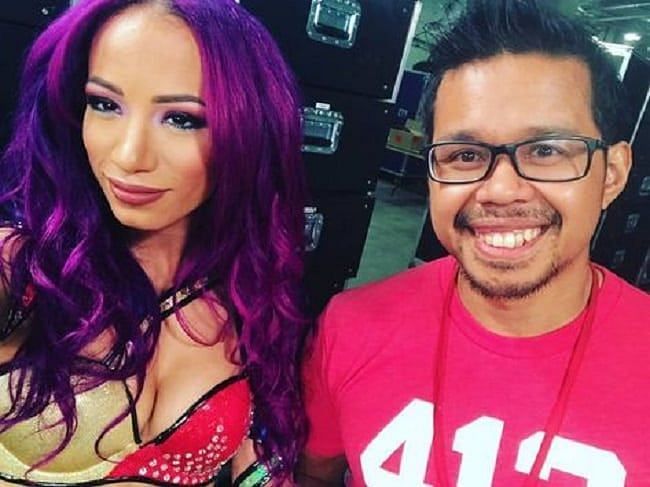 It was also noted during the interview that many of her contemporaries, as well as predecessors, have stepped away from the ring for with temporary or permanent basis to fulfill their dream of becoming a mother. So Sasha Banks was asked whether she's thought about this aspect of her life and if she does want to have kids in the future.
"I don't know what the near future is, but definitely. I would love to be a mother one day," answered Sasha Banks. "When that time is right, I'm sure the universe will let me know that." (Quotes courtesy wrestlingINC.com)
The Bella Twins have become a mother in recent months whereas one of the Four-Horsewomen members, Becky Lynch has also been in a hiatus from the WWE for pregnancy reasons as she is expecting her first child with fiancée Seth Rollins. Hopefully, Sasha Banks will also go through a similar experience at one point. But she is still young and has plenty of time to move into that phase of her life.
Get the latest news and updates from Indian Premier League, ICC World Cup 2019, Match Prediction & Fantasy cricket. Follow SportzWiki for all cricket news, WWE News & Sports News.