Roman Reigns and Jey Uso have been involved in a feud that was supposed to be an underrated one. The champion is a bonafide marquee player of the company while the challenger is new to the main event scene. But the program did exceptionally well as the two showed incredible chemistry that captured the WWE Universe's interest. In fact, WWE nixed the scheduled Reigns vs Wyatt feud.
These two have fought inside the Hell in a Cell structure, this past Sunday which is said to be the end of the feud. Roman Reigns brutalized his cousin, Jey Uso to retain his championship as we'd now head into the 2020 Survivor Series PPV. According to the reports of Wrestling Inc, Jey will eventually "join forces" with the Tribal Chief. It's unknown exactly when this would happen.
Video: Drew McIntyre Stabbed Randy Orton's Eye With A Pen After WWE Raw
Spoiler On Roman Reigns' Next Step In WWE After Hell In A Cell 2020
The theory would be pretty clear at this point for Jey while joining Roman Reigns because "if you can't beat 'em, join 'em." It does make sense as the current moniker for the champion will also live up with a bunch of people backing him up. This is the speculated direction of the program, for now. There's no update on who'd challenge for the Universal Championship, next.
Photos, Videos: WWE Star Lana Becomes Hot Bunny For Halloween
The storyline will move like this as if Roman Reigns is the provider and Jey needs to be able to provide for his family. So it'd be essential for him to fall in line with him. Jimmy Uso remains out of action with an injury. He has been appearing on WWE programming in recent times through this angle he isn't cleared to be in action. Perhaps, he'd have to follow the lead, as well to play into this situation.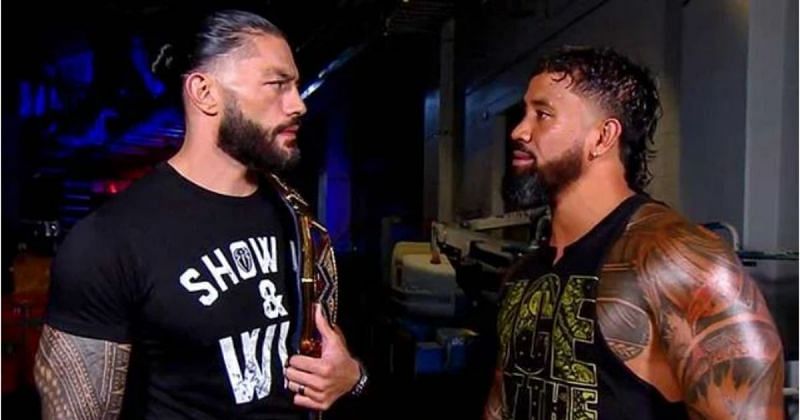 Ringside News previously reported that there are no immediate plans to "break up" the Usos like the New Day in the recent past. Jey is going solo, right just because Jimmy can't wrestle. But the WWE creative team was still able to do something interesting and work Jimmy into things. After Clash Of Champions, it wasn't a shock to see Jimmy at Hell in a Cell, too.
Jimmy's timetable for in-ring return is being determined between November to January which means he could be a pivotal part of Roman Reigns' rumored Samoan stable. It was also stated how storylines for Reigns are kept secret within a very tight circle that doesn't have to do anything with the traditional writing team. Paul Heyman, Vince McMahon, and Reigns himself are the ones who know what could be happening down the line.