Legends are WWE's helpline to pull back the TV ratings, no matter what, and especially Stone Cold Steve Austin leads that category as he is arguably the biggest popular face that the company could offer. Some of the legends even end up competing in matches for a one-off occasion which won't be the case for Austin, though as his bumping days are over.
Stone Cold Steve Austin appeared in a recent interview with Fox Sports to discuss a number of topics including his comeback for one last match. He has confirmed that he will never wrestle again. The Hall of Famer is legit, done with giving out those stunners.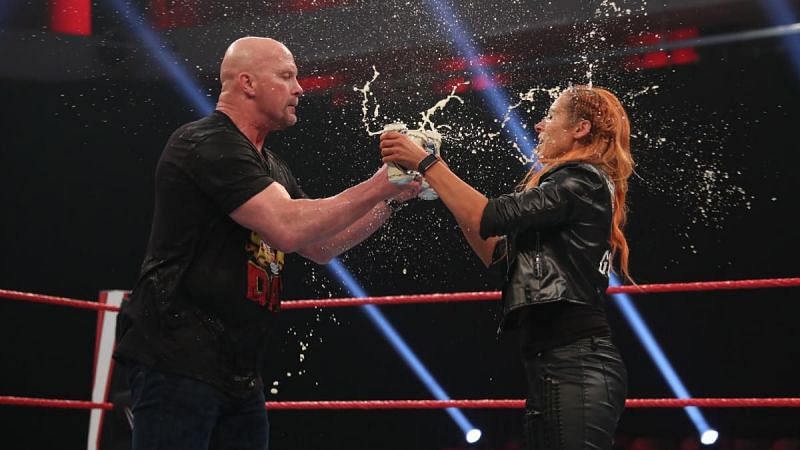 The legend was asked if it is nice having discussions with Superstars on Straight Up With Steve Austin or Broken Skull Sessions that keeps him connected to the business instead of competing in matches. While answering the question, Stone Cold Steve Austin mentioned how his in-ring career is fully over.
John Cena Broke A Big Record In WWE In The Year 2020
Stone Cold Steve Austin Confirms Retirement From WWE Competition
"Man, 100 percent. 'Cause, you know, I'm still the biggest fan of the business that I was when I was seven years old changing the channels and stumbled across it; and then got the chance to learn it and have a pretty good run.
So, I don't want to do nothing else in the ring. I'm done. I've retired. Everybody knows that. I don't need to go out there and drop anybody on a stack of dimes and give them stunners. Once in a year, once every two years, whatever. So, yes. This connection makes sense."
Kevin Owens could be found using the Stunners these days which was gladly obliged by Stone Cold Steve Austin for a reason. At least, someone on TV will be hitting stunners in WWE, reminding the fans of the originator of the move. Because the multi-time world champion will never be wrestling again.
For those who are curious about Austin's incapability of competing inside the ring, it should be noted that he has a broken neck that previously caused an early retirement from the professional wrestling circuit, anyway. He has also suffered several knee injuries and bruises as his career progressed.
Ronda Rousey On Why She Hates To Be A WWE Wrestler
Speaking of his career, Royal Rumble is an event that is associated with him, all the way. The PPV is coming up on January 31st, to kick off the Road to WrestleMania. Stone Cold Steve Austin has won three of those over the top rope matches setting a record that is yet to be broken. However, the surprising fact is that he doesn't like to be a part of them.
While speaking in the interview, The Texas Rattlesnake admitted that he never liked performing in Rumble matches as so many stories go together in that match and anything could happen.
"I'll share this with you. I won three Royal Rumbles, but I didn't really like Royal Rumbles, because there's so much going on.
So many things that can't go wrong because everything's gotta work out. You know what I'm speaking of, without just spelling it out.
I'll never forget in San Diego at my first Royal Rumble. I was supposed to be the fourth guy left in the ring and Rikishi, or somebody, gave me a clothesline and the ropes were so baby oiled up from everybody wearing baby oil, I slipped."